Audio
Oct. 15, 2019 11:12AM EST
Amsterdam Ticket 1987 line-up, from left to right: Africanova, Canjo Amissi, Aloys Gasuku, Tula Walupini, Diamond Ilunga. Seated: Member Bruno S., Goretti Habonimana, Amida Hassan V.,Chantal Nibizi. Photo courtesy of Afro7 Records.
A Rare Album From Burundi's Most Popular 1980s Group, Amabano, Resurfaces
1987's Amsterdam Ticket sees the Burundian group blending psych & funk influences with Congolese rumba and Burundian traditional music. It's getting a reissue from Afro7 Records.
Even though African music of the past four decades is being rediscovered, catalogued and reissued by foreign labels at an accelerating speed, music from the East-Central African nation of Burundi remains somewhat of a blind spot to collectors who are not from the region.
Western audiences have long associated the country with pop hits by singer Khadja Nin (based in Belgium since 1980) or even with "Burundi Black" (1971), the worldwide hit by French pianist Michel Bernholc (alias Mike Steiphenson) that sampled a recording from 1968 of traditional Burundian drumming. There are two vinyl releases from 1980 and 1987 that hint at the unknown history of Burundian pop music, records that have gained grail status among collectors, even though the story behind those LPs has never been told in full.

The first is a 7-LP box, released by Radio Nederland in 1980 (only 80 copies were made), containing the 100 entries to a band competition that the station organised for undiscovered talent from the Francophone African region. Among them was Amabano, the group that would become one of the two winners of the Concours du Moulin D'or (Golden Windmill contest), and who were invited to pick up their trophy, tour and record an album in a well-equipped studio in the Netherlands. The four tracks featured on the promotional vinyl are dreamy, mid-tempo psych-funk grooves with a touch of jazz and rumba, sung in the Kirundi language. The other LP, by the same group, was released in 1987 on the Soviet Union's Melodiya label in two different editions, each limited to 1000 copies, and now near-impossible to find. 'Gasuku' was not a delayed release of their previous Dutch recordings, but a new set of songs, put to tape by a Soviet team that had travelled Burundi for the occasion. Like their 1980s contest entries, the 'Gasuku' album had a musical approach that was deeply rooted in psych, funk and rumba of the 1970s.
---
The remarkable story behind these records started in East Africa in the '70s, when young musicians Africanova (Antoine Marie Rugerinyange) and Niki Dave (David Nikiza) were involuntarily exiled due to the civil war in Burundi. Both started a string of gigs with bands in Rwanda, Tanzania and Uganda. Africanova was a member of the Suicide Revolutionary Band, a large army ensemble, along with Idi Amin's later wife Sarah, until life under Idi Amin's reign became too unpredictable. They ended up working together in a seedy nightclub in Kenya, in Nairobi's River Road. Africanova was a multi-talented musician with a penchant for Congolese rumba, while Niki Dave would become known as a singer specialised in soul and funk. Their band was called the Afro Kids and featured members from Burundi, Congo and Kenya. By 1977 they found themselves recording a full album, which remains unreleased, and two singles, including the psych-funk title "Shoreza inyange," which would make them superstars in Burundi and Rwanda. On the strength of these hits, they were invited by the state-owned national radio of Burundi to come back home for a tour. The first gig, using the new name of the Explorers, was sold out, and many more followed. The band's unprecedented success quickly became an argument for the government, proving to the thousands of exiled Burundians in neighbouring countries that Burundi had become a safe place for them to return to.

In 1978, the Explorers signed with the Ministry of Information to become the state-sponsored house band of the national radio station. They picked the new name of Amabano, and their musical base of funk, soul and rumba, sung in a multitude of languages, absorbed a lot of influence from Burundian traditional music, and the Kirundi language would be heard in many of their songs. Winning the Moulin D'Or award, and the subsequent European trip in 1980, elevated their status as Burundi's number one orchestra. In the next five years, they would feature prominently on radio, television and representing the Burundian state during international conferences. At the time, Burundi did not have professional music studios, and the only alternative to traveling abroad to record was to use the limited facilities at the radio station.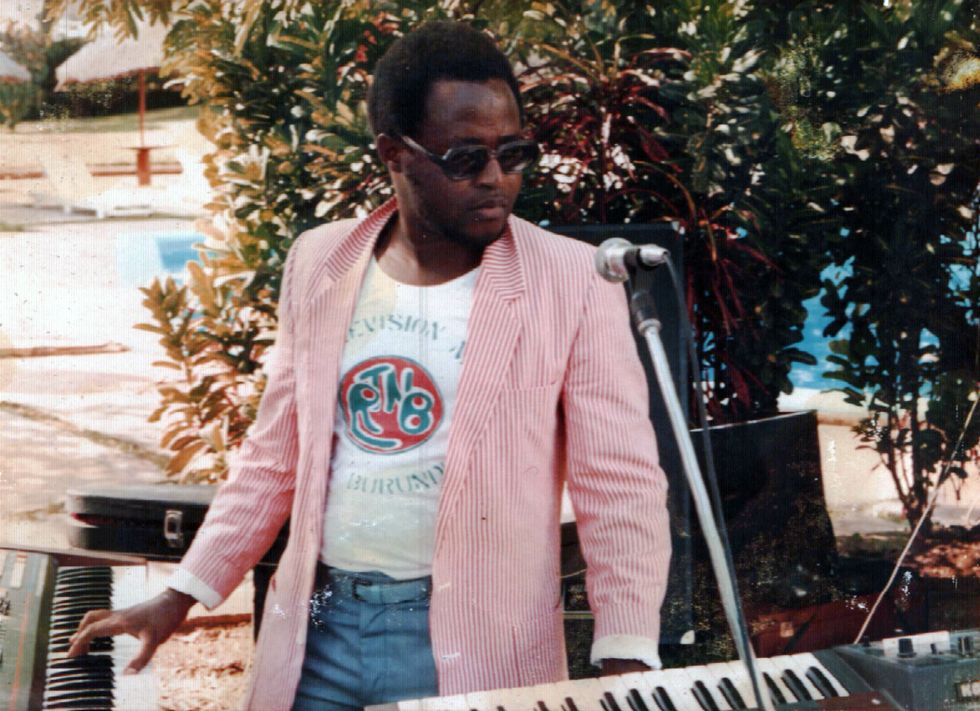 Africanova in 1987. Photo courtesy of Afro7 Records.
Although Amabano received carte blanche to order their preferred musical equipment from abroad, there was nobody around to produce an album according to their standards. They contemplated another trip to Europe to record a full album, as their previous effort with Radio Nederland remained unreleased. Ultimately it was through the friendship of a Burundian government minister and the Russian ambassador that another plan was put into practice: a Russian team would come down to Bujumbura, record the band and then mix the album back in the USSR. The session was indeed released in the Soviet Union, by the state-owned Melodiya which was releasing major Russian pop bands and small-run pressings of regionally known bands by ethnic minorities within the USSR. It's not known what the intended audience was for the Amabano LP, but it did nothing to catapult the band to international fame; the musicians were not even aware of the album's release, although a copy was sent to Burundian radio.

While the Soviet Union was about to experience radical political changes that would affect the Melodiya label, back in Burundi there was also a change of leadership that resulted in the total lack of promotion of the Amabano album. The regime of president Bagaza was removed during a military coup during the same year the LP came out. Under the new government, conditions were not very favourable for Amabano. In 1990 the band left the radio and split up. The former band members continued to be active as musicians, and Africanova had success as a solo artist and running a music studio before he moved to Ivory Coast, and later to Canada. Niki Dave had left the band shortly before Amabano travelled to the Netherlands, and continued making music until his untimely death in 1992.
Today Amabano and its members are fondly remembered by many for their musical legacy that unified people in Burundi as well as neighbouring Rwanda across ethnic, economic and age boundaries. Apart from cassettes and CDs of their recordings in the studio of the Burundian national radio, their music has remained out of print until the current re-release of the Amabano LP (now called 'Amsterdam Ticket' after one of the songs on the LP, composed by Manu Dibango for the Radio Nederland contest), and the accompanying 45 RPM reissue of a single by the Afro Kids.
Amabano 'Amsterdam Ticket' is due late October from Afro7 Records.