MTN Bushfire celebrated its 10th anniversary in Swaziland over the weekend. Tens of thousands gathered at the picturesque Malkerns Valley, surrounded by mountains and rows of sugar canes.
---
The festival began with a beat of promise as the great Swazi diva Pachanga brought her reggae-and-rock-influenced Swazi songs to the main stage.
Vaudou Game performed their crowd-pleasing Togolese vodun funk. Canadian singer-songwriter Cold Specks illuminated the House On Fire Amphitheatre with her beautiful 'doom soul'. The first night closed off with DJ Zinhle getting everyone dancing back to their tents and rooms.
On the second day of the festival the highly-acclaimed Swazi musician Bholoja enchanted the crowd with his own brand of Swazi soul. The legendary Mozambican band Ghorwane was a personal highlight. Seeing them live took me back to all the times I'd listen to Roberto Chitsondzo (the band's frontman) at my mother's house.
Blitz the Ambassador, the Ghanaian-born, Brooklyn-based emcee, won me over right away. Bombshelter Beast brought Pitch Black Afro on stage, another nostalgic twist for the many South Africans in the audience.
The final day of the festival opened with South Africa's Jesse Clegg and Swazi Maskandi musician Fanaza, with Oliver Mtukudzi set to close the day. Songhoy Blues encountered some issues at the border, but they were electrifying when they hit the stage. The festival closed on a high note with an exhilarating performance from the legendary "Tuku" train.
Blitz The Ambassador. Photo: Paul Paunde
Blitz The Ambassador. Photo: Paul Paunde
Sauti Sol. Photo: Paul Paunde
Ice Prince. Photo: Paul Paunde
Oliver Mtukudzi. Photo: Paul Paunde
South African MC Pitch Black Afro joins Bombshelter Beast on stage. Photo: Paul Paunde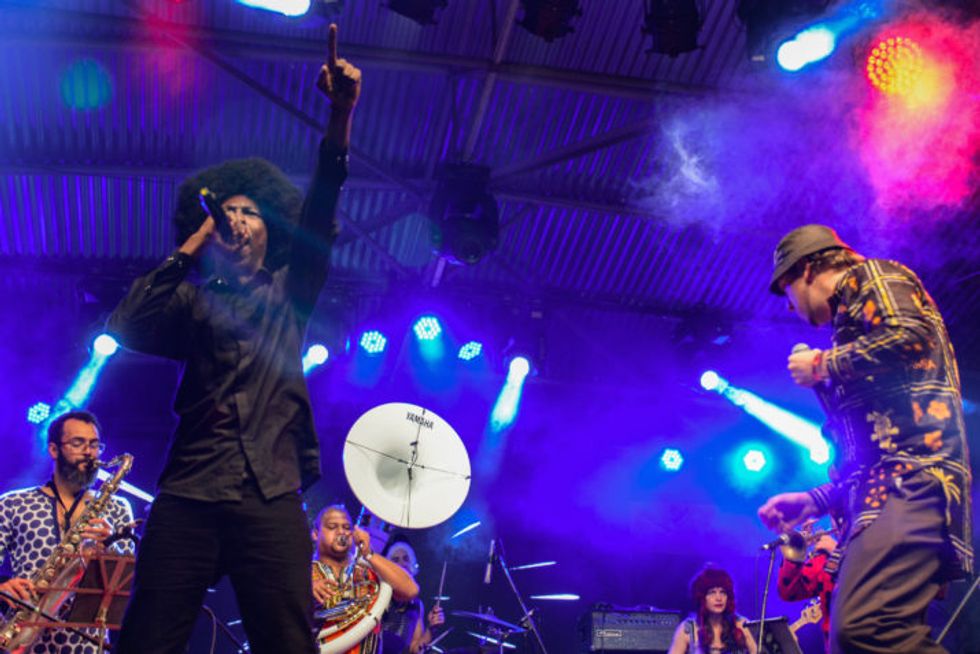 South African MC Pitch Black Afro joins Bombshelter Beast on stage. Photo: Paul Paunde
Photo: Paul Paunde
Photo: Paul Paunde
Swiss DJ and producer, Pablo Nouvelle. Photo: Paul Paunde
Roberto Chitsondzo of the legendary Mozambican band, Ghorwane. Photo: Paul Paunde
Swazi-born musician, Bholoja. Photo: Paul Paunde