Busiswa's artistry defies genre restrictions. The vocal powerhouse and performer has swerved between genres, from poetry to house, kwaito, gqom, hip-hop and amapiano. Known for bodying every song she is featured on, the South African musician has proven her versatility and staying power over the years.
Busiswa has worked with the biggest names in South African music and last year, she was one of the few artists selected to feature on the Beyoncé-curated The Lion King: The Gift album. She appears alongside Beyoncé, Yemi Alade, Tierra Whack, Moonchild Sanelly and Nija on the song "My Power", which is co-produced by gqom stalwart DJ Lag. She delivers a show-stopping verse in what she describes as a "life changing experience". Earlier in the year, she also appeared on "Black is King," for the visual representation of the song.
Apart from the Beyoncé co-sign, the musician has been steadily crossing over into a wider audience by collaborating with other artists across the continent and diaspora, having done features with the likes of D'Banj, Niniola, Becca, Patoranking, Juls, Rayvanny, just to name a few.
---
On her third album My Side Of The Story, Busiswa continues on her expansion mission, with features from Nigerian artistes DJ Tunez, Dunnie and South African heavyweights like DJ Maphorisa, Clap and Oskido, all whom she used to work with at the landmark South African label Kalawa Jazmee Records, where she was discovered and given her first big break.
On the album, Busiswa tackles relationships and details personal accounts of her own experiences with love. She also uses her voice to address some of the social ills the country has, all while maintaining the dance element of her music.
"I don't think artists go for years on years not having any kind of story that they represent and stand for, in terms of their contribution to society," Busiswa tells OkayAfrica. "Everybody will attach stories and narratives to you regardless, so you have to get to a point where you get to take control of your narrative and you have to also contribute your voice, especially when you look around and you see that our country is in a crisis, so what it is that you bring and how do you uplift your community?"
Her Majesty, as she is affectionately known, embodies stories of affirmation and encouragement towards women and their empowerment, a stance she has always taken since bursting onto the scene in 2012 via DJ Zinhle's "My Name Is".
In the interview below, we speak to Busiswa about her new album, her record label, future plans and more.
Your new album is titled My Side Of The Story. Can you provide some context on how you ended up with that title?
I think I just got to a point in my career where a lot of the songs were just fun, high-energy, let's-have-a-good-time, but with this album, I really had something to say. I wanted it to be laced with messages of empowerment, taking control, owning your throne and being the queen that you're meant to be, whether it's physically, mentally, financially and every kind of way; owning the fact that you're powerful and you're majestic. That is why I had to give it a title that speaks to the fact that I am using my voice to inspire and not just to "turn up".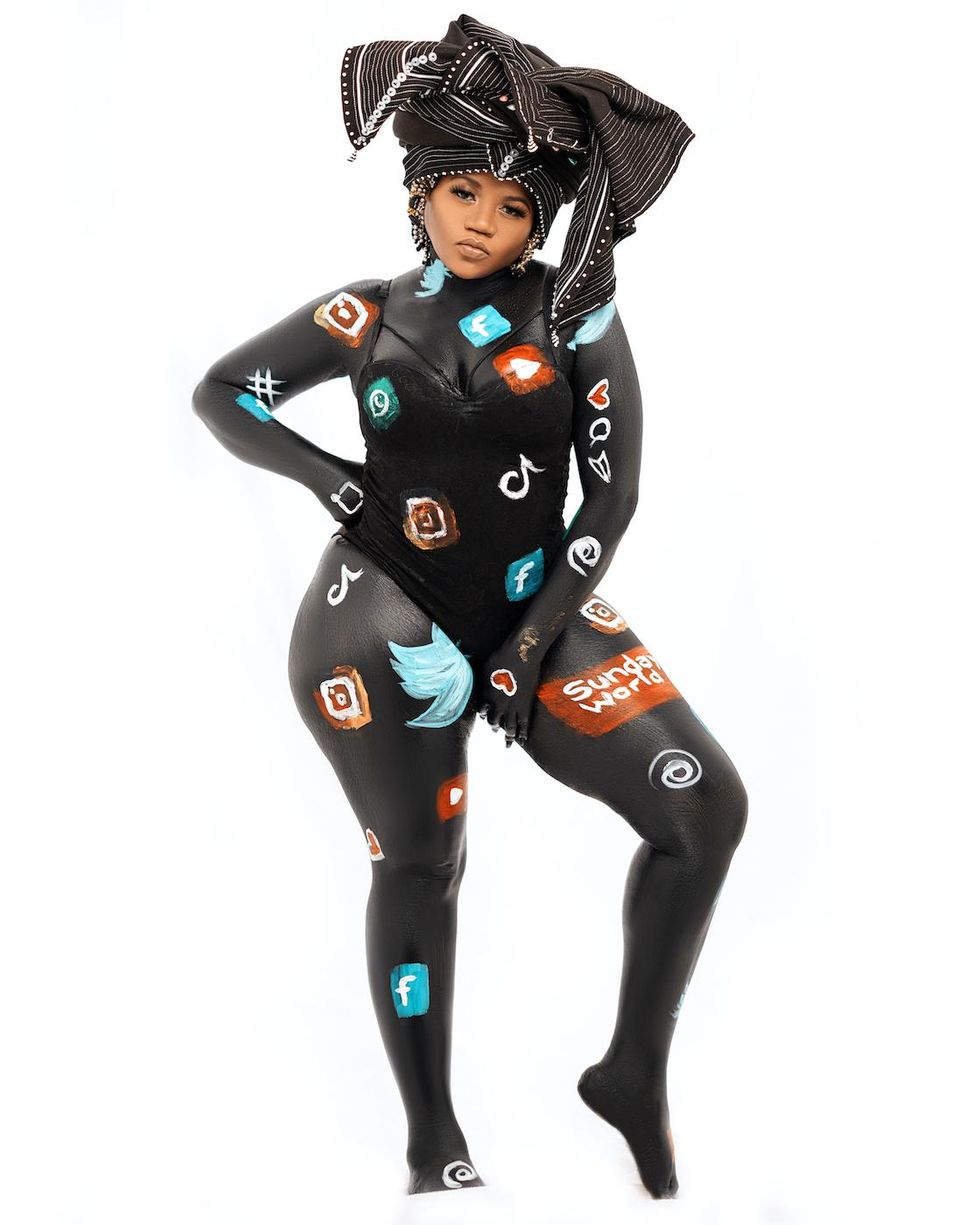 "South African popular music changes so often and in such a powerful and impactful way that you can't ignore the ways in which we navigate popular music in South Africa," says Busiswa on her genre-hopping tendencies. Image courtesy of artist.
Wouldn't you say your music has always had those undertones of empowerment, especially towards women though?

It's just more deliberate and it's more, I would say, aggressive even, because the way I've always done it before, has been subtle and comfortable for everyone. I think now, it's kind of time for me to be the bully, and be like this is what I stand for and this is who I am. I had to be very aggressive because then you understand that I am not just doing it as a double meaning or a coincidence. It is intentional and impassioned, I am taking back my power back this time.
Sonically, the album is predominantly amapiano, which is different to the last one, which was mostly gqom. What prompted the switch up in your sound?
I enjoy dance music, I love making people dance and making people happy. I believe that's what I'm called for. When it comes to the topic of genres, I am a young black South African living in the thick of the young black culture in Mzansi, in many of its different forms and the many different directions that it goes. South African popular music changes so often and in such a powerful and impactful way that you can't ignore the ways in which we navigate popular music in South Africa.
When gqom was dominating, it was all a result of the evolution of the popular culture of young black South Africans and I am a part of that, you can't separate me and my music from that. I enjoy working with new and different people and trying out different things and sounds. I don't want to find myself being a martyr for a particular sound just for the sake of it. I would also like to make music that I enjoy and I know as long as I enjoy it, then there's somebody else out there who might enjoy it.
Busiswa - SBWL (feat. Kamo Mphela) Official Music Videowww.youtube.com
Did "SBWL", as the album's first official single, set the tone for the entire album and was it perhaps, the first song you recorded?
There are songs I recorded even before "SBWL" (which was recorded in December 2019); I recorded "Lucky Star" in New York in June 2019. It wasn't so much of "okay, let me make an album of this genre", it was more a matter of "this is what is popping in South African right now, in Africa in fact, I'm enjoying the sound so let me explore". This is why I have previously worked with Maphorisa and Kabza De Small, Mas Musiq, and DJ Sumbody, as a featured artist. With "SBWL", I wanted to introduce a new energy and this is why I also worked with Kamo Mphela. She is a fresh new energy and she inspires me as well. I wanted to introduce a new era of where I want to be in the next couple of years.
Besides the beat selection, how else did you challenge yourself as an artist on this particular album?
I was in the studio with Zingah a lot. After we did "Siyaya," he was interested in helping me to explore and fully utilise my voice. He co-wrote with me, made me try different melodies and is even on the backing vocals on some of the songs. The important thing for me was, I didn't wanna be known as the "features girl" after this album. I wanted to carry the whole song myself. On this album, I probably sang the most I've ever sang on any project. I enjoy finding out what else my voice could do.
On "Ndim uHahaha", you managed to tackle being cheated on and being made a fool by a partner in a humorous way. How was the experience of writing and recording of that song?
That song has had the funniest responses I've ever seen because everyone relates, but also, the reason we can make jokes about it, is because we all find joy in turning pain into laughter. I'm that kind of person; I will find humor in every situation 'cause I don't like being upset and that's how I cope. I have gotten over the whole "abantu bazothini" ("what will people say") syndrome.
The song is connecting so much, because the initial idea came from a thread on Twitter that went viral. Someone asked a question: "What is your clownery story?" and I saw that we are all in the same boat. We all basically have incidents where it's like, 'ja, I got played proper'.
This is the second release under your label, Majesty Music. What are some of the lessons you have learnt about running your own record label?
That it's very expensive [laughs]. It's different when you have to think about all the aspects involved. You constantly have to be creative in different ways. I can't just show up and expect all to be ready. But it's definitely worth it because I want to have a company that is of the calibre of a Kalawa Jazmee or a Afrotainment. There hasn't been a female who has run a label to that extent in Africa and I'm ready for all the challenges.
Busiswa would like to collaborate with the likes of Black Coffee, Black Motion, Megan Thee Stallion, Lizzo and others. Image courtesy of artist.
In your documentary, Busiswa: An Unbreakable Story, you mentioned that in the future you would like to sign artists to your label. Are there any acts that you've been having conversations with, in your capacity as a label boss or interesting in signing at the moment?

I'll be reaching out to female artists only 'cause music is already a male dominated industry. We need more [record] labels for females and the LGBTI community. There's a need for a creation of spaces where they can be comfortable to spend hours upon hours without being made to feel uncomfortable. And I would like to create that for that reason.
There are a lot of people I'm liking at the moment, I would like to sign Gee Six Five, Dunnie and Kamo Mphela. I would also like to offer mentorship to some. I'm hoping to start an affordable development academy with Majesty Music where we teach girls how to produce, deejay, and also teach them the business side of music as well.
On your recent single, "Makazi", you interpolated a traditional Xhosa song, and in the cover, you paid homage to your Xhosa tradition. How important is it to include such symbolism especially at this stage of your career with all the international attention?
I felt something when we did "My Power". I was made to feel so important, unique, and special. That kind of made me feel like 'wow, we don't have to look outside all the time'. Sometimes we have to look inside of ourselves for inspiration. It made me interested in the ways in which we make ourselves majestic.
I am learning how the Xhosa people use clothing to make a statement, and it's so fascinating to me. I don't have to use Gucci or Louis Vuitton to do that, I can use umbhaco (traditional Xhosa regalia), and people get it. People really appreciate the statement even if I don't explain it. And that is something that I'm definitely gonna do more often as well.
Makazi (feat. Mr JazziQ)www.youtube.com
Speaking of "My Power" and "Black is King", how was that experience and what did you take away from it?

The way I was treated like a queen by someone who is operating at the highest level inspired me to look at other new girls that are coming up and be inspired as well. I realised that you can never get to a stage where you feel like you have done everything. There is always a way of looking at different places to find inspiration, growing with people doesn't take anything from you.
After collaborating with such an array of incredible artists, who do you still want to work with in music?
There are many, I haven't done a song with
Black Motion
and
Black Coffee
. I would love to work with
Ami Faku
. I would love to work with
Wizkid
,
Burna Boy
,
Yemi Alade
,
Lizzo
and
Megan Thee Stallio
n, I'm putting these out to the universe, and Missy Elliot, so we can do one fire video for the culture [laughs].
Stream Busiswa's new album My Side of the Story on Apple Music and Spotify.