Caster Semenya hits the track for the first time these Summer Olympic Games today in Rio. Racing in the first round of the women's 800-metre event, the South African middle-distance runner is just a few hours away from beginning her bid for Olympic gold. The 25-year-old track-and-field star also has her eyes on a 33-year-old world record (a time of 1:53:28, set by Czech runner Jarmila Kratochvilova in 1983).
---
Semenya's road to Rio has not been without debate. But as we mentioned over the weekend, she's backed by a nation of supporters.
On Twitter this morning, many South Africans are calling for #CasterSemenyaDay.
Good morning friends!!! Happy Caster Semenya day! #HandsOffCaster #HandsOffCaster #HandsOffCaster pic.twitter.com/n2Lk6laJLk

— Eusebius McKaiser (@Eusebius) August 17, 2016
Today is #CasterSemenyaDay. Go, sister, go. #HatersBackOff pic.twitter.com/0xy1XTcuX9

— Fallen Feminist (@nombonisogasa) August 17, 2016
All the best @caster800m

You're in our hearts ! ????#CasterSemenyaDay #RioOlympics2016 pic.twitter.com/4GWikuGRLV

— Leeanda Reddy (@LeeandaReddy) August 17, 2016
Dear #Caster, Today bbz. Run with all your soul. Let the record speak for you. Run that the entire stadium remains silent. #CasterSemenyaDay

— Malebo Gololo ♡ (@malebosays) August 17, 2016
Walking in the office like ?

Its #CasterSemenyaDay ?

Today at 15:55

Don't miss it! #Rio2016 #Athletics pic.twitter.com/4HZuMXsem2

— Sundowns Guy (@IamShawnNeo) August 17, 2016
#CasterSemenyaDay the President of the Republic must declare today a half day so the citizens will be home on time to witness history.

— Ndumiso Mbatha (@NdumiMbatha) August 16, 2016
#CasterSemenyaDay

— Firebrand (@simphiwedana) August 17, 2016
Others are showing love with the hashtag #Caster4Gold.
Today is your day to fly, queen! SA is behind you. #Caster4Gold ❤️ pic.twitter.com/KHMyVO1ZtF

— Tammy Petersen (@TammyPetersen87) August 17, 2016
Seriously goosebumpy about this afternoon's race! @caster800m is gonna wipe the floor with them haters! #caster4Gold pic.twitter.com/spaDOOw9f9

— snapchat: leroymarc (@_Leroy_Marc) August 17, 2016
Do us proud @Caster800m! MT @MetkaZurman Hard to focus on work today. Only thinking about & supporting #Caster4Gold pic.twitter.com/yLPJ9PASX7

— Meruschka (@MzansiGirl) August 17, 2016
One Twitter user said her dad wrote a poem for Semenya.
A poem my dad wrote for Caster. #HandsOffCaster #Caster4Gold pic.twitter.com/G94G9BHd3K

— Courtney (@Courtz_RM) August 17, 2016
And that wasn't the only poem. Poet Jackie Mondi's praise poem, "Caster is Mokgadi," is currently making the rounds.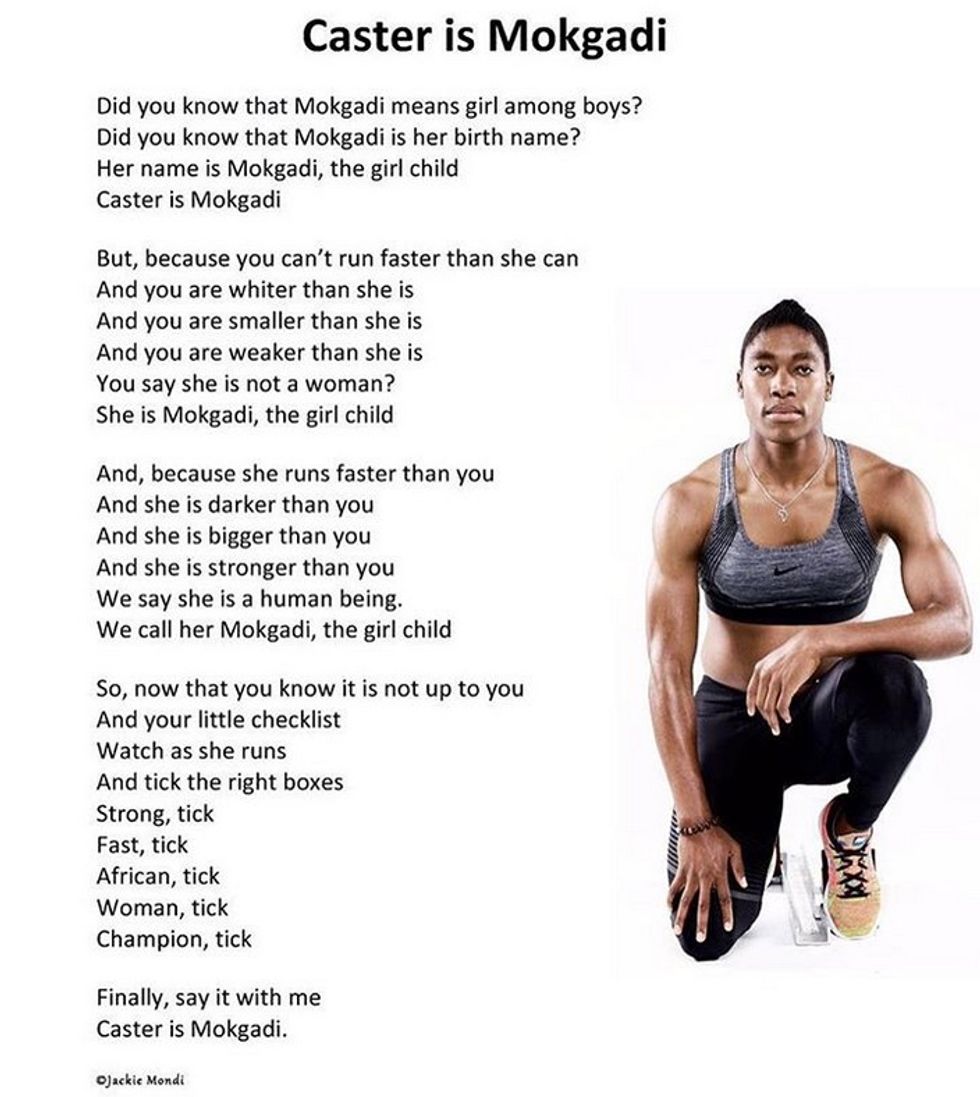 Jackie Mondi's poem, "Caster is Mokgadi"
The first round of the women's 800m event begins today at 15:55 local SA time. Look out for Semenya in the second heat at 16:02. The finals go down Saturday in Rio (2:15am Sunday in SA).