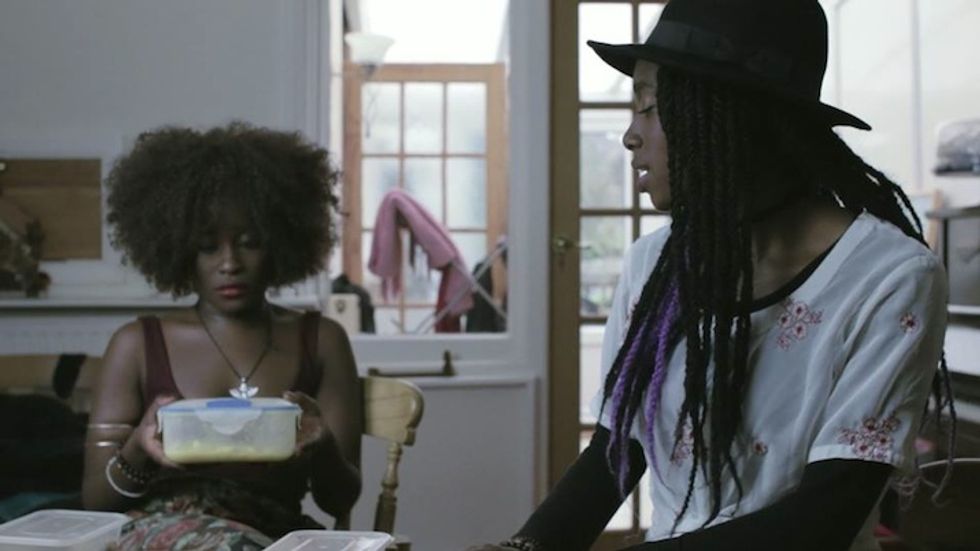 In the final episode of UK filmmaker Cecile Emeke's web series 'Ackee & Saltfish,' Rachel and Olivia deal with a case of missing saltfish.
---
All month we've been keeping up with the onscreen antics of best friends Olivia and Rachel in UK filmmaker Cecile Emeke's latest project, a short film and five-part web series entitled Ackee & Saltfish. "Emeke's portrayal of two young Black women is unlike anything else on TV or the web right now," Okayafrica contributor Adwoa Afful wrote in a review ahead of the series premiere. "Yet something about it feels familiar. There's no contrived romantic subplot, no barriers the characters need to overcome, no existential crises they need to work through. Rather, Emeke has the confidence and skill to let her characters do what two young Black women are so rarely allowed to do on screen – just hang out."
Four episodes in, we've seen the girls banter over Lauryn Hill concert tickets, the desirability of "back bread," a rainy day at a carpet shop and the acceptability of a pre-interview superstition. The season's fifth and final episode revisits the Jamaican dish the show takes its name from. In "Deception," the two friends find themselves in a case of "pre-meditated" culinary sabotage when they open a container of ackee and saltfish minus the saltfish. "Only someone who is trying to hurt us could do this," Olivia (Michelle Tiwo) points out as her and Rachel (Vanessa Babirye) wallow in disgust over the missing ingredient. "You're basically just spitting on our culture," she adds. Watch the final installment of Ackee & Saltfish, "Deception," below, and catch up on episode one, "The Lauryn Hill Tickets," episode two, "Breakfast," episode three, "The Carpet Shop," and episode four, "The Job Interview."
>>>Read: Okayafrica's interview with Cecile Emeke
>>>Read: UK Filmmaker Cecile Emeke's Portrayal Of Two Young Black Women In Ackee & Saltfish Is Unlike Anything Else On Screen