African designs, patterns, and colors have experienced an impressive boom in recent years. African ideas are front and center and now, more than ever, African creatives are being considered as the trendsetters and champions of innovative fashion.
Ghanaian wardrobe stylist and fashion designer Charlene Akuamoah is one of those trendsetters trying to break barriers. Akuamoah, who is based in Toronto, started out by styling friends in the entertainment industry. She tried her hand out in wardrobe and editorial styling for fun at first, before others took notice of her talents and began hiring her. In 2016, a few years into her career, Akuamoah and two of her best friends started their apparel brand BROKE&LIVING, a passion project dedicated to women stretching and testing their creative abilities. The now unisex brand separates their clothing into two sections; BROKE, their basics + everyday wear collection, and LIVING, the company's ready-to-wear line. Akuamoah was named one of OkayAfrica's 100 most influential women among the diaspora in 2019, as the brand took off.
From years of volunteering her time for free at studios and on sets, Akuamoah has scored styling partnerships with Sony Music Canada and has had her work featured in a number of publications including FASHION Magazine, Afropunk, The Fader, The Marilyn Denis Show, and more.
Akuamoah is focused on creating a network of Black and African creatives within her industry and encouraging young creatives who want to pursue careers in fashion, styling, and wardrobe and costume designing. Her understanding of fashion, from both a design and editorial angle, has given Akuamoah the ability to approach all her projects with a different, unique perspective.
We spoke with Charlene Akuamoah on her focus on dressing narratives in bigger and better ways, and being the person she needed when she started out.
*This interview has been edited for length and clarity
---
How did you get to become a fashion stylist?
Honestly, I think I fell into it. A lot of my friends are super creative; they're all creatives, writers, artists. A few years ago, a friend of mine was working on an MTV aftershow and she asked me to dress her in a few things, and my two best friends and I started styling things and doing creative projects just to pass the time, and fulfill our creative desires. People started asking us to style different editorials and things like that. Then we got into making DIY jewelry, thrifting, and just because we couldn't really find anything out there that worked with the vision that we had. So, I started from there, and then it snowballed into people wanting me to style them from music videos, and people wanting to have me costume design a project that they were working on, and then it just grew from there.
That's so cool, it started just for fun, and then people were like, "I could pay you for that, by the way."
Yeah, exactly. Before we were just doing it for free, It was two of my best friends, so we were literally just having a good time, and just creating, and being very creative, and making things up as we go. Then it became a thing where it was like, "This could actually be a career, this is something that I enjoy doing, and I like seeing something come out of nothing." So, I guess the universe started bringing things to me, and here we are.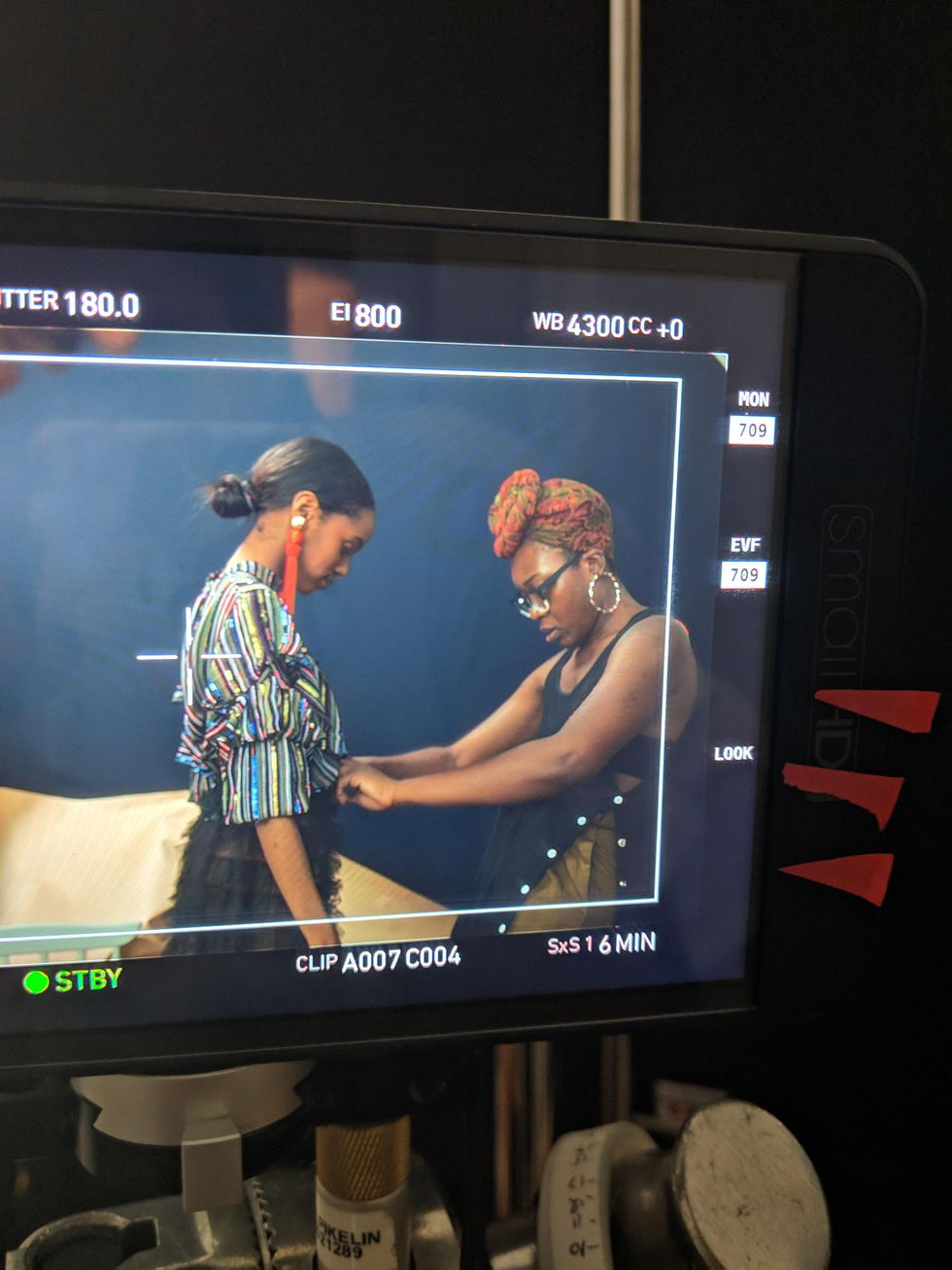 Behind the scenes shot of Charlene styling on set. Photo courtesy of Charlene Akuamoah
How do you use fashion, style, or design, to help you tell stories?
The thing I like about that, in particular, is that you really have to get into the psychology of the person. Specifically, in costume design, it's like, "Who is this character? Are they a messy person? Are they a clean person? Are they specific about what they wear, and their colors?" That formulates where I would shop for that person, the color waves, and the pieces of clothing that I'd get them. Whether it's supposed to look wrinkled, or messy, or dirty, if they're supposed to be a stain on it. It's mainly the character that speaks to me and tells me what they would be wearing, and that's how I let the fashion determine where it goes. It's also very much a collaborative thing — especially with actors. It's like, "Well, what's your vision for this character? What were you envisioning? What were you thinking?" Then we blend it in that way.
I just think that's really beautiful because I get to stretch my imagination beyond what I initially thought that this person would look like. Then even in music videos, the treatment speaks to me, and I've made it a point to only work on projects that really speak to me in a specific way. Not necessarily just anything that comes my way, which I admit, I'm very privileged to be able to do that and say no to certain things. But if the creative speaks to me, if it makes sense, if it's just a beautiful story, then I will go through it, and just let the character direct where I go shopping, essentially.
You have Ghanaian and Dutch roots, how have these two different cultures influenced your personal style, as well as in your work?
I didn't really dig into my Ghanaian roots until, I'd say, the first time I went back to Ghana as an adult — n 2016 or 2017. I remember stepping off the plane and seeing everyone that looks like me, speaks the same language, and just the creative scene in Ghana. How carefree they looked in the way that they dressed, and very much into mixing prints, colors, patterns, and silhouettes. Even the traditional prints, and how they incorporated that into their Western style. That for me was the first time I felt like I was home. Finally. Because of that, I've incorporated that into my style as well.
Photo courtesy of Charlene Akuamoah
You find a lot now with young Africans who live in the West that it's becoming a lot easier to connect with their African heritage. It's popularized, and it's everywhere now. So, I'm sure there were phases growing up where you didn't want to be Ghanaian, or you didn't want to accept your African parts.
Exactly. I remember when I was younger and would go to school, and it's that whole like, "You're African, you have flies" and blah, blah, blah. It was like, "Well, no, I grew up in Amsterdam, so I'm Dutch." Just thinking about that version of me just makes me sad, because it's like I know why I did that, but feeling empowered now to just be able to be myself, and just really represent Ghana in the best way possible makes up for that a little bit.
Have you witnessed an increase in the number of Black creatives within the world of fashion and styling in recent years?

One hundred percent. You have all of these Black stylists and designers really making a mark and it has become so beautiful to watch. Jason Rembertand Zerina Akers are two who come to mind, but there are so many more. I mean, even in Toronto, it's the same thing where, before, I used to only look towards a specific group of stylists, and now there's a whole heap of Black fashion stylists and designers that are killing it. So, it's been beautiful to see the space that we're taking up and the fact that we're actually able to be in these rooms with these people. It's so inspiring, I love it so much.

The last time we spoke with you, you were named one of OkayAfrica's 100 women to watch. How have you been since then? How's BROKE&LIVING?
Things have been good! I think with Broke & Living right now, the three of us are just so busy figuring out what our next moves are going to be. I wouldn't say it's on hold, it's definitely in a rebranding phase. We're working on redeveloping ourselves so that we can be there for the brand one hundred percent and pieces that we're going to come out with are going to be beautiful because of that.
Personally, I've become a lot more streamlined with where I want to go and the influence I want to have on people that are coming after me. I think being on that list also gave me that spark, and just reminded me that I'm on the right track, and I'm doing what I'm supposed to be doing, and things are only getting better and they have. So yeah, it's been great.
Speaking of paving the way for others, what advice do you have for young Africans, young Black people, who want to get into fashion and into styling?
I would say just start. I say this all the time and it's like, "Don't wait for opportunities, create those opportunities for yourself." With whatever you have, create editorials, do what you can with what you have around you, and also, don't be afraid to reach out to people. I've had a few people reach out to me, just being like, "Hey, I would love to work with you." I think that's so important because when I was first getting started, I didn't know where to go, or who to reach out to, or where to start because I just felt intimidated by everyone that was already doing all these amazing things. But I think it's really important to take that initiative, and reach out, and just start creating on your own, so that people can see what you're capable of. So that they can throw money at you, so you can create even more things.
Also, volunteering your time. The first thing that I did that was really film-related was I did a low-budget, indie project for free. Then I assisted a costume designer who was working on a film, and she needed volunteers. Again, I know that's definitely coming from a privileged place and not everyone can afford to work for free. But I think that there are ways around that where you can reach out to people, and see if there's any other way that you can help them, and they can help you out. Right now, create opportunities for yourself, because there are so many opportunities right now to get into the industry.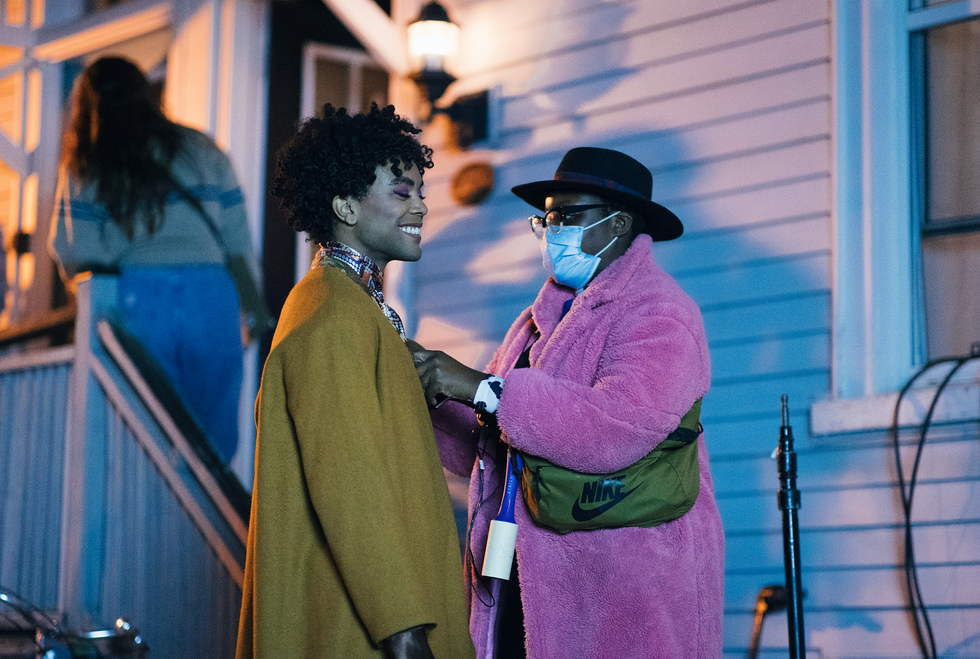 Photo by Samantha Falco
What current projects are you excited to be working on?
I'm currently working on a web series, it's on Amazon Prime and OutTV, called Avocado Toast. I'm working on season two, and it's such a beautiful project. I was saying before that I'm really focused on working on projects that are beautiful, and that speak to me on different levels and have a lot of heart. I think that this project really has that. The team that I'm working with is absolutely incredible, they're really amazing and telling a really beautiful story this season. I'm really excited to be head of the wardrobe department for the show. I'm really excited to show everyone what these things look like.