Before James Alex Fields, Jr plowed his grey Dodge Charger into the crowd of anti-fascist and anti-racist counter-protesters, killing Heather Heyer; before the helicopter crash that claimed the lives of two Virginia troopers who were monitoring the rally, Charlottesville was bound to write its name in caps in the pages of this historical moment. After all, it is not every day that a city in the "old" south supports a reparations fund for its Black residents while committing to unmount General Robert E. Lee, both statue and symbol, from his pedestal in the city's emancipation park.
---
When the stars and bars flag waving, swastikas embracing and Tiki torch bearing faction of the resentful, and delusional strain of the white supremacist movement congregated in Charlottesville's emancipation park to protest the removal of the confederate general's statue, it was also meant to demonstrate that disparate bands of disgruntled white Americans could transcend their differences and forge a common front in their battle to defend a symbol that represents to their counter-protesters a vile aspect of the American experiment that died in Appomattox Court House when the said general surrendered to Ulysses S. Grant, his union counterpart.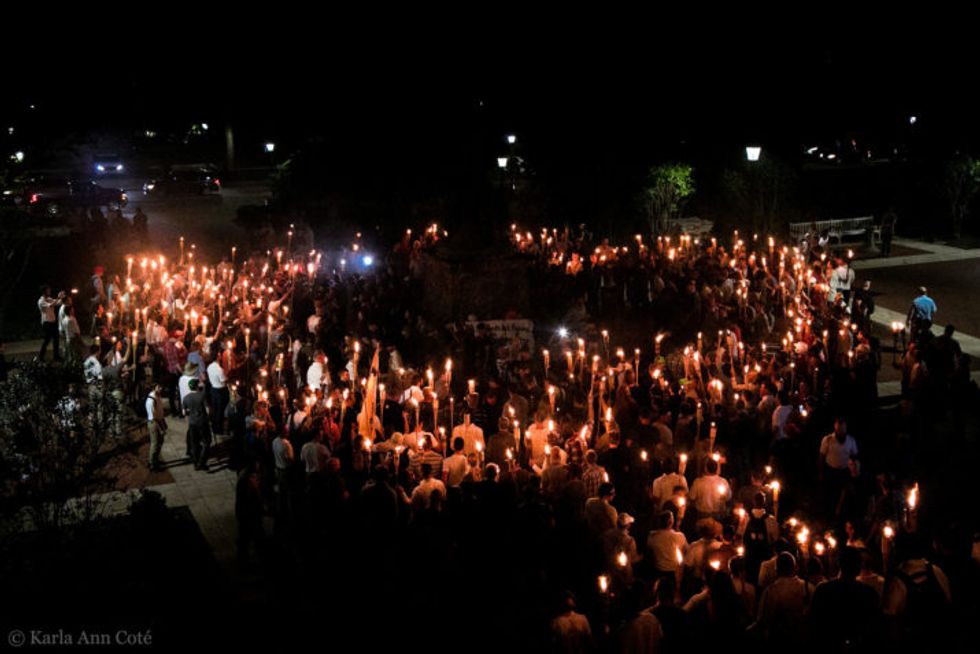 When torch-carrying Nazis surrounded and assaulted a small group of counter protestors at the base of the Robert E. Lee Statue in Charlottesville Photo via Flickr by Karla Cote
Nevertheless, the gathering in Charlottesville represented much more than a show of unity between Third Reich loving millennials, their ammo-carrying militia kin and advocates of the white supremacist confederacy; in essence it unfolded like a pilgrimage to the soon-to-be-removed shrine of the chief warrior in the lost cause of white supremacy to reaffirm their presence in the face of what they've designated as historical erasure.
"You will not replace us," one banner proclaimed.
Incensed by the recent drive by cities and towns across the short-lived former confederacy to rid themselves of symbols that represent values that are antithetical to tolerance and inclusiveness, yet emboldened by a political landscape that has proven fertile for their beliefs, Charlottesville also provided an opportunity for these white supremacists to fight back against the band of cosmopolitans, LGBTQ people, immigrants and people of color perpetuating their victimhood.
For these folks, the shiny city on the hill for which their ancestors braved the high tides of the seas to conquer, settle and subject others to servitude, must be restored to its original purpose, which for them is synonymous with the subjugation of the servile races by the master/mistress race.
To restore their utopia, for this occasion these preppy-looking defenders of white civilization came armed with urine, guns, mace, shields, sticks and cars; ready to brawl, shoot, spit, spray and if necessary run over the coalition of anti-fascists anti-racist counter-protesters including but not limited to Black Lives Matter groups, LGBTQ advocates, college students, union activists and townspeople among others who had descended upon the Virginia town that Saturday morning. If ditching their hoods and capes is the cost to resurrect their vision of America, one that once resided alongside more noble ideals in the founding of the nation, then it is worth the price.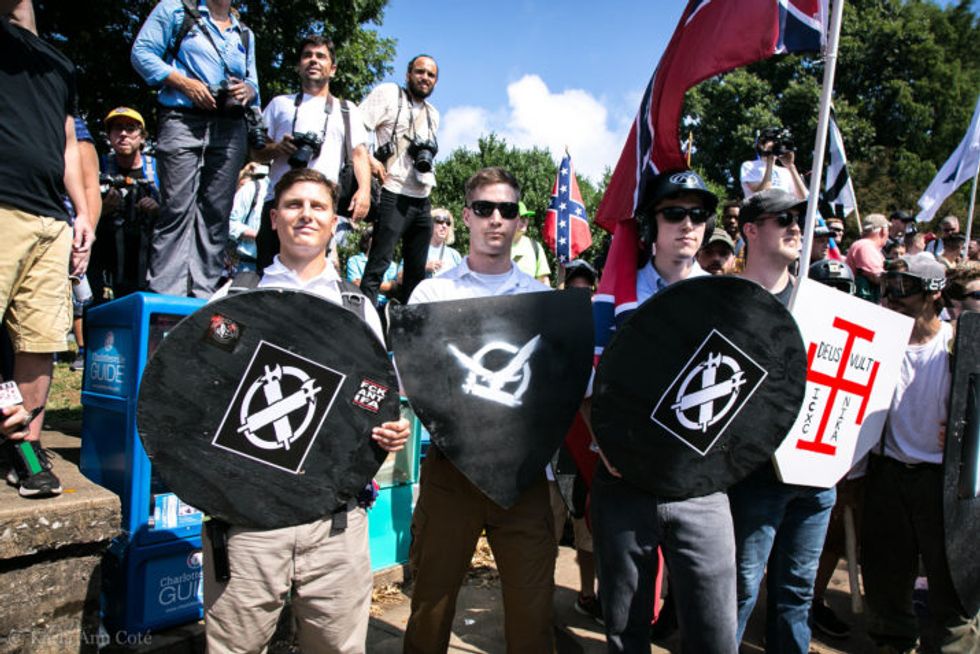 Nazis and other "alt-right" groups flooded Charlottesville this weekend. Photo via Flickr by Karla Cote
Predictably, it did not take long after their encounter for these two groups representing different factions of the American myth to confront each other; turning the streets of this charming Virginia college town, which in 2014 was designated America's happiest city, into a snapshot of a nation in distress.
Later in the day, what became more distressing for some but did not surprise this writer was President Trump's response to the violence from his golf club in Bedminster, New Jersey:
"We condemn in the strongest possible terms this egregious display of hatred, bigotry and violence on many sides, on many sides," he said.
Yet "many sides" did not come carrying semi-automatic weapons, Nazi flags, and wearing t-shirts bearing Hitler quotes; "many sides" did not use poles to beat armless counter-protesters; "many sides" did not come giving "Heil Hitler" salutes.
Photo via Flickr by Michael Sessum
While the dog-whistle embedded in the president's condemnation of the "many sides" responsible for the day's violence is easily recognizable to anyone familiar with the encoded lexicon of white-supremacist-speak; it is unreasonable to think he would knowingly alienate a core constituency responsible for his electoral success.
The president, I believe, like most Americans, knows who and what was responsible for the images Charlottesville gave us this past Saturday. The president, I believe, like most in his inner circle, understand the roots of Charlottesville's carnage. But the president, I believe, like many white Americans, does not have the means, or the will to stop Charlottesville from replicating itself.
Kangsen Feka Wakai was born in Cameroon. He is a hip-hop and jazz head who worships in the shrine of Fela Anikulapo Kuti. He is an imaginary god child of Nina Simone and Sun Ra. He is currently working on a memoir exploring father-son dynamics, family, identity, and displacement. He lives in Washington, D.C. Follow him on Twitter @KfWakai.