News
Christian Tiger School Preview Unreleased Beats In Sonar 2014 Cape Town Mix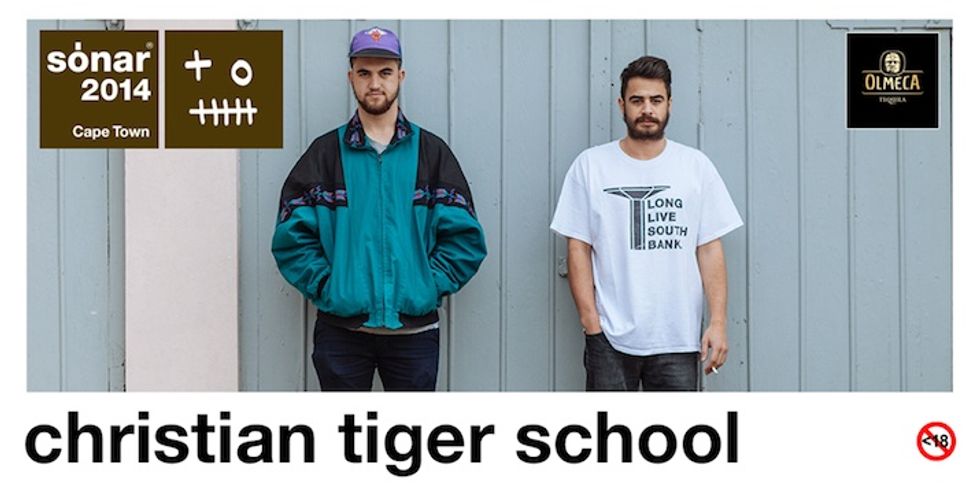 Cape Town production duo Christian Tiger School preview unreleased material in a new mix ahead of Sonar 2014 in Cape Town.
---
It's been more than two years since Luc Vermeer and Sebastian Zanasi's Cape Town production duo Christian Tiger School released their outstanding hip-hop beat zen debut album, Third Floor. Since then the guys have gone on to play SXSW in Austin, Texas (with our very own Okayplayer family), Primavera in Spain, and most recently CMJ in New York City, where Seb and Luc were selected to participate in a recording session with NYU music students.
We're still awaiting news of a proper release for their sophomore LP, Chrome Tapes, but until then CTS are previewing their new experimental electronica-influenced material ahead of Sonar December 15th-16th in Cape Town, where the guys are set to perform alongside Pet Shop Boys, Fantasma, Fever Trails, PHfat, Jon Hopkins and others. The 25-minute mix includes 9 tracks of b-sides, works-in-progress and "general ideas." Listen on below, and check the group's Sonar profile here. For more on Christian Tiger School, watch them record a track with Bilal and World's Fair for our Player Xchange series in the Okayafrica TV episode below.
Christian Tiger School's Mix For Sonar Cape Town 2014 Tracklist:
1. Intro (0' - 1:35')
2. HABBAS (1:35' - 4:13') [Work In Progress]
3. Stompbox (4:13' - 7:42') [Work In Progress]
4. Sleep a Salt (7:42' - 10:19') [Instrumental]
5. Rising Phoenix/Magic Bus (10:19' - 14:10) [B side]
6. Singe (14:10' - 15:14') [Instrumental]
7. Roundhouse Picnic (15:14' - 18:05') [Work In Progress]
8. Hey Arnold (18:05' - 23:30') [B side]
9. Outro (23:30' - 25:32')