Cinema Africa: Priscilla Anany on Challenging the Taboos About Children with Special Needs in Her Debut Film
Priscilla Anany's debut film addresses the much needed conversation around how to better care for children with special needs in Ghana.
Priscilla Anany's debut, Children of the Mountain, which she wrote and directed, was awarded the Best New Narrative Director at this year's Tribeca Film Festival. The film centres around Essuman (Rukiyat Masud) and her child Nuku (Jessica Dablo) who is born with Down Syndrome, Cerebral Palsy as well as a cleft lip. Any one of these maladies would be cause for great concern to the parents, but Nuku is also rejected by her father Ejah (Adjetey Anang) with fierce support from his mother, and a rural community where old myths have a stronghold.
---
The film is issues-led, yet genuinely affecting—a simple enough balance that is often hard to pull off—because the seriousness of subject matter tends to make for hideous, guilt-inducing viewing when not properly handled. Anany spoke to us before the opening of Film Africa, the annual festival of films by African filmmakers held across different cinemas in London from Oct. 28 to Nov. 6.
Sabo Kpade for Okayafrica: You've made a film about a child who is born with a cleft-lip, Down Syndrome and Cerebral Palsy. That's a lottery win from hell. What was the seed?
Priscilla Anany: Prior to making this film, I had made a short film in Ghana, and I was researching to find out some of the women issues, and I found that there were not enough hospitals or accessible healthcare. I also came upon this topic of how children with disability and deformity were not accepted in many communities and not accepted in society. This story came to me when a friend of mine wrote a short story about her child who has Down Syndrome. She said that, she felt it might have been her fault.
Also, I have my own family's story. My mom's sister, that's my aunt, she died when she was very young. She was sick, and my mom often told me stories about how her parents struggled to try to find a cure for her. Combining all of these, I realized that I wanted to tell a story that shows how a parent, a mother especially, would do her best, will struggle to try to find cure for her child, and to also tell mothers that it's not their fault if they give birth to children with disabilities and other health complications.
You also address adoption. Essuman most loyal friend, Asantewaa (Akita Edjeani Asiedu) is said to be barren.
I just also wanted to throw it out there to also encourage women to somehow embrace adoption and not see it as such a negative thing.
A nurse tells Essuman that her treatment is costly and that there is an organisation of Ghanaian doctors based abroad called "GAFRI" who periodically return home to offer treatment for free, a Ghanaian version of Doctors Without Borders. I looked online but didn't find any such organisation.
Because I made them up.
I'm not daft after-all because I looked and looked.
Okay. So The Graft Foundation exists in Ghana. First of all I had a script, right, and then I wanted to use an organisation like Doctors Without Borders who will come and help out. But then, when we started looking for a child that had the conditions that we were looking for, we found The Graft Foundation which is a Ghana-based and funded organisation and they take a lot of pride in that. They also go out to help other West African countries like Togo and Benin. They gave us those little girls that we worked with in the film. Now, they said that if we're going to work with the little kids, then we should use them, and mention their names in the film.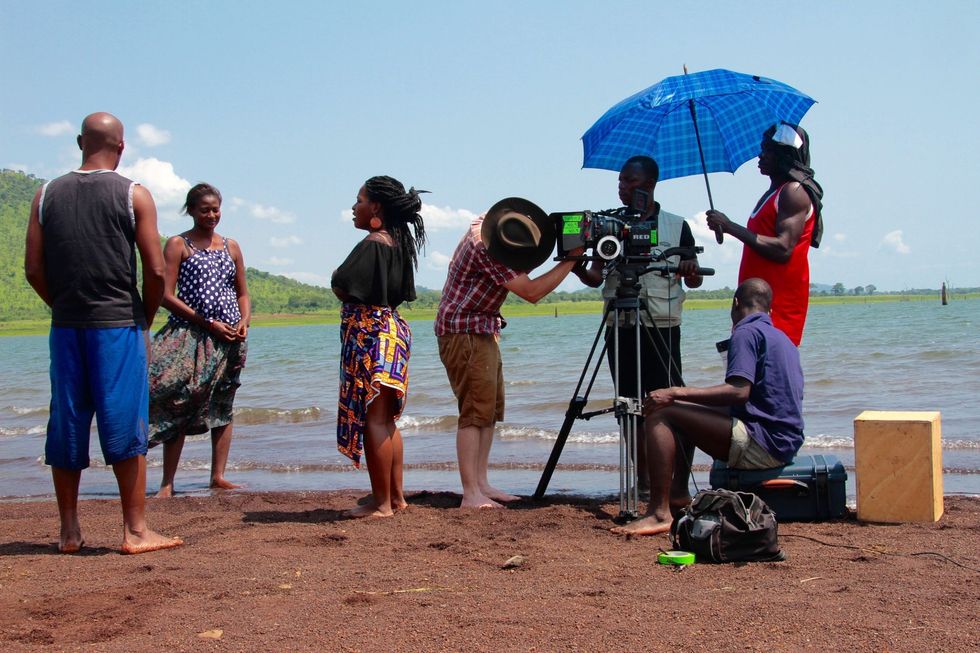 Behind the scenes of 'Children of the Mountain' photo courtesy of Priscilla Anany.
Essuman is not blemish-free. When we meet her she's pregnant for her live-in lover Ejah whose own previous lover and the mother of his first child lives right next door, and with whom Essuman doesn't get along. Why was it important for us, the viewers, to see that she may not be altogether undeserving of the hand life had dealt her?
Well because, you know, later on she felt that maybe she did something wrong, because society pushed her to feel guilty about having such a child, a child with issues. Down the road, she begins to question her own self and everything she has done. That's how desperate she is to be free of all the issues and find a solution. So she goes back and begs for forgiveness.
Yes, she begs for forgiveness, but why has she begged for forgiveness? Is it because she feels it's wrong, what she has done to this other woman, or because her child is ill and handicapped, and now she feels that it may be a result of her wrongdoing?
I think it's both. The mother-in-law says, "Your sins have caught up with you. It's everything that you have done that has caused this." It's both. She gets to a point where she feels remorseful especially in the scene before she goes to apologize, when the other woman is walking out, and then they exchange a glance, and then she just takes a moment, and then she just feels remorseful.
Rukiyat Masud who plays Essuman is a beautiful woman, but she's not your archetypal pretty face.
She's beautiful in her own right.
Yeah. In every right.
...and dark and her dark skin is so beautiful. When I saw her, my team said, "Well, we don't think she's that beautiful." But I thought she had a striking look and she when she auditioned her performance was excellent. I just knew that she was the right person.
Photo still from 'Children of the Mountain' courtesy of Priscilla Anany.
Another standout performance is given by Grace Omaboe, who plays Ejah's mother and is the mother-in-law from hell. She goes as far as asking Essuman to kill Nuku. How did you come about casting her?
She is actually a pioneer actress in Ghana and very well-known. I grew up watching her, so I had always hoped and dreamed to work with her. That was quite easy to have her, because I knew she would do amazing.
Jessica, the central character in the film, does actually have a cleft lip and Down Syndrome. Did you have to provide any medical attention for her while she was on set?
No, we didn't have to. But then as soon as the movie was done, we helped her get her surgery done. There was an organisation that works with The Graft Foundation. They provide free surgeries for the kids. The parents take care of their trips to their hospital, and if they have to stay at the hospital, the family has to take care of it. Then if the child has other conditions and needs a bunch of other tests before the surgery, the family has to take care of it. But then the cleft surgery itself is free. Jessica had some issues that needed to be sorted out prior to the surgery, so we helped handle all of that. Then she was able to get the surgery.
Priscilla, thank you.
Thank you.