In our series City Guide , we ask our favorite musicians, actors, artists and known personalities from all over Africa what their go-to spots are in their hometown or permanent city of residence.
---
In this installment, renowned Swazi-based media consultant, travel and entertainment blogger, guest broadcaster, social media marketer, business project manager, tourism writer, and arts activist DJ Tizalami (real name Bongani Dube ) takes us on a tour of Swaziland's capital city, Mbabane.
Best Concert Venue
Indoor: Swaziland Theatre Club is our prime indoor concert venue in the city for small to medium gigs across music, dance, theatre, comedy, and poetry. In spite of the mythical assertion that Mbabane people are not outgoing, several Swazi and visiting acts have had sold out shows at the venue.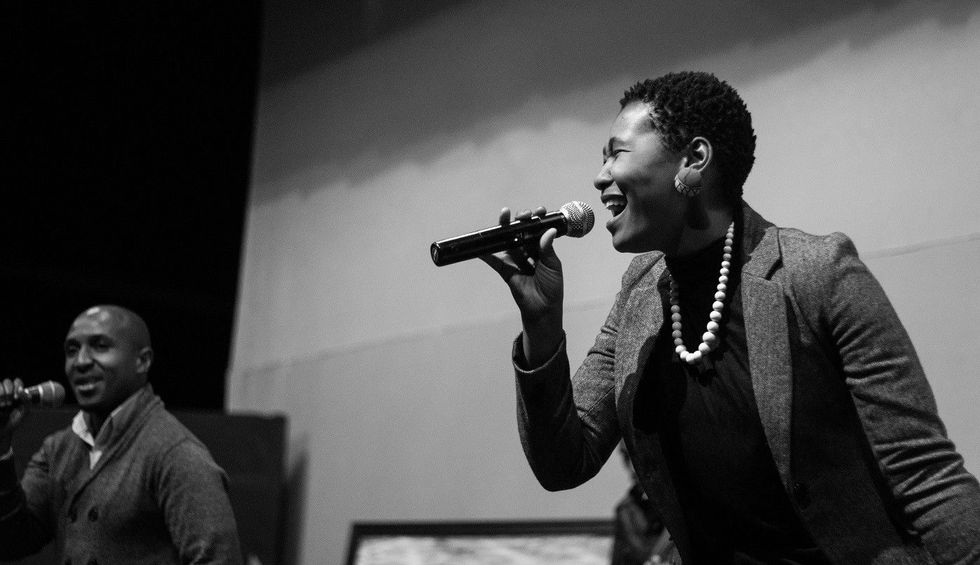 A performance at the Swazi Theatre Club. Photo by Sabelo Mkhabela.
Outdoor: The Rootfop at The Corporate Place is fast becoming a venue of choice for many promoters, and its major advantages are centrality, as it is located right in the CBD, as well as ample parking space.
Best Night spot
In the past, Mbabane's nightlife was almost non-existent until only but five years ago when Solani 's Shisanyama was established. Located right in the middle of a populous township Msunduza, Solani's is the place to be. Popularly known as eNkandla , the place does remind one of Durban's famous Eyadini Lounge which is located in the township uMlazi. From time to time, Solani hosts entertainment acts from within and outside Swaziland, proving why it is Mbabane's number one chill-out spot at the moment. Their drinks are surprisingly affordable and their meat is always good.
Photo courtesy of Solanis.
Best Restaurant
Located just five minutes from the city centre, at the Golf Course area, is Mbabane's best eat-out spot: Ramblas Restaurant . They have an a la carte menu, and serve some of the best meats, starches and veggies in town. I'm not one to recommend specific foods, but do try out their cheesecake for your dessert. You'll thank me later.
Best Date Spot
Mitchell's RestroBar & Grill is a relatively new spot in town, before the Pine Valley turn-off, along the EU Ambassador's Residence road. The combined rustic and botanical ambience makes the place perfect for falling in love with your loved one all over again. The balcony sitting area overlooks some lush greenery making it enchanting day and at night.
Best Drink to Have While in Town
An occasional glass or two of Swaziland's own lager Sibebe does quench a thirsty throat. I recommend that you get it as draught beer from any of these places in town: La Caserole, Venue AVVII (formerly Finesse Heights), Solani's Shisanyama , or Mountain Inn hotel, to fully enjoy its taste. However, if you don't take alcohol (like me, *winks* ) but still wanna look cool, I'll recommend a Rock Shandy at Sibebe Rock Spur at The Corporate Place. It's purely coincidental that both Sibebe beer and Sibebe Rock Spur are named after our iconic Sibebe rock; which is the world's largest exposed granite pluton.
Best Place to Hang out with Friends
During the day, Cuba Nora Café at The Corporate Place is a cool place for hanging out and enjoying coffee and great music, and at night, if one is not at Solani's Shisanyama then they are at The Albert Millin found at Mbabane Club. The latter is quite popular with expats, but you do find some trendy locals there holding their own, you know. We are Mbabanites like that.
Emerging Spot for the Future
Bahle Gallery on Dzeliwe Street is the future. The ambience, the food, the people, the art and arts; it's always a perfect mix. It's quite an intimate venue for the conscious souls. The people I've met there all look perceptive in one way or the other.
Anyway, I can't wait to meet you in Mbabane next time you are in Swaziland. Holler at me if you need a sober tour guide.
Check out DJ Tizalami's blog here , and follow him on Twitter @djtizalami .