The music of CKayeludes definition. Perhaps the songwriting tips a hat to Afropop's linguistic conventions, but the sound—which is where he truly excels—packs an incredible amount of fusion. You'll hear the sensual, spiritual chants of Latin-inspired styles as well the choral compositions of classical music. He's also adept at R&B, weaning soft records from the battlefield that is love. On his last project when he revealed himself as "Africa's Boyfriend," the Nigerian musician was reaching a fullness of his powers, combining bluesy melancholy with edgy lyrical direction.

It was a working formula, as CKay's profile was cemented among lovers of a specific tradition within Afropop. Records like "Felony" and "Kiss Me Like You Miss Me" soared with character and soul, and throughout 2021 the EP continued to soundtrack the myriad motions of youthful love. Just before the year was over though, the star of CKay exploded even more fiercely as "Love Nwantiti," a sultry record off his CKay The First project, became a global hit. Suddenly millions all over the world became aware of his talent. Everything changed after that, yet CKay has retained control over the one thing that truly matters: the music.
---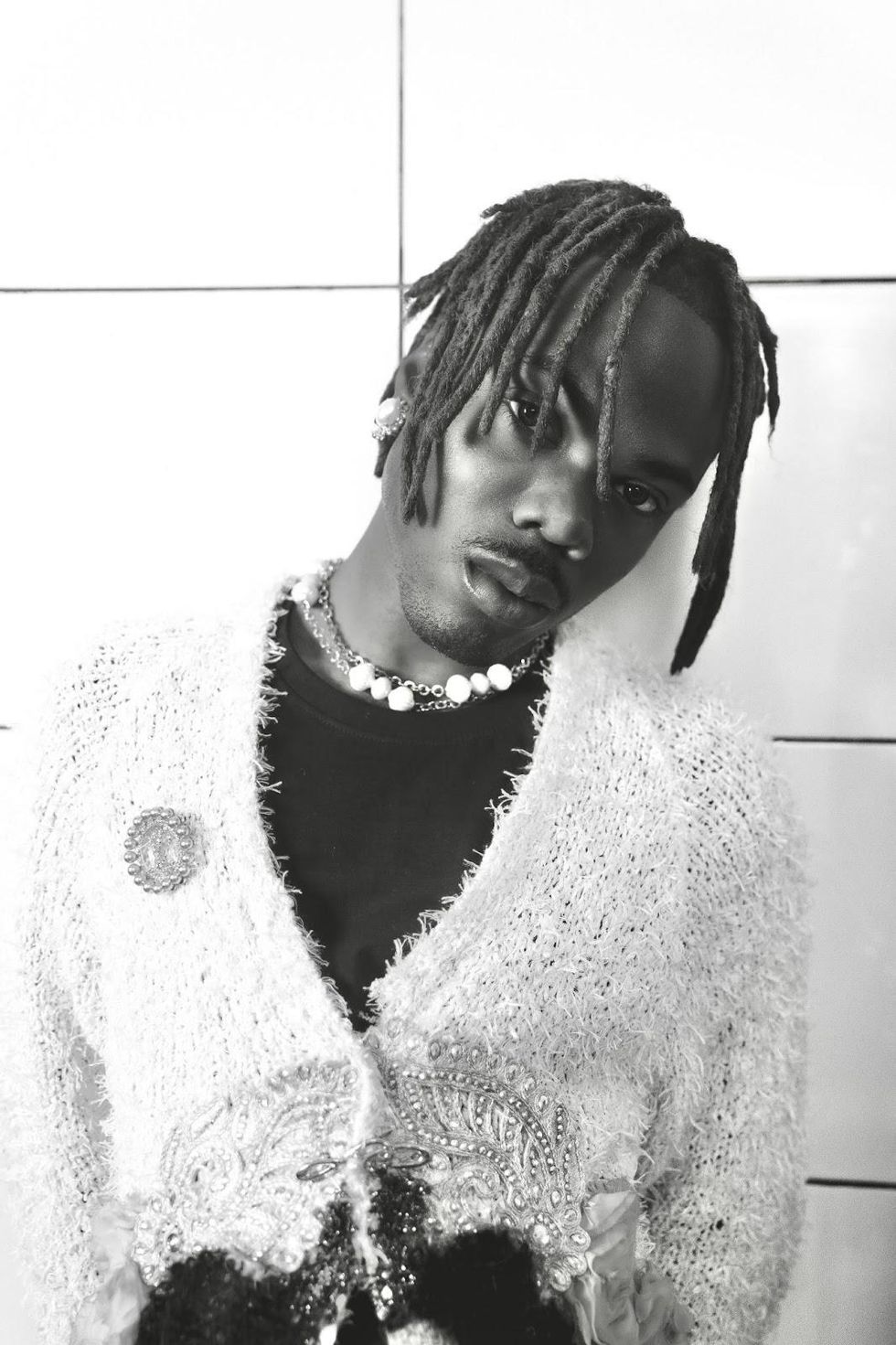 Ckay
Photo via Warner Music.
Amidst all the attention, the imminence of a debut album stood tall. CKay has advanced in his art, and knows better than to kindle the ephemereal flames of virality. Sad Romance was thus a necessary forward step in the journey of CKay. Released as the second pre-album single, "You" featured CKay's preferred airy atmosphere even though maintaining novelty with vibrant clashes of Amapiano-style drums. The record's intentional groove was a masterful stroke, and there's no surprise it turned out to be the album's opening song. Elsewhere, CKay charts the tumultuous seas of a relationship.
He's usually seeking intimate moments ("mmadu") or fleeing the perceived complications that come afterwards ("leave me alone"). CKay comes across as engaging in these records, relaying his sometimes flawed perspective with candor. "Talking like you is like talking to a wall," he sings on the latter record, opting out of providing more detail. That deficit in narrative grit doesn't dampen the overall feel of the records though, which is an important point to note. The Sarz-produced "Soja" is one such song, constructed with snapshots which doesn't paint the picture as much as it suggests. "E dey pain you but you like am," he sings on the hook, framing his intentions with understated mischief.
In the closing moments of "you cheated, i cheated too," CKay samples a popular sound bite from a viral social media moment where someone cautions against being overly affectionate with someone, because someone else might be getting intimate with them and with possibly less effort. It's an appreciated tainting of the album's neatness, stitching the infamous patterns of relationship circles in Lagos. Another stellar moment is "by now," one of the more upbeat records on Sad Romance. He abandons the safe for the real, probing the unsatisfactory pace of a relationship. "How you go dey tease me up till now?" he asks in a tone that oscillates between angst and acceptance.
When CKay introduces a feminine perspective, they're usually in service of the relationship's survival. He prefers to steer the tension, but his guests offer strong vocal awareness which makes the records even more vivid. A particular standout is Ayra Starr, whose artistry has delightfully progressed over the past year. Her verse on "come close" is soulfully bare, the artist layering opinionated lyrics with stunning depth. "lose you" benefits from the dramatic burst of melancholy introduced by Cape Verdean singer Ronisia. On "samson and delilah," Mayra Andrade is less animated but still effective, taking the production in good stride.
Sad Romance follows a cohesive sonic vision which banks on repeated listens. With the exception of "WATAWI," the album is suffused with soft beats layered to perfection. As earlier established, CKay isn't the conventional Afropop musician and he travels a vast terrain with the minute influences in these records. From EDM to folk, Salsa and South African pop, he weaves from them a subtlety which carries his writer's flaming instincts. Handled by the gifted hands of African producers like Chris Kobedi, Abidoza, Blaise Beats and CKay himself, the production's hue stays close to home even though the mixing and additional elements courts international appeal.
Albums take different forms because no two humans are the same, musician or not. Speaking to CKay over the years, his introversion is obvious and you kind of hear that in the music, too. There's no doubt a lot of conversation trailed the release of his debut album, casting furious ears on the project before it even dropped. Of that tension, CKay expertly evades by offering his truest self. And though the production could make Sad Romance age like fine wine, the writing would have benefited from more specificity and calculated risks. In the moments when every required material is made available to CKay, he becomes an angel of sound, leading a procession which pulls the listener into ethereal bliss.