Growing up in Addis Ababa, Beserat Debebe loved reading comics. He loved the superheroes and fantasy stories of the video games he played and the animated TV shows and movies he used to watch. So much so, he went on to create his own series — the first range of Ethiopian comics, under the Etan Comics label. The debut story, a Miles Morales-like action-adventure called Jember was short-listed for Best Graphic Novel at the Nommo Awards. The second, an epic fantasy à la Avatar, titled Hawi, earned acclaim as Ethiopia's first female comic superhero. Now, Debebe is bringing a new story to life -- one that draws on how his home country resisted colonization.
---
In building Etan comics over the past few years, Debebe has also been building a world of African fantasy and superhero stories. It's been something he's wanted to do ever since he came to the US in 2004 and spent his early days in libraries and bookstores reading comics and graphic novels. After a few years in the corporate world, he finally found the courage to launch his dream. "The light bulb moment came after I saw a 1-minute video of the Tibeb girls -- an educational cartoon about 3 Ethiopian 'Powerpuff' girls who fight for girls' rights. It re-ignited my childhood craving for dynamic visual stories centered on my heritage," he tells Okay Africa. "Comics, or as we call them sensi'ils, were the perfect medium for that, so I got started on the journey."
Being new to the indie publishing world meant he had to learn a lot in a short space of time, including finding both financing and an audience. "Comics are expensive to make, especially the quality that we make them," he says. Trying to get the attention of a potential audience that's faced with limitless options and bombarded by ads from mainstream publishers daily took a concerted effort from his team, he adds. With the success of Jember and Hawi, Debebe and Etan's core team of 5 took on its next production, Zufan.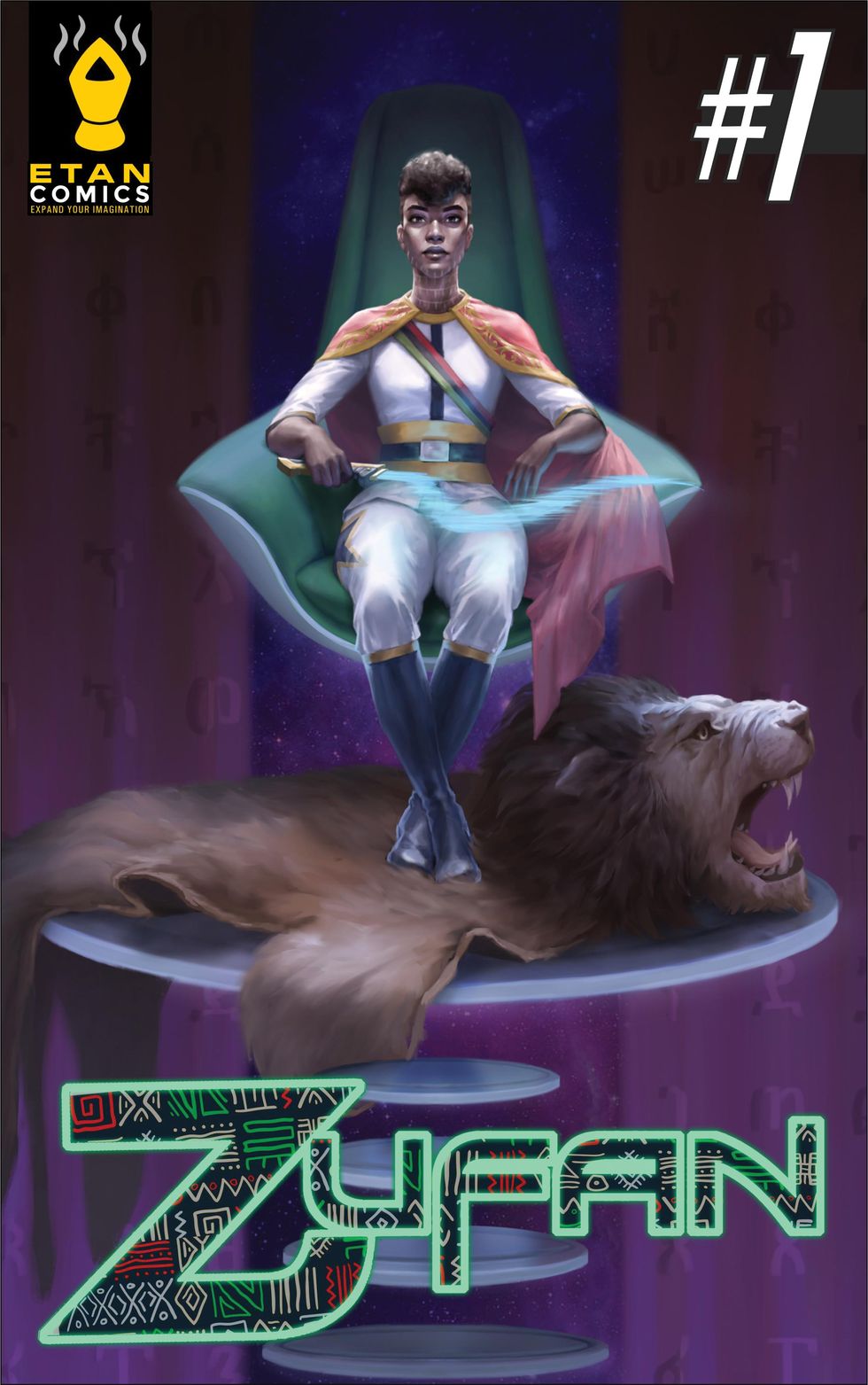 ZUFAN #1 Book CoverImage: Courtesy of Etan Comics
Just as with the previous titles, Debebe set up a Kickstarter campaign to draw support for Zufan, the comic that would illustrate -- through an "epic sci-fi retelling of history through fiction" -- how Ethiopia escaped colonialism. Etan has always been 100% community-funded, and while the Kickstarter aimed to raise $6400, it's already surpassed that. "We are very excited about the response so far," he says. "What draws readers in is the beautiful art of my teammates, Stanley Obende and Toyin Ajetunmobi. What makes them stay is the story, and the wonder of the different cultures and history shared through our stories."
Debebe is based in Houston, Texas, and travels regularly to Addis. He believes the stories Etan Comics tell keep Africans in the diaspora connected with their heritage. "They help them raise kids who are not ashamed of their identity or confused about where they belong. They validate their experiences, celebrate, and invite them to live life unapologetically," he says. "Africans' rich culture, history, and folklore are also the least explored content in popular culture. It is exciting to share these untold stories with the world."
Zufan, in particular, is inspired by the true story of Italy's invasion of Ethiopia. "The battle of Adwa is one of the greatest moments in Black history," says Debebe. "It is a prime example of African defiance, independence, and unity. I grew up learning about it in school but the lessons often lacked nuance for me. They centered on famous figures and generalized facts. They didn't go into the emotions or the relatable day-to-day truths." In learning more about this part of the story, Debebe came across much research that expanded his understanding, from books and photographs to videos and podcasts.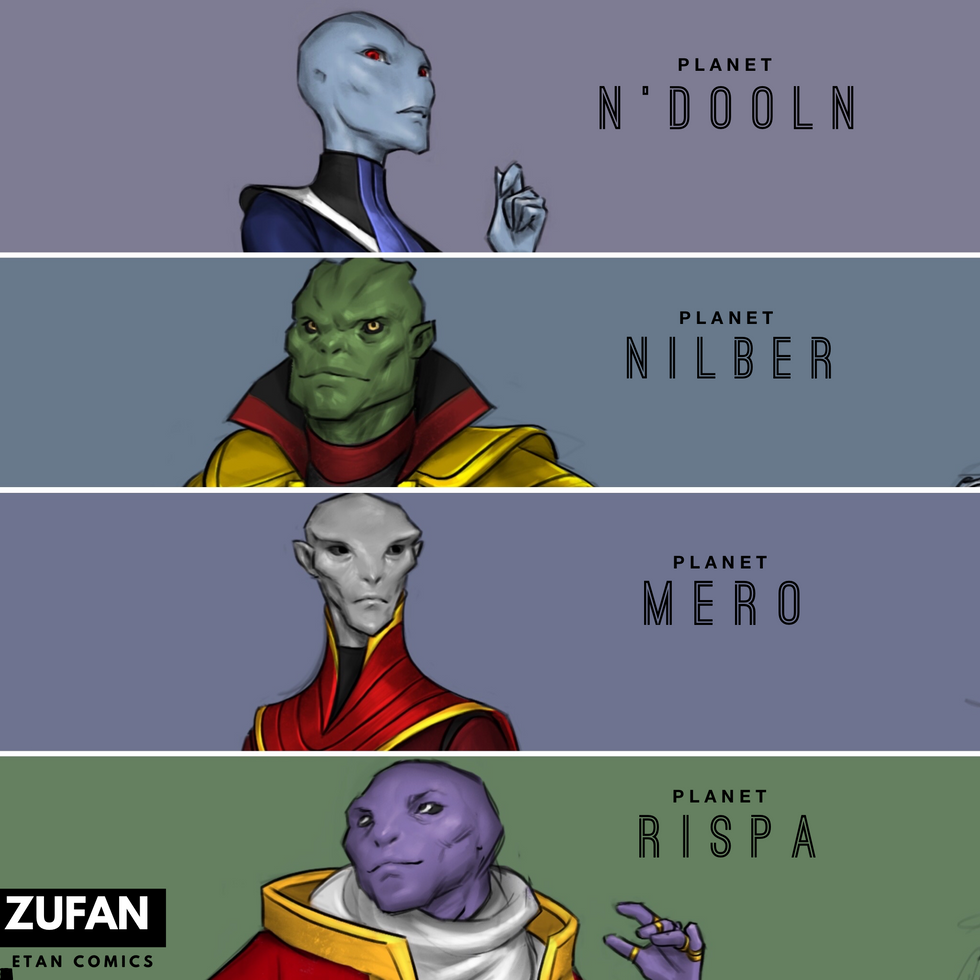 ZUFAN CharactersImage: Courtesy of Etan Comics
What he found was inspiring and jaw-dropping; it made him want to share these details with everyone else. "I knew if I told the story as-is, the nuances would get overshadowed by famous figures and the desire for extensive historical accuracy. That's why we reimagined the characters, world, and timeline, and decided to tell the story as a Pan-African sci-fi series," he says.
Zufan uses interplanetary worlds and aliens to recount the story of Ethiopia successfully defending itself against the Italian invasion in 1896, despite the differences in background and values and the rivalry between various Ethiopian provinces. Instead of it being a scramble for Africa, it's a scramble for Earth, and a fragile alliance between Africans of different backgrounds has led to the formation of a Pan-African nation called the African Alliance. But their conflicting interests and feuding keep the nation teetering on collapse. The comic sets up the questions: Are they better off on their own? Can they find a way to look beyond their differences?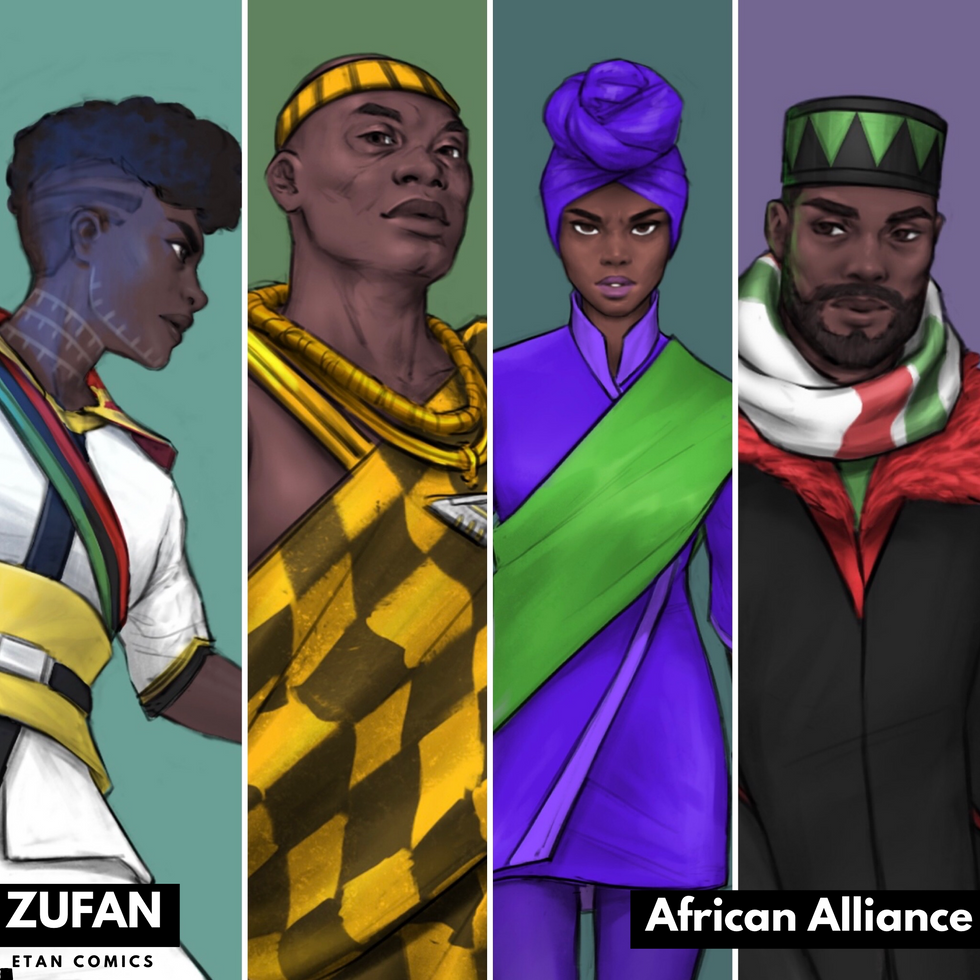 ZUFAN AliensImage: Courtesy of Etan Comics
This fictional adaptation also allowed the team to emphasize what they see as the most important lesson of this history -- that our potential to unite behind shared goals is far greater than we imagine. "As long as we acknowledge our differences and choose to focus on the goals that unite us, we can create powerful and lasting changes in society," he adds.
It's a message Debebe really wants to see taken to heart at home. Watching from afar events of the past year unfold in Ethiopia has been difficult. "It hurts to see my fellow Ethiopians suffering and in pain. The noise of misinformation also makes it difficult to find the truth," he says. Debebe takes some comfort and also hope from the work of Zufan. "The research I did for Zufan has shown me various similarities between what is happening now and the 1800s. And if history is evidence, we are fully capable of overcoming this challenge and ushering in an era of peace and stability. I hope my fellow Ethiopians will always act from a place of empathy, integrity, and unity."