Within Africa, Accra has become a hot destination for tourists, especially since the 2019 "Year of Return" program championed by the government. In Accra itself, there has been a continuous renaissance in pop culture earmarked by the growth of genre-defying collectives such as La Meme Gang and Superjazzclub, the global rise of fashion brand, Free The Youth, and the establishment of the Virgil Abloh-supported skatepark by SurfGhana. The zeitgeist is evolving and the culture is pulsating with ingenuity.
Through his photography, Cozyshrt, pronounced Cozy Shirt, has become one of Accra's foremost culture curators, adding to this growing atmosphere of creative inventiveness. "Photography is kind of personal to me, in a sense of, a personal space for me to express myself, and to question everything," he tells OkayAfrica over Zoom. "It's this space that makes me wonder what things could be outside the norm or the values society has now."
A graduate of Information Technology Management from the University of Professional Studies, Accra, Cozyshrt, whose real name is David Nana Opoku Ansah, landed his first editorial gig through a stylist friend who was in Accra for work. But his career path could have gone in a completely different direction. "When I was young, it was between directing or being a psychologist. I find human behavior quite interesting, and I am a huge fan of observing human behavior," he says.
Now, Cozy, as he's fondly called, uses photography to observe humans with a unique approach that is focused on reimagining the feel and storytelling potential of photography. A testament to his incandescent imagery is "Family Property" from his series titled Area Boys. Photographed during the lockdown, "Family Property" depicts Cozy's cousin in outfits owned by his late grandfather. "Most of my images can be about colors and how gentle they can be because growing up, the tenderness and gentleness of images were not there," he says. "It was more about commercials and weddings and I did not exist in that world."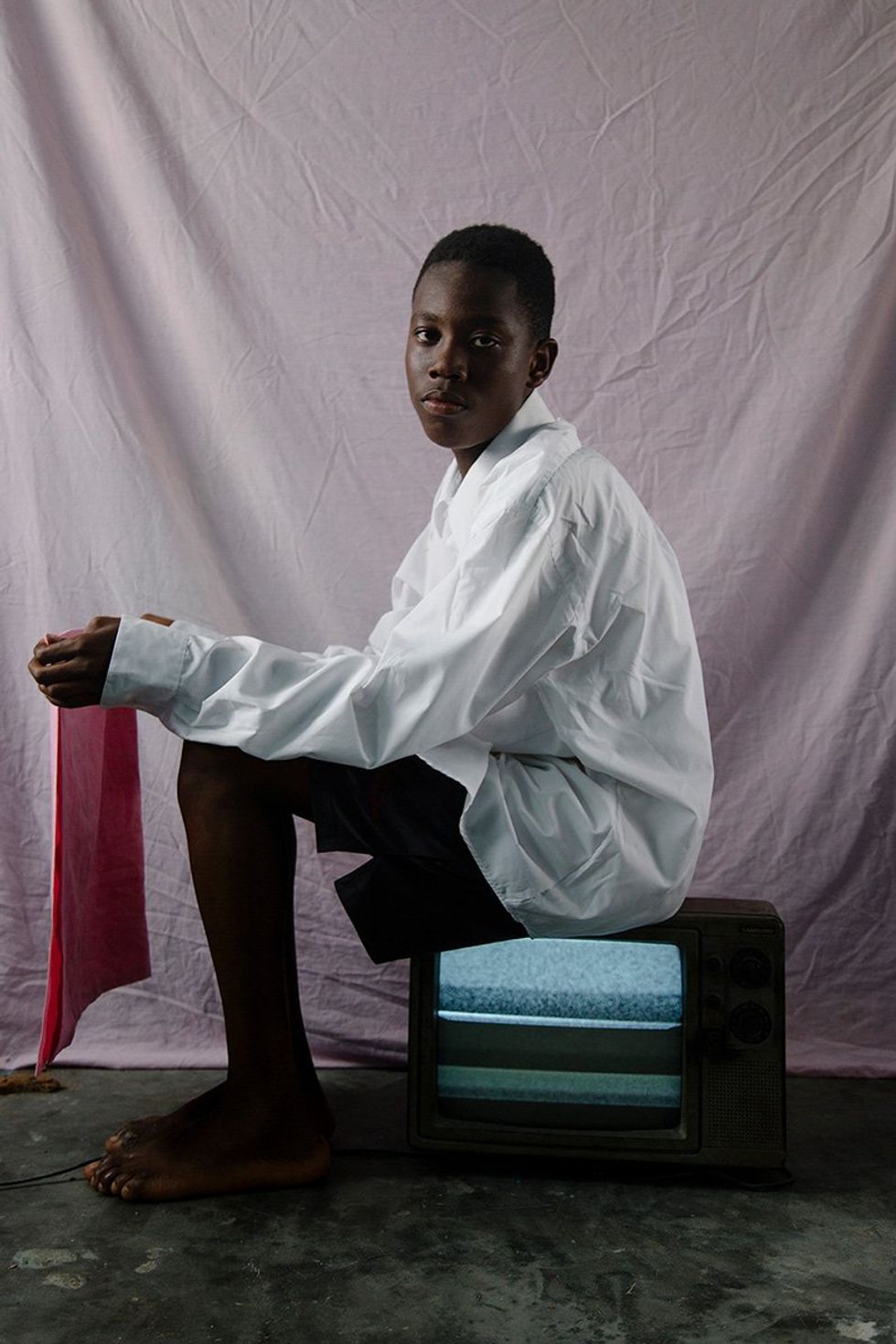 In his Area Boys series, photographed during the lockdown, Cozy photographed his cousin in outfits owned by his late grandfather.Photo by David Nana Ansah
From Photographing People to DJing EDM Raves
Cozy's photography repertoire has seen him take on projects that have left a mark on the local cultural landscape. From his first milestone feature for Nike — the first ever sneaker campaign in Ghana led by an all-local team — to photographing Kendrick Lamar for an exclusive Citizen cover, during the rapper's high-profile visit to the country last year. And his resume continues to expand, working with the likes of FootLocker and Maison Margiela. "I always want people to see things in a new light. I want my photography to question things, and show people that there are more things outside of our beliefs. In the community I grew up in, if something is new or it begins to question things, people just end up dismissing it and are not open to it."
A hobbyist DJ who has played a Boiler Room set, and a member of the seven-man collective, ALLMYCOUSINS, who are currently pioneering the rise of EDM raves in Ghana, Cozy is redefining culture in Accra through photography, community, and music.
OkayAfrica spoke with the multi–hyphenated artist about the power of community and curating a culture of expression in Accra through art.
The interview transcript has been edited for length and clarity.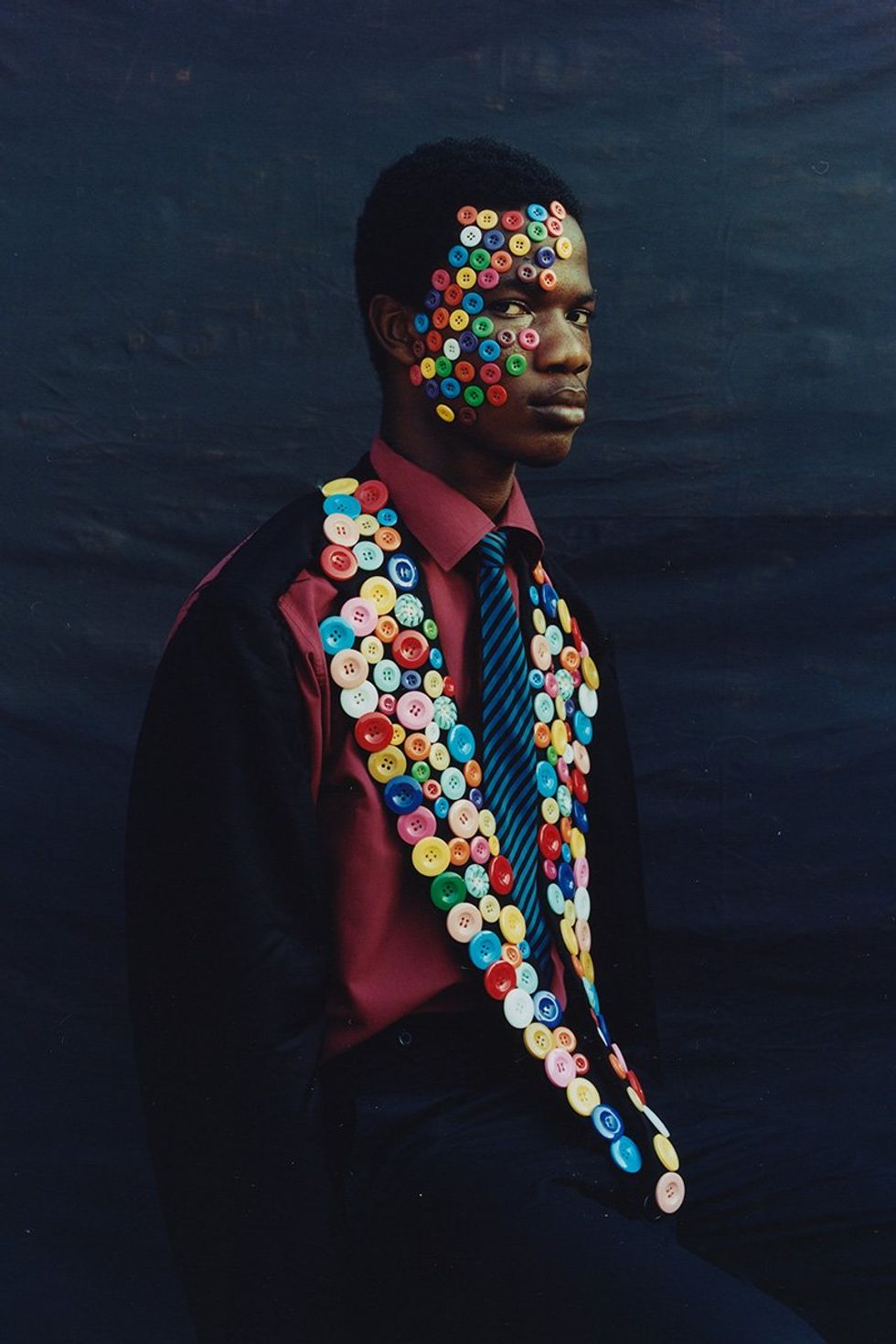 "Filling Pieces" created by Cozyshrt in 2021Photo by David Nana Ansah
Do you think your love for psychology factors into your photography?

I think I ended up being able to study and observe things through photography. Anytime I am shooting, I am always thinking about what world I can create in my head that I would love to be real. I always try to move toward conflict in images because anytime I'm shooting a subject, they have a whole different emotion, and there is how I see them in my head. Sometimes, that conflict is what I'm chasing.
Your photographs seem to have a common theme of community, where does that stem from?
Growing up was sort of me and my family against the world, community did not exist when I was growing up. Community is giving myself all the things I wish I had when I was a kid. I see how you can move faster in a community than just by yourself. There's some sort of joy I've been chasing for a long time, and it feels really good to see all the ideas me and my friends had coming to pass. If you had told me three years ago that there would be some sort of upcoming rave culture in Ghana and that it would be pioneered by us, I would have doubted it.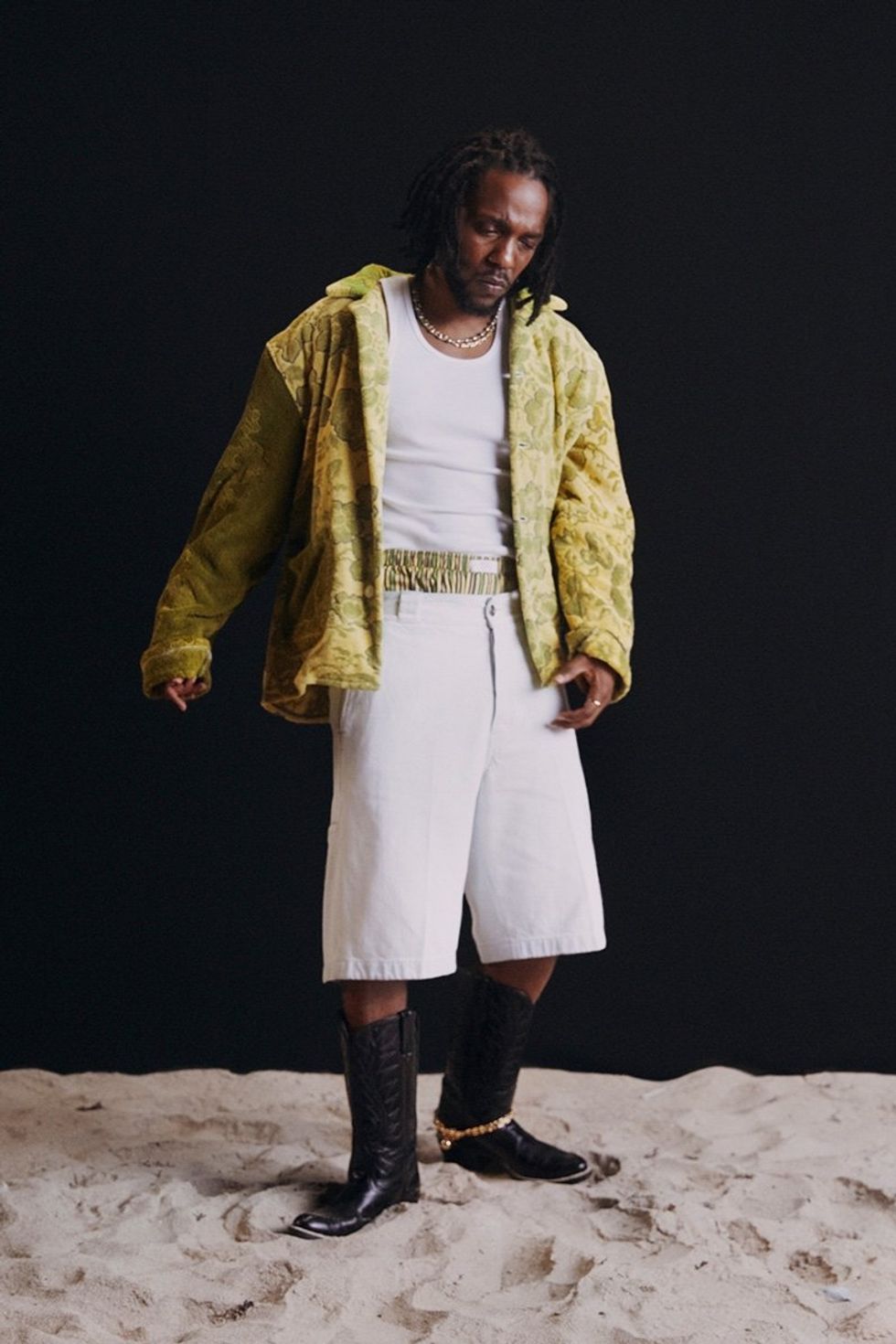 Cozy photographed Kendrick Lamar during the rapper's first visit to Ghana last year.Photo by David Nana Ansah
How did it feel photographing Kendrick Lamar?
I was contacted by the magazine [Citizen] for a different shoot, and after a while, I let the editor know that I was not feeling inspired at the time. The Kendrick opportunity came about, and they reached out to me again. Everything happened so fast, I couldn't believe it.
Kendrick was very friendly and warm. He spoke to me like we were cool, and he was open to ideas. Exchanging ideas and waiting till I was satisfied with the shots.
Who are the photographers that inspire you?
A bunch of photographers – Viviane Sassen, Harley Weir, Alex Webb, Alec Soth — to mention a few.
How does it feel to be at the epicenter of culture curation in Accra?
It feels inspiring and great to be one of the voices around, but it comes with some pressure. Also, sometimes it's overwhelming but it feels really good knowing we are changing the narrative one step at a time.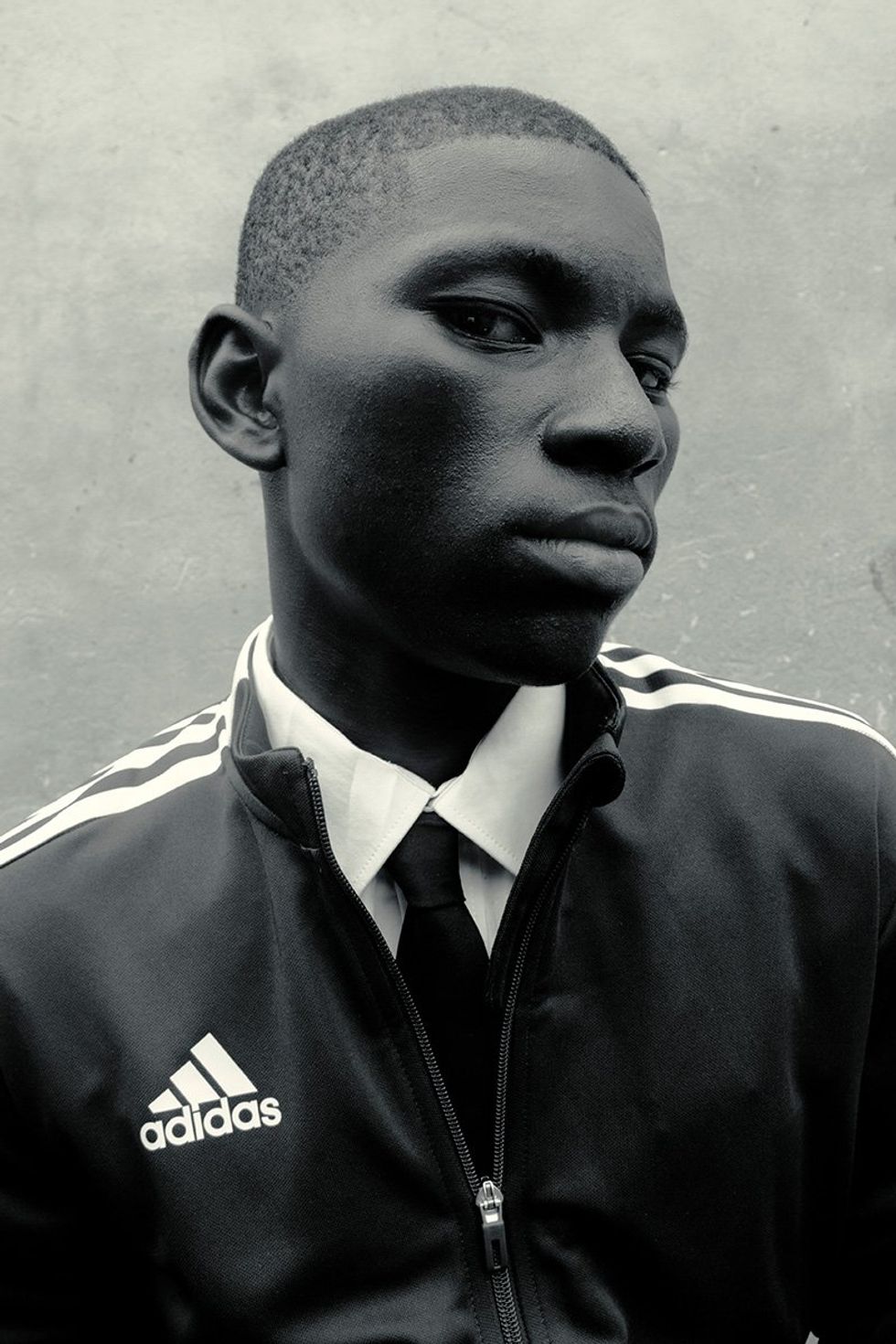 Cozy has worked with the likes of Adidas, creating this piece, "Small Poles" for a recent print campaign.Photo by David Nana Ansah
What do you love about Accra?
What I love is when you are just starting out, no one gives a fuck, so you can be whoever you want, no one is watching.
What do you hate about Accra?
People are so dismissive when it comes to new cultures. Now more than ever, Accra needs a huge community of everyone supporting each other to be able to move very well. That is uncommon and difficult to come by. The fact that there are no mentors and you have to strive so hard for success is just wild.
What do you want to be remembered for?
I want people to feel like this person made me feel there was more to what we thought things could be, and that it is safe to question everything. That it is okay to build your own world and let people understand that this is how you see things. I think I would be satisfied if I could make people feel like they could be themselves freely with no judgment and be okay with making mistakes and failing.