---
*The Orchestra Baobab band. 
Life in Senegal has a soundtrack. Walking the streets of Dakar, one can almost hear brassy sounds emanating from men swaggering past in long tunics, and drum beats from women dressed head to toe in brightly colored fashions. The Senegalese sound unmistakably has a Latin vibe. By tracing the bloodlines of slavery, arching from Gorée Island off the coast of Senegal, to North America, South America and the Caribbean, it is possible to begin to understand the long history in the relationship between Senegalese and Cuban music. Where people go, culture follows and where there is culture, there is the song that carries the story of its people. Learn about Cuban music in Senegal.
*Photo taken by Tasha Goldberg in Dakar, Senegal.
By 1840, half of the population in Cuba were slaves of African descent. The cabildos, or social clubs among slaves, cherished, celebrated and preserved the precious gems of culture and music. This music fed the fusion with traditional Cuban music and American salsa. Cuba led the way in Central America in recording studios and distributing records worldwide. As the capital of French West Africa, Dakar, Senegal became a hub of cultural exchange housing the first radio stations in the region, favoring Cuban music and American salsa and jazz. As if with ancestral memory, the music fell back to its home with comfort and ease.
[embed width="620"][/embed]
One of the first bands to fuse Cuban music with Senegalese sounds was the Star Band formed in 1958 (above). The growing popularity of salsa inspired a Senegalese millionaire in 1972 to handpick a Cuban cover band for his new nightclub, Sahel. The Sahel Orchestra released an album called Bamba that was so popular, the club became a 'school' attracting young musicians from all over Dakar eager to witness the chemistry and mad science of the band. Recently, a new record label in Dakar calledTeranga Beat, released Idrissa Diop & Cheikh Tidiane Tall Diamonoye Tiopite featuring 12 tracks of old recordings, many of them unreleased.
[embed width="620"][/embed]
As the Sahel Orchestra began to infuse salsa with traditional sounds, using the Nder (lead drum), the Sabar (rhythm drum), and the Tama (talking drum) percussion, a new genre emerged called mbalax, a Wolof word meaning rhythm. Mbalax is now the national dance music of Senegal and the Gambia. The Royal Band de Thiès with singers and composers James Gadiaga & Secka brought mbalax to a new level, blending European, Latin American and African musical tradition.
The Baobab Club opened in the 1970's with the Orchestra Baobab. The band has had several musicians since 1970, split for fifteen years and reunited to continue to tour and perform. The band began as the others, covering Latin salsa hits and added the accents from Senegal of new harmonies, guitar leads and jazzy saxophone riffs. Check out their song "Mouhamadou Bamba" below.
[embed width="620"][/embed]
On March 22, 2013, we caught Orchestra Baobab live at Nirvana club in Dakar (photo below), where we got to catch up and talk story with some of the current members: Thierno Koite on alto saxophone; Balla Sidibe on vocals and timbales; Issa Cissokho on tenor saxophone; Moundaga Koite on Congas; Rudy Gomis on vocals; Diouga Dieng on vocals; Assane Mboup on vocals; Barthelemy Attisso on lead guitar; Yahya Fall on rhythm guitar; and Charlie Ndiaye on bass.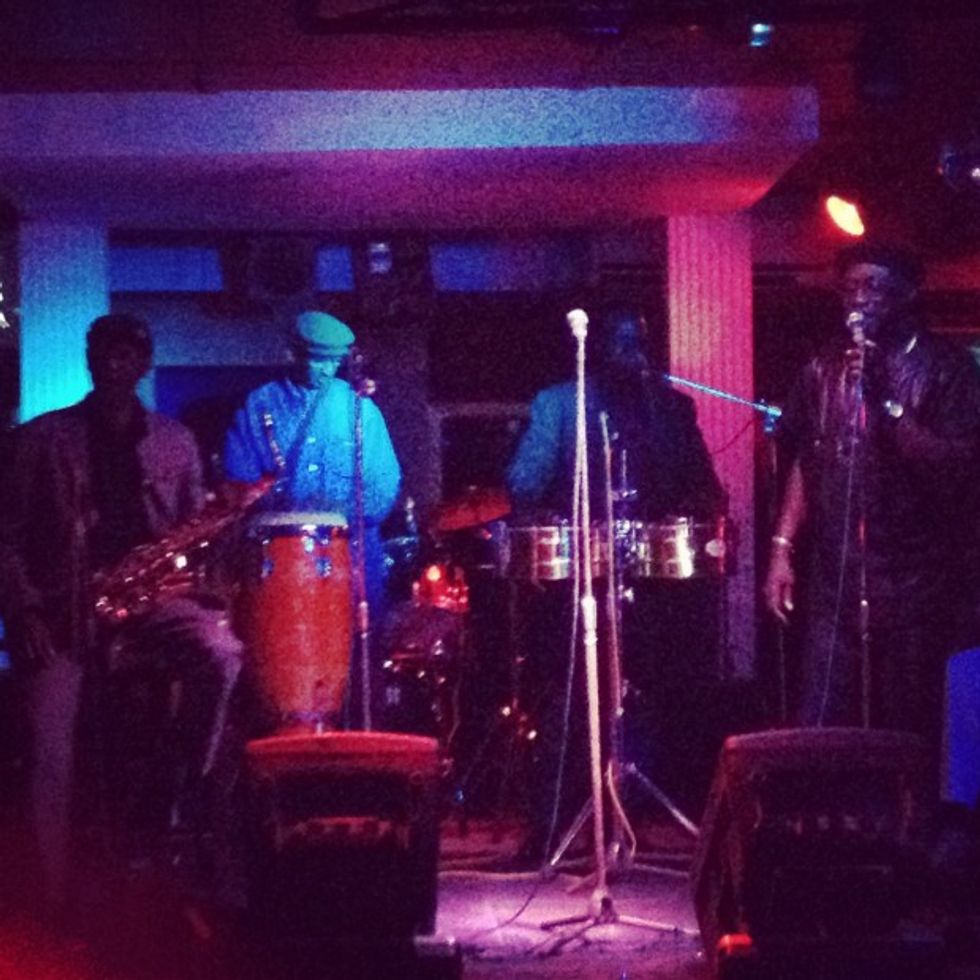 *Photo taken by Tasha Goldberg at the Nirvana Club in Dakar, Senegal. 
Thierno Koite, as one of the original members of the Sahel Orchestra, has seen the world, including living in Germany from 1978-81 and playing with Super Etoile de Dakar with Youssou N'Dour in the mid eighties. Joining the Orchestra Baobab in 2000 was an easy transition for him since he grew up with the Chief of the band, his cousin Issa Cissohko and brother Moundaga Koite - all raised on Cuban salsa and jazz from NYC. (It was actually his other brother, Diego Koite, a professor of saxophone in Marseille, who taught him to play the saxophone when he was fifteen years old.) On one of his trips to NYC, he remembers the street performers, whose passion and beautiful music inspired him greatly. And for his favorite meetings, Koite stills carries a picture of himself with Branford Marsalis who he met at the ABC studios in LA. Although he has love for all music, he is a jazz enthusiast at heart, favoring the greats Charlie Parker, Sonny Rollins, and John Coltrane.
Balla Sidibe, singer and one of the founding members of Orchestra Baobab since its birth in the early 1970's, was raised listening to only salsa music that came through the radio and from the returning soldiers. Although the band has traveled to many countries, they have never played in Cuba although many Cuban bands have performed in Senegal, including Orquesta Aragón. In 2002, Orquesta Aragón opened for Orchestra Baobab. Reflecting on memories from travels around the world, Sidibe's smile shines when he reflects back on shows in Central Park, looking out to crowds of people who could actually sing along to songs in Wolof. His favorite is "Sutukun", a song of praise for man who helped the poor and disadvantaged (below).
[embed width="620"][/embed]
Issa Cissohko has played with Orchestra Baobab since the beginning. His father loved music and one day, touched his head and gave him a blessing to be able to play the saxophone. When he went to school to learn to play the saxophone, the teacher was amazed at his natural talent when he passed him the horn and he played as if he had known how to play for years. From there, as a young man he would play in bars in exchange for beers and soon came to be known for his playing. To this day, he embodies joy when he takes the stage.
Music in Senegal, with its strong structure of Latin flavor, continues to evolve with new musicians joining the international circuit every year. If you find yourself in Dakar, get yourself to the record shops on the streets like Dread Amala (below), meet the people, and enjoy the Senegalese sounds.
*Photo taken by Tasha Goldberg in Dakar, Senegal.