Despite all that's going on in the U.S., French-Senegalese filmmaker Maïmouna Doucouré landed in the center of controversy when Netflix released her award-winning feature film, Cuties (Mignonnes in French), about a pre-teen French-Senegalese girl growing up in Paris. Rumblings of the pushback started prior to the film's American-based global launch when Netflix released a poster featuring what was considered a hypersexualized image of the pre-teen girls from the film. It was so off-putting that Doucouré herself spoke up about it. Yet weeks after its September 9 release, the controversy has not gone away easily. Several outlets have noted that some have even made good on their threats and cancelled their Netflix subscriptions.
At the top of the year at the Sundance Film Festival, one of the top events in global cinema, Doucouré's experience was radically different. There, she was universally praised for her film and even won the festival's coveted directing award. What's been missed in the American discussions is that Cuties is one of the extremely rare films focused on a young Black girl, a child of African immigrants, an experience and perspective drawn from Doucouré's own childhood. Cuties focuses on 11-year-old Amy, whose family immigrated to Paris from Senegal. As she adapts to Western culture, grappling with living within a polygamous family as well as struggling with her Muslim faith and more, she finds an outlet through a girl dance crew of, which is where the controversy stems.
During a conversation with members of the African American Film Critics Association (AAFCA) on the day Netflix released Cuties, Doucouré was able to speak about the film, her intention and the backlash.
"Cuties is really inspired by my own story and I actually gave voice to the little girl that I was at that age," she shared via Zoom from France. "I was often torn between my own culture, my parents, Senegalese culture . . . as well my Western culture and that question on how to become a woman in our society was my obsession."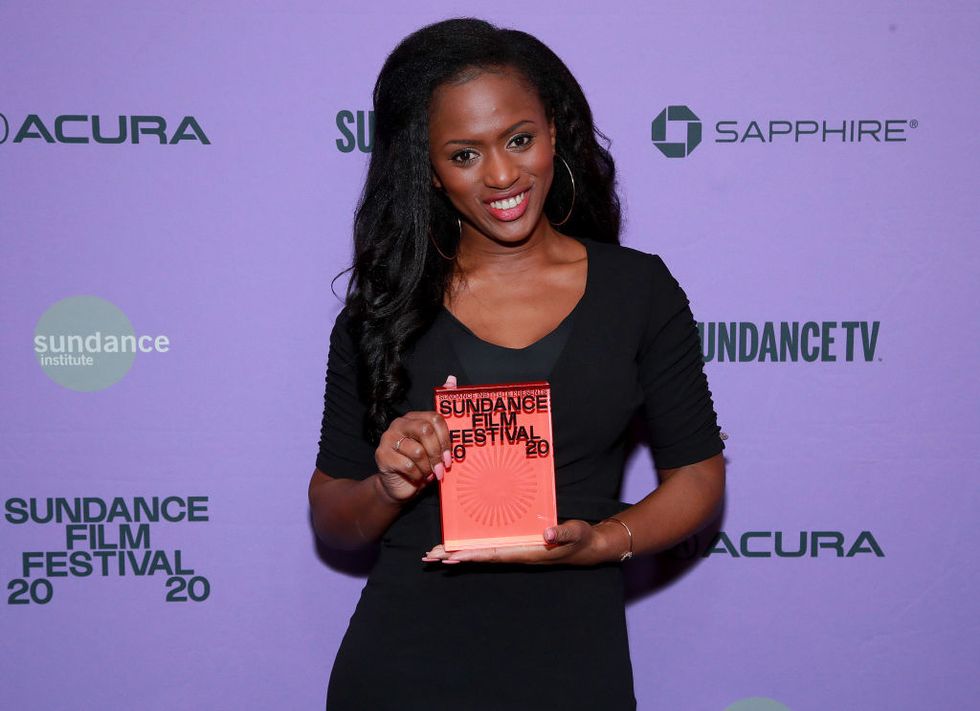 Doucouré at the 2020 Sundance Film Festival - Awards Night CeremonyPhoto by Rich Fury/Getty Images
In the States, people have taken issue with Doucouré's exploration of that question about how to become a woman, particularly with her decision to let young girls actually play young girls. At issue is their duplication of the dance moves they see in videos they view on cellphones. For the film's critics, the dancing, though very reflective of contemporary global pop culture, is far too provocative for pre-teens. But Amy also deals with really heavy life issues that some people consider too intense for a lead actress who is today just 14 and was even younger when she filmed. To find her, Doucouré saw 700 girls.

©MIGNONNES de Maïmouna Doucouré par Jean-Michel Papazian pour BIEN OU BIEN PRODUCTIONS 2018
"I know this film is very deep, and I knew the casting would be very important for me in that main character, and I had to shoot it very well, and I'm very grateful to have found Fatima Youssouf," Doucouré shared. "I think she has something, a gift from God, because she's never, never acted before. It's her first experience . . . and I feel she will have a very beautiful way in this industry."

Being young, African and female, becoming a filmmaker was never something Doucouré imagined for herself. "In the beginning I didn't have that courage," she admitted. "I had the dream of working in the cinema industry since I was very young. I watched so many movies with my brothers and my family. It was like a secret for me. For me, it wasn't for me. It wasn't for people like me to work in this industry, and I kept that secret inside me."
That all changed when Doucouré, who studied biology in college, entered and won a screenplay competition in 2013. That year she also released her first short film, Hide-and-Seek, featuring ten children. Her second short film, Maman(s), about a little girl dealing with the second wife and half-sibling her father brings back from Senegal, premiered at both the Toronto International Film Festival and Sundance in 2015 and 2016 respectively. In 2017, she shared the César Award (France's equivalent to the Oscar in the U.S.) for Best Short Film with Alice Diop. In less than a decade, Doucouré has made a huge impact, bringing the voice of African Muslim girls to the screen.
The backlash against Cuties she shared is "I think because of the marketing of the film. A lot of people thought that I was promoting the hypersexualization of children and it's the exact opposite of my work." Some people, she said, have even apologized to her after seeing the film.
Although Cuties is inspired by her own life experiences, Doucouré did not rely on her experiences alone to tell this story and interviewed 100 girls to help guide her. "[They] told me their stories," she shared, "How it can be complicated to grow up in our society and to find their place as little woman, little girls . . I heard so many things, very strong, very shocking things."
Counter to the outcry and allegations of promoting pedophilia, Doucouré is actually sounding the alarm about the hypersexualization of young girls, not glorifying it. Those viewing it should feel uncomfortable, especially since this is very much the reality many girls face. For Doucouré, Cuties is very much a conversation, as well as personal catharsis, about cherishing girlhood, not destroying it.
"Take the time to grow up because childhood is so precious," is one of the film's key messages she said. It's a message she hopes people will take to heart and use their energy to fight for young girls, especially those like she once was: young, African and trying to find their way.
**On October 7 2020, a grand jury in Texas, USA claimed that the film, "depicts the lewd exhibition of the genitals or pubic area of a clothed or partially clothed child who was younger than 18 years of age", further stating that the film has, "no serious literary, artistic, political or scientific value." The indictment, initially filed on September 23, concludes that the film is likely to be considered as child pornography.