DIASPORA—African Time, formerly known as African Booty Scratcher, is here—and the pilot episode is premiering here, exclusively at OkayAfrica.
---
Created, written and produced by Damilare Sonoiki, African Time tells the story of a Nigerian immigrant family and their struggle to balance the pursuit of a better life for their son, Ayodeji (Dani Dare), while wanting him be grounded in his traditional values and Nigerian identity.
Sonoiki, a Harvard grad who left Wall Street in New York after working in finance for a couple of years, made his move to LA to embark on his TV writing career. He was formerly a writer on ABC's black-ish, and is currently a writer on a pilot in development at TBS and another that originated at HBO.
The teaser he dropped last year was one of the many things that broke the internet—which now has over 6 million views on Facebook and over 300,000 views on YouTube—mainly because it's so relatable. The struggle was too real bringing home a B+ and dealing with people mispronouncing your name, to name a few.
OkayAfrica catches up with Sonoiki, whose energy and passion for African Time was infectious over the phone. We talk timing, process, purpose and more. Watch the pilot above, and read our interview below.
OkayAfrica: How does it feel to go from having a teaser go viral to being ready to premiere the first episode on the web?
Damilare Sonoiki: It's been kind of a long journey. It's something that I think a lot of people can relate to, as far as having a hard-to-pronounce name. I'm excited. The teaser was nice, but it was just a teaser. There wasn't a full story told. I think it's nice with any sort of project to be able to show that ... It's easier to put together a splashy, funny video, but as far as telling a complete story with a clear beginning, middle, and end, I think that's something people enjoy.
OkayAfrica: What's the first episode of African Time about? Will it feature the same cast we saw in the teaser?
DS: Episode one focuses on the main character—he's tired of dealing with the same issue at school everyday where your teacher or substitute teacher butchers your name. Sometimes it's like they're not even trying. So he decides to change his name to Justin to make it easier to pronounce and just to fit in more. People will have to watch to see how that turns out for him. And yes, the family is the same. Funnily enough, the mom and the son are actually biological mother and son. They just did such a great job with the teaser that I didn't really want to change that.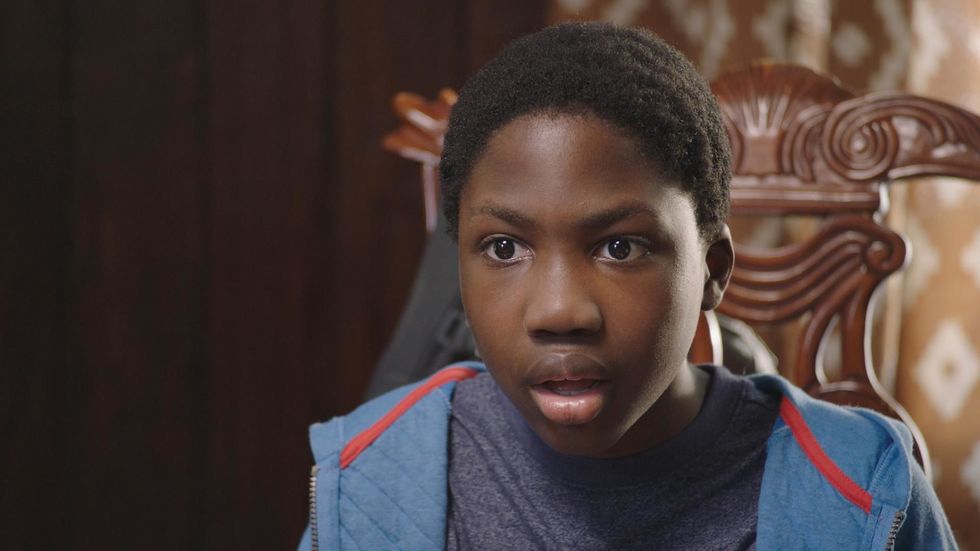 Photo still courtesy of Damilare Sonoiki/African Time.
OkayAfrica: The last time we spoke you mentioned wanting to pitch your teaser to network TV. Why are you utilizing the internet as a platform of distribution via getting supporters to subscribe instead?
DS: The response from the teaser was just beyond my wildest dreams. So I thought, "I can go and pitch this to networks," because the Kickstarter did pretty well, I also had a credit with black-ish, I have an agent and I got a manager. I just went for it.
Much of the delay in launching this show has been in trying to convince a producer that there is an audience for this. Despite all the views and feedback, it is still a challenge to prove the appeal of this show to a production executive. Part of the reason it's difficult is that most production or studio executives are people who can't relate to this story.
I feel like that was also a lesson because it felt like, a reminder that I had to remind myself that Issa Rae was making Awkward Black Girl two or three seasons before she got her opportunity with HBO. A creator who is telling stories that are more diverse or niche has to build their own audience. So, I think it might have been just a little naïve to be like "I just have this one little three and half minute video that went really viral so let me now go straight to a TV show."
Recently, I realized, why spend all this energy trying to convince someone there is an audience for this when I already know there is an audience. It's the same audience that drove this to viral success and that still reaches out to me asking what is going on with it. While we can't do a Kickstarter for every episode, I did the math and realized that with a very small number of people paying for the show—either monthly or for a full season at once—we can fund a season. And perhaps after a season of that, we can move on to a bigger platform.
Photo still courtesy of Damilare Sonoiki/African Time.
OkayAfrica: On the more technical, practical end of things, how possible is it to produce top notch quality productions for the internet without a network TV budget? How did you manage to do it?
DS: It definitely is more affordable, but at the same time it isn't. We were able to use what we raised from Kickstarter to shoot the teaser—which we had to reshoot because we had to re-cast [the father], then we had to pay crew and actors and shoot in LA, which is an expensive city.
Crowdfunding is another technology that didn't exist maybe 15, 20 years ago in the way that it exists now. With platforms like Kickstarter, you're able to connect with people who want to see a story that they can connect with and help bring to life.
There are certain cameras out there now that aren't that expensive that you can shoot quality that borderline like a movie—like a Canon 5D. It's a DSLR camera that photographers use that also shoots video and can shoot very, very high quality content.
OkayAfrica: When you're in production, how do you stay afloat? How are you able to stay organized?
DS: We're lucky, some of the people who work on the crew work on black-ish and they're very experienced. They're a small crew, but they know how to schedule and things like that. And luckily, I think this time especially, we shot it over the course of two days. We had to re-shoot it, like another day or two. Being able to shoot over the course of a weekend helps a lot because it's quick and this didn't have as many pages to shoot because we used some of the same stuff we used in the teaser. It's just a matter of not being too ambitious with how much you're trying to shoot in a given time. And that's why this is a webisode and not a 22-minute format because that's not something we can shoot in a weekend.
Photo still courtesy of Damilare Sonoiki/African Time.
OkayAfrica: Right. And not to mention, there's post-production that also takes time.
DS: I was telling everybody [this] when I was raising the Kickstarter, and some people have been understanding. But then I've people for the past year constantly ask, "Where is it? Where is it?" And you know, I'm using real cameras and a real crew, it's not like a guerrilla type of thing. The guy who was editing it, he edits the show called The Quad for BET. It's all very professional, and that's why it looks as good as it looks. But also, it ends up being something that couldn't happen without the contribution of the generous people who supported us through the Kickstarter last year.
OkayAfrica: And then in terms of keeping the team on track, are there specific programs you use, like the Calendar app or Google Calendar?
DS: Just my phone and email, just reaching out. Texting the editor, seeing how that's going, and texting the sound person, seeing how that's going. And even this conversation with you—I'm trying to be more strategic. Last time, I couldn't believe it. I was so amazed that Buzzfeed and OkayAfrica, all these platforms were writing about it. But this time, I want to be proactive, where it's not a surprise, so it's stuff like that, reaching out to people and trying to line everything up.
OkayAfrica: What do you think is your purpose behind this show and the work that you're trying to do?
DS: Well, I think for one, I enjoy creating and telling stories, and I think from my experience working on black-ish showed how much people relish seeing their stories told in an authentic way on TV or, in this case, on the web. I think ultimately, I'd like to be like a Larry David or even like a Kenya Barris, the creator of black-ish, who's now making a lot of other things. And so, it's nothing past the project, but it's also helping to further my storytelling, and create opportunities to whatever extent it can.
OkayAfrica: Regarding the character development for the show, where do you draw that inspiration from? Your life, or other people's similar experiences?
DS: Honestly, it comes a lot from my own experience with my parents growing up, and I think so many shows, you know, black-ish or other shows like Fresh Off the Boat, they come from the creator's experience because you have an unlimited well of stories 'cause it's your lived experience. And so even with the first episode, I lasted about two days where I tried to give myself an American name, and it didn't last. With this episode I exaggerated the outcome, but it just comes from those kind of moments.
After watching the first episode above, subscribe for access to more episodes and support the show here. Be sure to keep up with African Time on Twitter and Instagram.
Credits
Created, Written, Directed and Produced by Damilare Sonoiki
Associate Producers: Anthony Noble, Tayo Talabi and Omolola Ijeoma Ogunyemi
Edited by Craig Nisker
Director of Photography: Christian Adkins
Music by Clyde Crooks
Starring Dulo Harris, Niki Guluchi and Dani Dare