David Adedeji Adeleke, better known as Davido, sits comfortably in a cigar chair in the entryway of the Willard Hotel. His "Africa to the World" graphic t-shirt, a red dad cap, and matching joggers add a splash of excitement to the traditional Victorian backdrop of wood trimmed halls and chandeliers. Just the previous night he was in Morocco, popping out at Idris Elba's wedding.
Davido is in town to perform at the inaugural Coming to America Music Festival in Washington, DC. He moves his hands and body back and forth as if negotiating a business deal while talking. In many respects, the Nigerian powerhouse and star singer-songwriter is a businessman first. He adds inflections to his most important selling points, as he hands off pieces of his strategic plan.
His chief priority is to communicate the richness of the African continent to the world. While he first experimented with making hip-hop music, influenced by his summers spent in Atlanta, one trip back home to Lagos for Christmas stirred his music in a different direction. After traveling back home he found purpose in exporting music reflective of his Nigerian roots to the globe. Creating feel-good afro-fusion songs has become his platform.
Davido is building music schools across Africa. He also founded his own music label Davido Music Worldwide, which boasts Nigerian artist's like Dremo and Mayorkun on its roster. He hopes to equip the next generation of African artists with the tools necessary to become transnational and insure there are more recognizable names coming out of Africa.
Last year, Davido became the first African artist to receive an award at the BET Awards main stage. During his acceptance speech, he mentioned that his "continent has been so blessed to influence so many cultures," before going on to encourage the audience to come to Africa. Since then he's continued to build bridges collaborating with American artist like J. Cole, Meek Mill, Tory Lanez, and Quavo.
The 26-year-old music mogul talked to us about his experience spending his childhood traveling between Atlanta and Nigeria, why approaching his music from a business perspective is important, and why he's building music schools across Africa.
---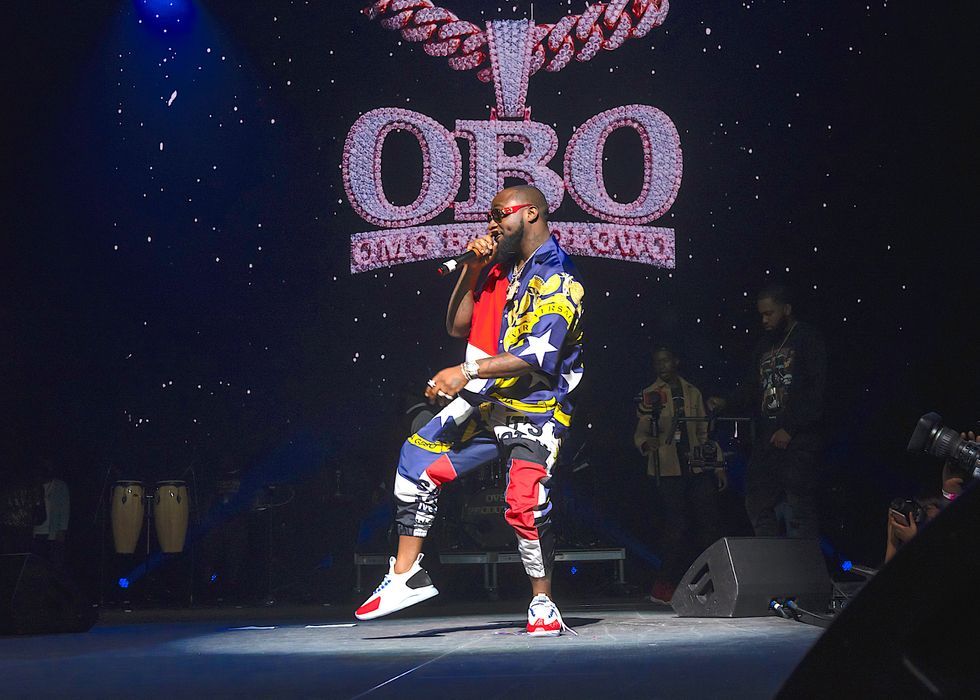 Davido. (Photo: Coming to America Music Festival)
You've accomplished so much at such a young age, but it's kind of like you had a head start?

I dropped my first song when I was 17. I've been in the game for 9 years, but when you think about it, I'm still only 26. A lot of people who have done what I've done are in their 30s. I mean I was lucky to have a head start. I've been making African music for years and years, and I've waited to be accepted.
It's a great time for Africa, it's a great time for African music. The whole culture as a whole. Growing up it wasn't cool to be from Africa, but now everyone wants to be involved in the culture. What you are taught about what Africa is not really 100 percent of what it really is, because everywhere has its good parts and its bad parts. They don't show you the good parts, the beautiful parts of Africa. The music is being accepted, the movies, you have Wakanda showcasing African power, even the clothing, and the food, everything is just coming together.
"Growing up it wasn't cool to be from Africa, but now everyone wants to be involved in the culture."
How do you feel about people borrowing pieces of African culture, and just putting it in their music and clothing?
I don't mind that, but if you are going to do that involve the people who are the originators of this sort of style. These past months I've been in the studio with a lot of people and they are more open to collaborating, whereas before they were just taking the music and trying to reproduce it. But they can't really get it like we do back home. So these days I have them calling me going, 'Can I get that producer to come from Africa and touch this song?' Rather than them trying to get their producers to try and do it. They will never get it the way someone from back home will get it.
Davido - Wonder Woman (Official Video)youtu.be
You were born in Atlanta and moved to Nigeria, and then you attended college for two years at Oakwood University, so when you were in college making music were you making the same type of music you're making now?

No, I was making American rap and hip-hop music. I didn't really involve myself in African music until I went home in December after two years of being in America. Christmas time in Nigeria, that's like the main time and that's the most popular time that's the festive period. I went over and just fell in love with African music and just switched up. It only took one trip. I went home for about 10 days and just fell in love with the music and culture, and the artist were actually successful doing shows. One good thing about Nigeria is being an entertainer is a very lucrative job to have. They are known and big like other artists are. It's crazy.
Your parents have powerful career backgrounds. Your dad is a businessman and your mom works in education. How did that upbringing sort of influence you to have business acumen and approach to music?

My parents did not play when it comes to getting an education. Even when I did get big and made a lot of money, my dad was like go to school and finish. Most parents would just be like you are a millionaire anyway you don't need to go to school anymore. My dad made sure that I got a degree.
You studied business administration. How did that give you the skills to better manage your career?
It's very important for you to understand business, because in this industry there is so much going on, and if you really don't understand it, you will get the fame and all of that, but if you don't plan yourself well you won't be able to live off of this in ten years. There are so many other things to do. Like me, I use my music, I travel all over the world and meet very important people. Especially when I'm in Africa on tour, every country I'm in the president wants to see me. I make sure I meet the president off the influence of my music.
I try to form a motive, like what I'm doing right now is putting music schools around Africa. I just did a collaboration with the president of Berklee College of Music, Roger Brown. He's actually a musician so he was the first president to fall in love with the idea. He sent students out there to begin work to make it official and I'm trying to do that in every African culture.
"It's very important for you to understand business... if you really don't understand it, you will get the fame and all of that, but if you don't plan yourself well you won't be able to live off of this in ten years."
These days we don't have the best leaders, and entertainment has been one way to encourage the people, rich or poor they are always smiling and that's one thing that I like about it. Once they hear music they just forget about everything. It's been a really big healer for the community in Africa.
My plan is to build music schools all around, before you know it all the musicians from around the world will be from Africa. Because they love us and you have to have the talent to play instruments. Not everything is digital, so not understanding everything, that's the main thing.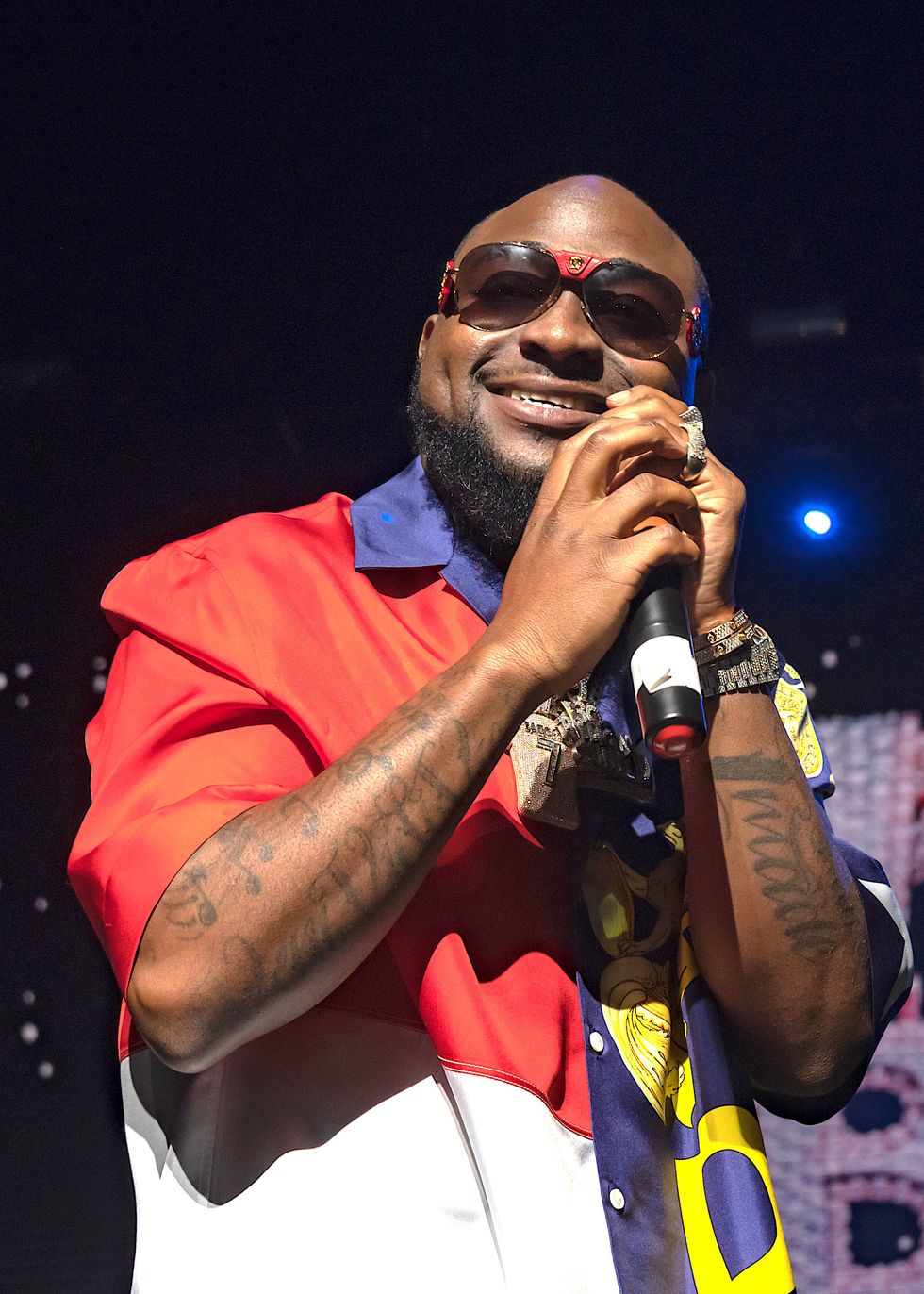 Davido. (Photo: Coming to America Festival)
Do you feel like you were mostly self taught in terms of making music?

I would definitely say that I was self-taught. I would watch YouTube videos and figure out how they were recorded. I used to even shoot videos. It started off with vlogs and YouTube. I would watch a lot of Soulja Boy when I was young. He used to do all of that vlog stuff so I kind of got that from him. I wanted people to see my lifestyle.
What artists did you grow up listening to?
I grew up listening to 50 Cent, T.I., artists like that. Like I said before, when I went into African music I was mostly listening to American music. Until I took that one trip and just fell in love with African music. I just started recording and listening and one day I was just like damn I'm kind of good at this and just kept on going.
Do you think having a background living in different countries has helped?
I think definitely as an artist, because I can definitely go to an African and talk like this to them. It's just like you need diversity especially living in America, because a lot of Americans don't have that perspective. You need that diversity.
"These days we don't have the best leaders, and entertainment has been one way to encourage the people, rich or poor... [music has] been a really big healer for the community in Africa."
You've collaborated with a lot of different artists. You've worked with Quavo, you've worked with Meek Mill, you were on J. Cole's Dreamville Festival most recently?
That was amazing. When I won the BET Award last year basically my message to them was like, 'yo fuck with us man.' You always talk about African this and African that, but you aren't really coming there to embrace us. Like it's not hard, like all of this shit happening with African music could of had been done. You know it's not the first. There are all of these artists and we invite them to come get the bag and dip, but I want to appreciate artists like Lil Baby who actually came out there and experienced Africa and wanted to know more about the culture. Everyone that goes there, they come back a different person. It's very important to visit Africa and experience it for yourself.
Your music is very celebratory. Do you have an overarching philosophy you hope to communicate through your music?

Like rappers, they are rapping about what they are going through—drugs, their past life or whatever. I'm singing about what I know, which is I grew up happy, and being Nigerian. Most of my music is about girls. I have two daughters and most of the people around me are females. So that's what I sing about because that's what I experienced. It's not really a philosophy, it's just making music based off of how I was raised and being authentic to that.
How was your performance at the first Coming To America Music Festival?
It was a great time for African music, and African culture. I've performed in D.C. a lot, but I was happy to perform alongside other African artists from different parts of Africa, that was really cool for me to have all types of Africans in the building. There were English-speaking Africans, Portuguese-speaking Africans, it was everybody so I feel like naturally the whole idea of a [Coming To America] music festival is a good idea.
What's next for you?
The album is coming out in June, and I'm going on tour. We've been working on the album for the past two years . I'm almost done with it and it's amazing. I don't have a name for it yet, I'm still trying to decide.