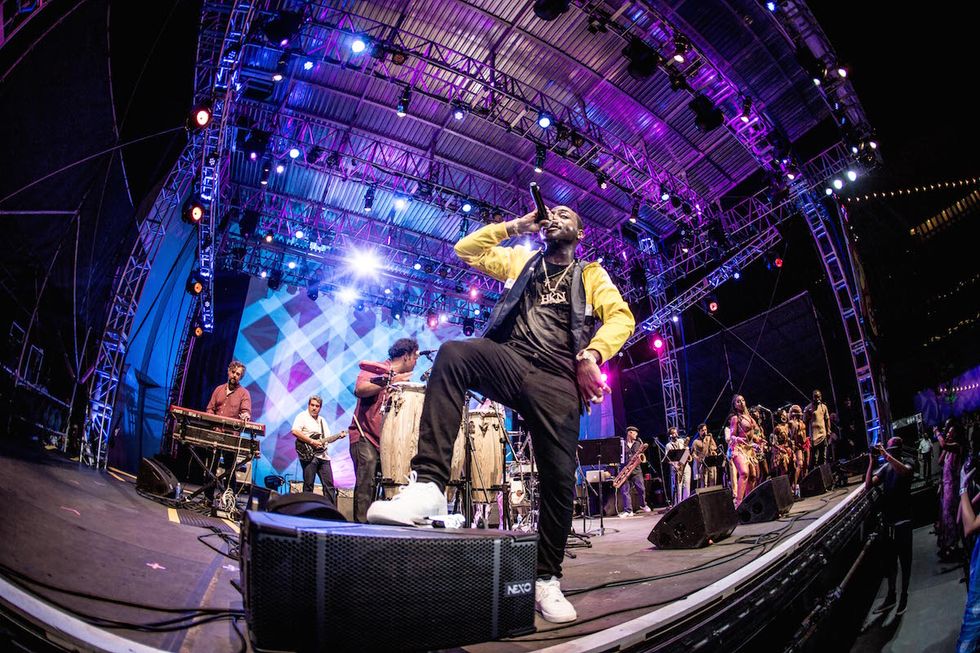 We sort through Nigerian superstar Davido's countless hits and list his best songs—from "Dami Duro" and "Aye" to "Fall" and much more. Updated in November, 2019.
Davido is a reigning king in the Nigerian music scene and beyond.
Since breaking out in 2011 with "Dami Duro" and the subsequent release of his debut album Omo Baba Olowo, the singer, born David Adedeji Adeleke, has been a well-oiled hit machine. Davido's racked up an impressive amount of massive singles and collaborated with just about everyone in the game.
In 2016, Davido announced his signing to Sony Music and later Sony's RCA Records, moves that many saw as positive strives towards a bigger international push. Shortly afterwards, he founded Davido Music Worldwide (DMW), home to Dremo and Mayorkun. The Son of Mercy EP followed.
2017 saw the Nigerian star release some of his biggest singles yet with "If" and "Fall," with the latter becoming the longest charting Nigerian song in Billboard history. It's video is also the most watched Nigerian music video on Youtube ever, currently . sitting at 149 million views.
We thought we'd sort through the hits and compile Davido's best tracks to date. Check out our list of the best Davido songs below, in no particular order.
For more check out The Best Wizkid Songs and The Best Sarkodie Songs.
---
"Skelewu"
Released in 2013, "Skelewu" lit up airwaves from Nigeria to the UK and beyond. It was promoted along with an instructional dance video and competition that asked fans to upload videos of themselves dancing to the single, which further spread the track like wildfire. Even Major Lazer got in on the massive tune.
"Fall"
Davido's "Fall" continues to break international records. The music video for the 2017 hit, is already the first Nigerian music video to reach 100 million views on Youtube, making it the most watched Nigerian music video on YouTube. The massive Nigerian pop song also officially became the longest-charting Nigerian song in Billboard history. The song has received airplay since it debuted on the Billboard charts in 2018, nearly a year after its release. "Fall" has reached a peak position of 29, after charting for 4 consecutive weeks. The song's unprecedented success is a testament to Nigerian pop's growing influence in the international music sphere—but also to the American music industry's delayed awakening to its greatness. Glad folks are finally catching up.
"Dami Duro"
The one that really started it all. Davido dropped "Dami Duro" in 2011 as a follow-up to his first notable single "Back When" with Naeto C. The track was co-produced by Davido and Shizzi.
"If"
30 billion for the account o. "If " is sexy, it slinks and sashays. The beat sounds hollowed out and this 'space' has a real effect simply because it isn't cluttered with instruments. The massive 2017 single is a slow burner produced by fellow Nigerian star Tekno. Davido's singing voice isn't talked about much and this, in part, is down to that its raspiness. But in "If," the slow tempo and unfussy beat allows room for his voice to impress. Lyrically, there's humor in appreciating the confluence of Igbo, Hausa, pidgin and English—what to some might be disparate elements made into a seamless whole.
"Aye"
The T-Spice-produced "Aye" is a romantic track that builds on a shuffling beat and light guitars. Its Clarence Peters-directed video "tells a tale of love between different classes [in which] Davido plays a poor farmer who falls in love with the prince's love interest."
"FIA"
Davido was on total roll in 2017. The Nigerian star continued that streak with the Fresh-produced "FIA" which came out late 2017 and lit-up club floors and dance floors over the holiday season.
"Gobe"
"Gobe" was released in 2014 as the lead single of his then upcoming album The Baddest. The music video for this Shizzi-produced jam was shot in South Africa.
"Assurance"
Davido's idea to shoot "Assurance," an ode to his true life lover, in idyllic Barbados is fully realized by director Meji Alabi, who explained in a note to OkayAfrica: "The thing about Chioma and Davido is that the love is real. The chemistry and energy is real. And although video models have their own chemistry—there's something about a backstory and knowing that this shit is real love."
"The Sound" ft. Uhuru & DJ Buckz
Davido connected with South African collective Uhuru and DJ Buckz for 2015's "The Sound." The Sesan-directed music video for the single follow Davido to Dubai, where he skydives and drives Lambos in the desert.
"Like Dat"
Davido continued his incredible 2017 hot streak—which had already included dropping singles "If," "Fall," "FIA," and others—with the highly-addictive Shizzi-produced single "Like Dat."
"The Money" ft. Olamide 
2015's "The Money" saw the singer link up with another Nigerian star, Olamide, for a more material dance floor anthem. That beat bangs though.
"Wonder Woman"
Davido finished a solid 2018 with his single "Wonder Woman," dedicated to powerful women. In the video, Davido pays tribute to several wave-making women. The music video is notably reminiscent of Drake's "Nice for What" video. Several accomplished Nigerian women appear in the video, including lawyer and CEO Funke Buknor, Uche Pedro the founder of Bella Naija, Grammy-nominated singer Kah-lo, filmmaker Nadine Ibrahim, creative director and designer Fisayo Longeand more. The video ends with a cameo from Davido's girlfriend Chioma, founder of the Chef Chi Limited.
"Tchelete (Goodlife)" ft. Mafikizolo
In another West-meets-South collaboration, Davido and South African house duo Mafikizolo got together for 2014's "Tchelete," a pure celebration of the good life.
"My Story" feat. Popcaan
Jamaican dancehall star Popcaan enlistedDavido for his pulsating single, "My Story." The track features Popcaan making references to snapchat stories while he sings to the object of his affection over a glimmering afrobeats-infused production. Davido comes in towards the end with smooth lyrics sung in pigeon. The summertime jam is one of the several blazing collaborations between dancehall artists and afrobeats musicians.
'Naughty' ft. DJ Arafat
Davido teamed up with late Ivorian star DJ Arafat for the addictive "Naughty," a fusion of afro-pop beats and Arafat's signature coupé décalé sound.
;Fans Mi' ft. Meek Mill
Davido's most high-profile collaboration in the American market saw him joined by Meek Mill for "Fans Mi." The singer once described the track's Sesan-directed visual as "the biggest video of his career." They follow Davido and the Maybach Music rapper engaging in what very much look like illegal activities, but turn out to be prep work for pounded yam.
"Dodo"
The Kiddominant-produced "Dodo" was released in 2015 as another single from the long-awaited The Baddest. "If you're fortunate for your crush to fall in love with you. Your best crush in life is called Dodo," its description reads.
"Risky" ft. Popcaan
Davidorecently released his latest single, "Risky," a taste from his upcoming album A Good Time. The new single sees the Nigerian heavyweight connecting with Jamaican star Popcaan as they both go in over afrofusion-meets-dancehall beat work. It was produced by DMW's in-house beatmaker Speroach Beatz. The track notably features Davido doing a cheeky flip of his own freestyle he did on Shade 45 earlier this year, which was made fun of across social media. "What you all laughed at !! You will dance to !! " Davido posted on Twitter. The track comes accompanied by a new London-shot music video directed by Meji Alabi, featuring the two stars.