When South African and Nigerian artists got into heated exchanges during last September's xenophobic attacks, many wondered if the relationship between Nigerian artists and their South African fans would be forever damaged. Both Tiwa Savage and Burna Boy went on to pull out of several scheduled South African performances in protest and the "Africans Unite" concert, an attempt to bring everyone together, never materialized.

So it makes perfect sense that Davido, who refused to join the back and forth, is the first Nigerian superstar to make an appearance in the country since the ordeal.
---
"We're all friends," Davido says about South African artists. "We all grew up doing music together, so for me it was just something I really didn't want to touch on because I knew that there would be a day where we would all laugh about it."
We met up with The Prince of Afrobeats at his label's offices in Johannesburg amidst the flurry of activity that follows him wherever he goes, to ask him about South Africa, his album, Burna's snub at the Grammys and the big film project.

And while his lips remain firmly sealed about the film itself, it's rumored that Davido will be a part of the Coming 2 America cast alongside Eddie Murphy, Arsenio Hall, James Earl Jones, Paul Bates and South African actress Nomzamo Mbatha.

This interview has been edited for length and clarity.
After the xenophobic attacks last year, Tiwa and Burna Boy were quite upset. How would you describe your relationship with the South African audience and how does it feel to be back here?
I've learned to control my temper because when you're mad, you kind of say things you don't mean. South Africa and Nigeria have always had a close relationship when it comes to music. I've been coming to South Africa since I was 17 trying to make it. I've been coming here. I understand how Burna might feel or how Tiwa might feel. I also understand how AKA might feel. You know with social media, with fans getting in the middle of it, it makes it worse. We're all friends. We all grew up doing music together so for me it was just something I really didn't want to touch on because I knew that there would be a day where we would all laugh about it. As Africans, if we fight, how are we going to come together and conquer, you feel me?
How do you feel your album, A Good Time, has been received so far?
It's been a long time coming, you know? I've been known to release singles. So, it was about time for me to put all the great songs that I've released in a body of work. From "If," "Fall" to "Assurance," I just feel like those songs were so big that they needed to belong to a catalog. It's been received great as well—charted all over the world. The videos are going crazy. Streams are going crazy. Just so many good things happening at once. We did a concert to celebrate the album in Nigeria on December 27th. We're about to go on tour to celebrate the album.
When you were accepting your award at the 2018 BET Awards, you told everybody to "come to Africa to collaborate". What collaborations have come as the result of that speech?

They listened. Every collaboration that came after that speech, I feel like that speech had something to do with it. I was just tired of the hearsay. "I heard it's beautiful down there," "I hear that..." and I'm like, "Yo, fuck hearing it. Come experience it yourself." This past December a lot of people came down to Nigeria. Cardi came, Megan Thee Stallion, Future—Ghana was crazy.
For people to come down themselves and just experience the culture first hand, it's way different from seeing it on TV or seeing it on Instagram or social media. When you come here to experience it yourself, it gives you a different outlook on African music and African culture as a whole.
You've had quite a lot of successful hits. Why did you want to include "If", "Fall" and "Assurance" on this particular album?
Most of the songs that's on the album were recorded in 2018. It wasn't like that was actually the album I had. But I just really didn't think that was the right time to put out the album. Even most of my greatest hits are not on the album like "Aye," "Skelewu," or "Gobe." It's always good to have a body of work that's presentable. "Fall" and "If" had to go on the album, definitely. Those were the songs that really catapulted my career into another space.
With "Assurance," that was actually a smart move for me putting that on the album. It's going to be in a big movie coming soon, a Hollywood movie that I'm in performing the song. And I knew when the movie comes out everybody's going to be looking for the song. So I was like I'm not trying to have people looking for the song, I'm going to just put it on the album.
Can you talk about the movie at all?
I'm kind of not allowed to. But it has to do something with Africa and it's a big movie. It's coming out this year. It's a part-two of a big movie. It's huge.
There's a lot of talk around the Grammys not properly recognizing rising African talent especially. What do you think?
People our age and our generation were focusing on the Grammys obviously because of Burna. It's the first time a new generation of Afro-Pop artists are being nominated in that category. We felt like damn, it would've been a good story for him, for Afrobeats, for just everything. But we can't ignore Angelique Kidjo and what she's doing. Think about it, she's been nominated nine times?
This is Burna's first nomination. I'm sure he's going to be getting nominated again. It's not going to be the first time any artist or Nigerian artist or African artist will have the opportunity to win. Yes her music is accepted because that's really what they listen to—more classical stuff. But at the end of the day, these younger dudes like us are really what's running shit right now.
Do you think African artists should even care about the Grammys?
With me it's like, it hurts being that close to it. A lot of big American artists don't have Grammys. And not because they don't deserve it, but they just haven't had an opportunity. Burna's album came out at the right time and just stuck. I feel like being that close to it and not really getting it, it's a blow to everybody. But somebody's going to get it.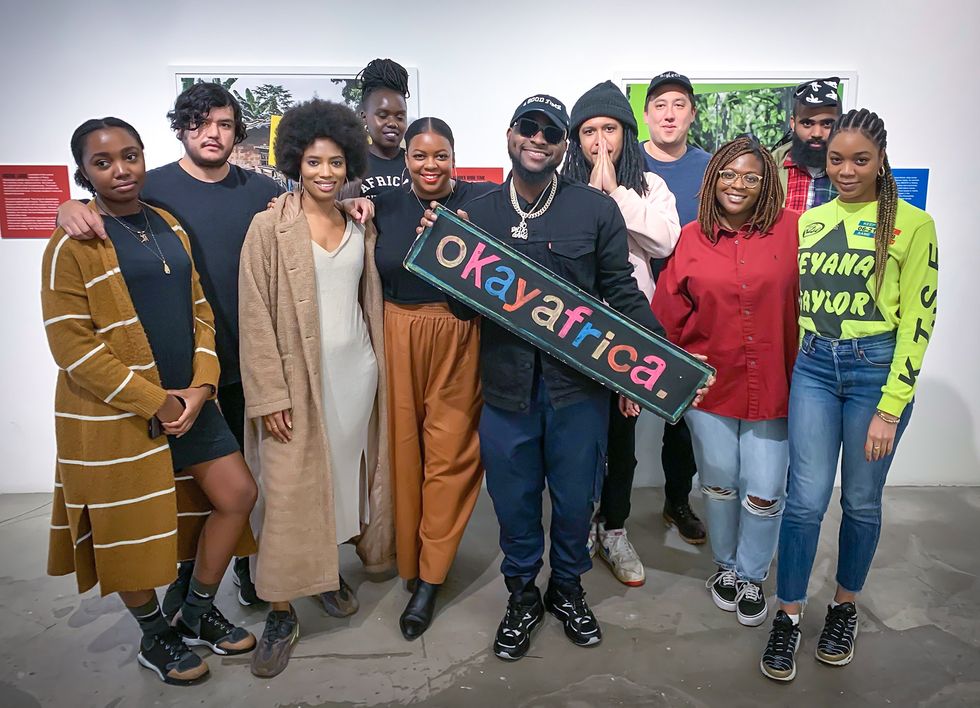 Davido posing with staff at the OkayAfrica offices in 2019Photo: OkayAfrica
Going back to your album and the single "Risky" with Popcaan, the track was very different to your signature sound. Was that intentional?

Funny enough, with "Risky," I blame the label too because it took me somewhere else. I just got there and they're like, "Yo alright let's go, Davido, boom!" I don't rap, I'm not a rapper. It was a joke to me and I was just having fun. Then, the way they chopped it up made it seem crazy. It came out and the internet went crazy. "Yo Davido can't freestyle" and all that. I don't even care because I'm a troll myself. Before I was myself, I used to troll artists, so I don't care about that. I was just sitting in the studio with my producer and it was like let's turn this shit into a song. Just sat down and we did that shit... Boom! Brought the beat and it was like three different versions of "Risky."
How did you get to the version that's on the album?
I wanted something very, very sexy. Just something opposite where people would be like he really switched it up. I did a hip-hop version where I actually wrote bars and rapped, and then I did an Afrobeat one. When I did that one with Popcaan, I felt like it was perfect. It was really bouncy and different for me. I've never had something like that before so I was like I'm going to go with this one.
Would you say this album is your best work yet as Davido?
I don't know how to say it's my best work yet. You look at the songs like "If," "Fall," "Assurance," "Blow My Mind," "Risky" all on one album and it's a lot. Some artists have just one of those songs in their whole career.
And I don't plan it. I think that's the more important thing for an artist. When the label gives you, "We need your album in two months," and then you're in the studio trying to create something that you're forcing. If I didn't get forced to freestyle that day I wouldn't have "Risky."
I just do my music and see how life goes.