Kid Fonque is buoyant. The Johannesburg-based DJ and record label owner is decked in an all-black tracksuit with white kicks. It's a placid Sunday afternoon in Melville and we meet up at Lonely Hearts Club, Melville - a dimly lit windowless space in the nerve centre of the bohemian suburb. Out back, there's a cozy outside area with stained glass and shrubbery made ten times more appealing by the streaks of slow moving winter clouds above us. But too many people want to dap Kid Fonque down — he'd been playing a set two days back — so conducting the interview here might be a nightmare. He motions for us to go inside. "I think it'll be quieter here," he offers.

The lanky Scottish-born, South African-raised DJ is preparing for the rollout of Stay True Sounds 100, the 100th release from his young, indie record label Stay True Sounds. "I've been working on the rollout of Stay True Sounds 100 for the last couple of months," he begins. "I roped in China Charmeleon and I've been for about the last six months. He's remixed 13 Stay True Sounds catalogue artists and so our 100th release is 'China Chameleon remixes Stay True Sounds'".
---
In 2016, Kid Fonque — born Allan Nicol — founded Stay True Sounds with popular deep house DJ Jullian Gomes. He founded the label out of necessity after being retrenched from his role as Soul Candi's label manager. However, he also wanted to start a record label that focused solely on releasing good deep house music, one that wasn't encumbered by the pressures of releasing hit after hit. Over the intervening years, the record label has been responsible for supporting and introducing what are now some of the biggest talents on South Africa's deep house scene. From DWSON, China Charmeleon, SIO and FKA Mash, the record label has had a seismic impact on the local deep house circuit, despite being run exclusively by Kid Fonque. Gomes left after the first year.
True To Deep House
Stay True Sounds x Djoon takeover: Kid Fonque
Stay True Sounds' driving ethos brings to mind the kind of spirit that propelled the London-based independent record label Ninja Tune or Mo Wax. For one, all of the label's operational costs are handled by Kid Fonque. The label's guiding principles are also the philosophical opposite of everything he learnt during his time at Soul Candi. While Kid Fonque was at the helm of what was then one of the biggest house record labels in the country, his job was to always find the next radio hit. With Stay True Sounds, he's turned almost puritanical in his ambitions — he just wants to release good music for the sake of it, while providing a springboard for lesser-known producers.

"I'll be honest, working at Soul Candi was difficult because I was working with a lot of music I wasn't really into. And I was trying to find radio hits. It was tough...but it was an amazing learning curve and I always knew what I actually wanted to do. My thing has always been underground bedroom producers. My ear's always been attracted to that. There's a big gap in this market for non-commercial deep house music. There's also a lot of new blood sitting in their rooms, not looking to make top twenty hits. We want to be a home for those kinds of artists."
"My thing has always been underground bedroom producers. My ear's always been attracted to that."
The general consensus among the chorus of internet house diehards who've followed Stay True Sounds' journey is that Kid Fonque has done a great job. Running through his list of releases over the years, it's a hard statement to disagree with. Bruce Loko's After Dark EP— the label's first release — is equal parts seance and celebration. From the blaring basslines, menacing strings and jazzy chords, it's a short but absorbing EP that breaks free from the description of deep house being nothing but background music. Impulsiv, the debut album by Cape Town-based producer DWSON, features what would turn out to be one of the label's most popular songs. Forbidden, which features singer-songwriter SIO is a six minute number featuring racing kick drums, xylophone taps and a jazzy rhodes section. The song has been streamed over 1,4 million times on Spotify alone. The label has also released critically acclaimed albums such as Zito Mowa's The Kolour of Water, China Charmeleon's My Fathers Record's and Chronical Deep's Nothing Is Impossible.
True To The Bigger Picture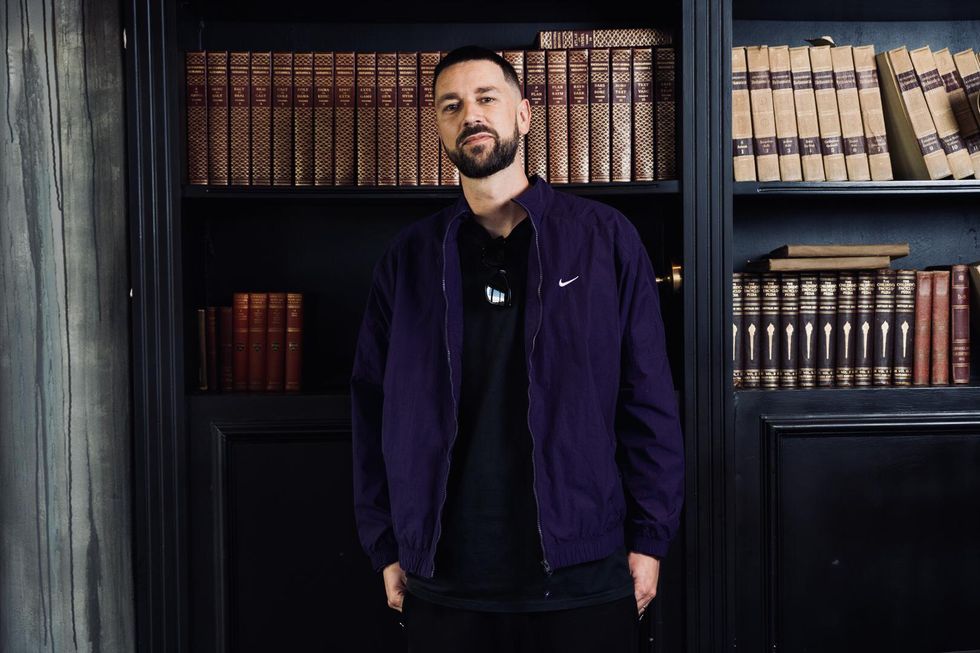 "This year's been the first year we've made some really good returns and the label is starting to sustain itself," enthuses Kid Fonque. Image by Ray Manzana
Most times, the chief drawback of running a one-team is the lack of room for error. Because Stay True Sounds has (and still is) being bankrolled solely by Kid Fonque, there is always the constant shadow of things potentially falling apart at the drop of a hat. Stay True Sounds has managed to maneuver this terrain, sometimes by the skin of its teeth.

"It hasn't been easy. Not at all. But we've managed to stay afloat. I have my show [on 5FM] and I had a residency at Kitcheners [a popular bar in Braamfontein]. I'm also a promoter so there were always ways to put money into the label. But this year's been the first year we've made some really good returns and the label is starting to sustain itself. It's a really beautiful position to be in after five years."
The label's latest release Remixes Stay True Sounds is a full-circle moment. China Charmeleon — who has released through the label — remixed thirteen of the label's most seminal songs for their 100th release. Where the aim of previous releases was to announce some or other new deep-house/electronic tastemaker, Remixes Stay True Sounds is a quiet statement from a record label and producer at the peak of their powers. "Bassa Over" is a soothing remix with a scattered drumline and a looping piano melody. It conjures up the feeling of leaving the dancefloor at three in the morning, the spirit still willing to carry on partying, but the flesh too weak to comply. Similarly, the "Are You Jazz" remix features guitar licks that sit under a soulful chord section and understated drums. "Siyabloma", a remix of FKA Mash's song, is an unhurried deep house number with a rubbery bassline that invokes a "come through and chill" feeling with the lyrics "masi suka lana, siyobloma"
"There's also a lot of new blood sitting in their rooms, not looking to make top twenty hits. We want to be a home for those kinds of artists."
Asked if Remixes Stay True Sounds is his label's favourite release, Kid Fonque is hesitant to respond. As much as the album is a bookend to the struggles and successes of the last five years, every release feels like an achievement to Kid Fonque.
"There's always been a bigger picture for me. I was thinking about it this morning. When I was in college, we had this project that we had to do. I was always pretty shit at school but one time they asked us to make our own business and write up a plan for it. I chose a record label. That was 25 years ago but I still have that file. I was looking back at that project and I thought, man, I did it. I actually did it."
From Your Site Articles
Related Articles Around the Web