100 Women Honoree Delphine Diallo is not just a photographer—she is a visionary. She began her career as a graphic designer and has worked as a video editor, art director and special effects graphist in the music industry. But for the past 10 years she has been behind the lens full time, bringing light to the world through her vision.

Her latest project, Women of New York, features 100 portraits of women from different backgrounds throughout New York City. Here is what the project entails, in her words, as told to Qimmah Saafir.
---
***
We have to rebuild our storytelling.

Beyond the superficial. Let's talk about Yemaya of Yoruba. Let's talk about the goddess within, what's inside of you. If we are talking about the story of Mama Africa, she's kind of a god. I did work in Salvador, Bahia. And meeting the women of Salvador didn't break my heart, it just filled my heart with a belief and energy and light. Most don't know the story where women are running the world. They are ruling. This is something that I discovered over the last six, seven years. And what birthed from it is the work that I'm doing to empower women beyond the body. It's something very spiritual and very different. Where the black woman as the ancestor talks to you. Your grandmother is talking to me. She put you in this world to make sure that you could do what she couldn't do. She's a part of the story. She's a part of you and this is why you're here today. It's pretty amazing. And that's why I think the story of women has to be told that way. Not just like I'm a pretty girl. I'm just modeling. I'm an actress. I'm really proud or happy to work with celebrities but my conversation is to actually my work with women.
So [my current project Women of New York] came after the "We the People" campaign that I did with Shepard Fairey. I woke up one day and I was like now it's time to work on my weakness and things that I didn't do yet. I didn't do an entire project where I can be proud to support other women in the big perspective. I woke up one day and I'm like, my first problem is, if I'm choosing my subjects I'm discriminating women. Because I'm choosing them. Which implies my tastes, my own judgment on them. I'm doing the same as the men. I'm choosing. And that makes me feel very mad at myself. So I say what if I don't choose them anymore. I did the opposite. I put out a casting call on Instagram. And after We the People I got enough publicity to reach them. Open call to all New York women. I pushed the project to be done in a week. I got 89 entries. And I said yes to 89 women. The project was, you're a part of the project as long as you say I want to be a part of it, you are a part of it. Which means the life, the energy, the conscious life brought into it to me and from me, when we bring it together... My heart opened to the women this way. I asked my assistant to book the photo shoots so that I won't be able to see them before they arrive. I wanted to go in clean. That would've defeated the creativity as well. What if my perception is wrong once I see your picture? So I didn't see any pictures beforehand. I booked four days. From 9 AM to 3 PM, 20 to 25 women, four days, two weekends. And I shot the 89 women.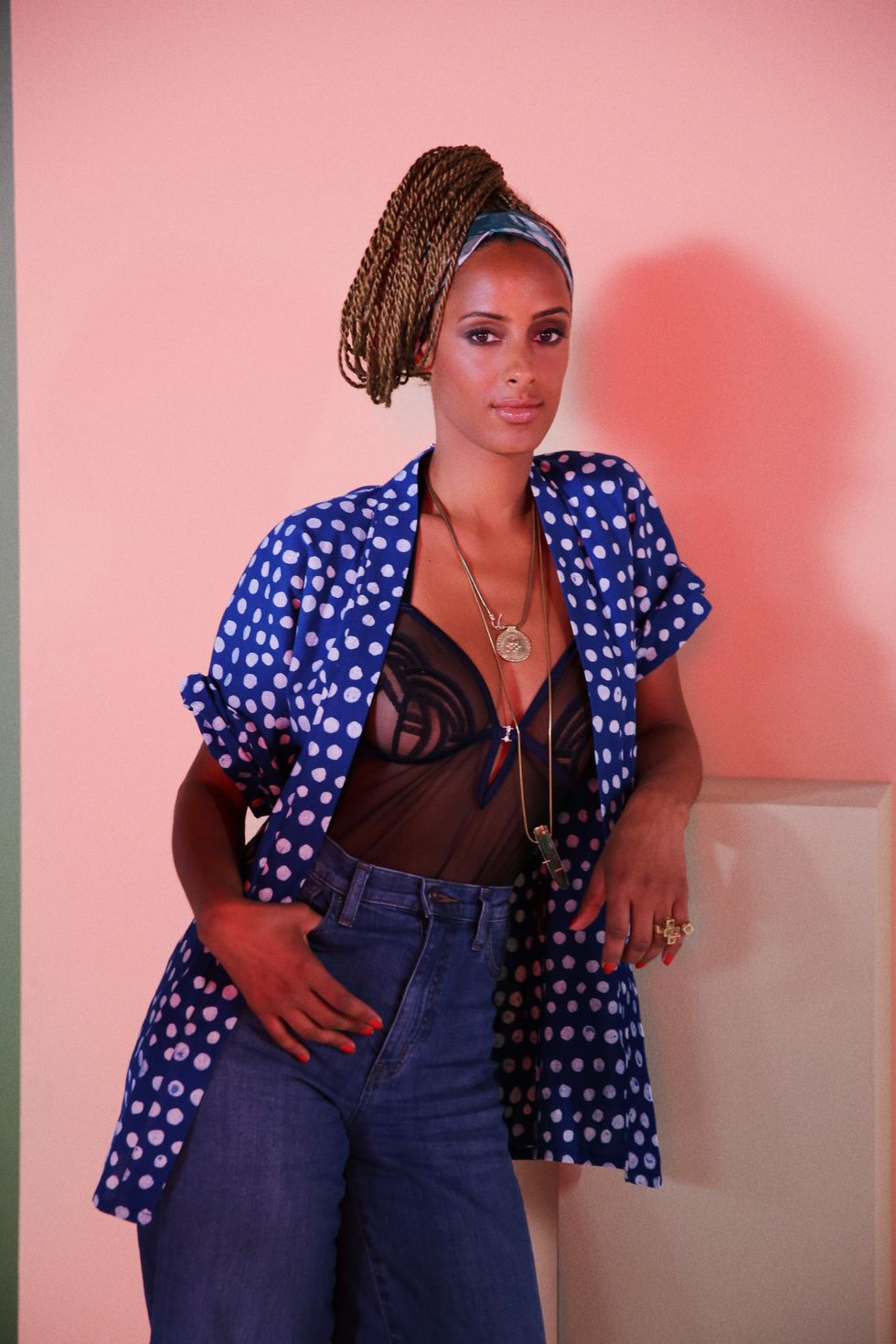 Delphine Diallo
This was life changing for me. They came with their pain. I was kind of a shaman of the vision. No matter what they felt, where they were in their lives, I had to make sure they feel better with me. The entire process of preparing the table, the food, making sure the music was good in my space. I have to make them feel good in 10 minutes. It happened this way. So they opened up to their pictures being taken by me. Which means what you see in the camera is what they want to show you and what they want to show to the world. Because they opened themselves to be a part of it. There is a oneness, they are present. Not one of these women was shy. Even if she was in the beginning it was literally then BOOM. I shot them all in analog. And I got a lot of lessons from it. It was intense. Because it was all BEAUTY. And it was nothing to do with the size of their boobs, or their hair...it had nothing to do with forms. If the world can be understanding that this is love. Every shape you know like a painter. All unique. It was amazing. It's an architecture. And usually people choose what's good or not good about this architecture and I destroy that through this project. I'm going to fucking destroy it. Because you don't choose. It comes to you. It's the opposite reaction of a photographer who's hunting, who's stalking, and taking all over again the spirit to just lock it for himself. I express love from a very different standpoint but it's always a female energy. And from this female energy, which was all those women together, it's even more complex. I finally got to create a storytelling where female energy is going beyond only one story.
And in New York, why? Because that was the land for women first of all, the land for creativity, the land for understanding of culture. Some people tell me what other places I should go to learn about women from around the world. Yes. But my topic is women of New York because I came here and I had to become myself. I had to find myself here. It is a very tough city. The reason why I'm in New York is because I fell in love with women creating here. One is now the first Black photographer full-time hire in the New York Times. You have to understand it's all historic. Never been happening before. Those steps in history open the door to other women after us to come and just be photographers. And especially have an expression of diversity, not an exaggerated stereotype. We are cutting the stereotype. You have to cut it. That's what she does, that's why I do it. I found sisterhood very early in New York when I arrived because I felt I didn't want to have a husband, I didn't want to have kids. I didn't want to build for myself so therefore I knew I wanted to build for others. And I found my peers; it was my goal. Like my work is one thing, which is an inside work. It's kind of selfish at one point because you need to develop yourself as an artist so you have to be staying a lot on your own to build it. But there's the other side. My sisters, we started creating at the same time. Writer, stylist, artist, singer... and we need all of us, the women, like this creative vibe and collectiveness. All the confidence that I built into my work comes from the women that I've met here. When I'm taken outside of New York it's when I want to give to women that I don't know. But this project is here, the togetherness, the woman collectiveness. And New York is pretty much a home for most culture. And right now, with everything happening in America, everybody in New York is on fire. It's a great time to create.
And New York might be the best place to be as a creator today.
--As told to Qimmah Saafir
This article appears as part of OkayAfrica's 100 Women 2018—a project highlighting the impactful work done by African women across the globe. Throughout March, we will be publishing a series of profiles, videos, interviews and feature stories on these inspirational women.