The Nigeria Official Selection Committee announced the choice of the insurgency thriller, The Milkmaid as the country's submission in the Best International Feature Film category of the 2021 Oscars.

Directed by Desmond Ovbiagele, 48, an investment banker turned filmmaker, The Milkmaid—a gorgeously shot exploration of war and the humanitarian crisis that follows- however hit a few bumps on its way to securing this achievement.
The film, Ovbiagele's sophomore effort following 2014's clunky action thriller, Render to Caesar, was temporarily prevented from screening publicly within the country by the National Film and Video Censor's Board, the regulatory body for film and video content. The agency was concerned with some aspects of the film's content, especially regarding the depiction of religion and asked that some edits be made before approval could be issued.
---
Ambitious and finely observed, The Milkmaid is an epic saga that delves into the lives of two sisters Aisha (newcomer Anthonieta Kalunta) and Zainab (Maryam Booth) as they become swept up in the insurgency that has claimed the innocence of their once-sleepy village. When Zainab is kidnapped on her wedding day, Aisha resolves to do everything within her power to rescue her sister and bring her back home.
THE MILKMAID TRAILERyoutu.be
Following weeks of negotiations, Ovbiagele and his producers were forced to cut a toned down, acceptable version of the film to appease the regulators. This version is now showing in select theaters nationwide. Speaking with OkayAfrica, Obviagele considers the whole debacle unnecessary but is relieved they were at least able to arrive at a compromise.

Certainly, this isn't the kind of reception Ovbiagele expected while undertaking The Milkmaid's grueling three-month shoot in Taraba state. Making this film was a labour of love for him and naturally, he had many dreams, some of which are only now coming to fruition.
Critical acclaim was important to Ovbiagele but so was commercial success. He envisaged festival screenings, rave reviews, award nominations and cultural relevance. TheMilkmaid scored 8 nominations at the recently announced Africa Academy Movie Awards (AMAA) including best film and best director for Ovbiagele.
It is easy to see why. TheMilkmaid is visually stunning, with plenty of intimacy and feeling, telling a universal but wholly specific story of human resilience in the midst of devastation. It is also one of the best Nigerian films of the last decade, impressing with its weighty storytelling as well as with the technical competence.
Impact was also important to Obviagele.
The Milkmaid was conceived in reaction to the protracted Boko Haram insurgency that has claimed the lives of over 37,500 people and displaced about 2.5 million people since 2011. Making this film was his way of getting their stories out. What Ovbiagele did not count on was the pushback that arrived from the censor's board. This pushback resulted in delays in the film's planned roll out. But as Ovbiagele confirms, things are firmly on track once again.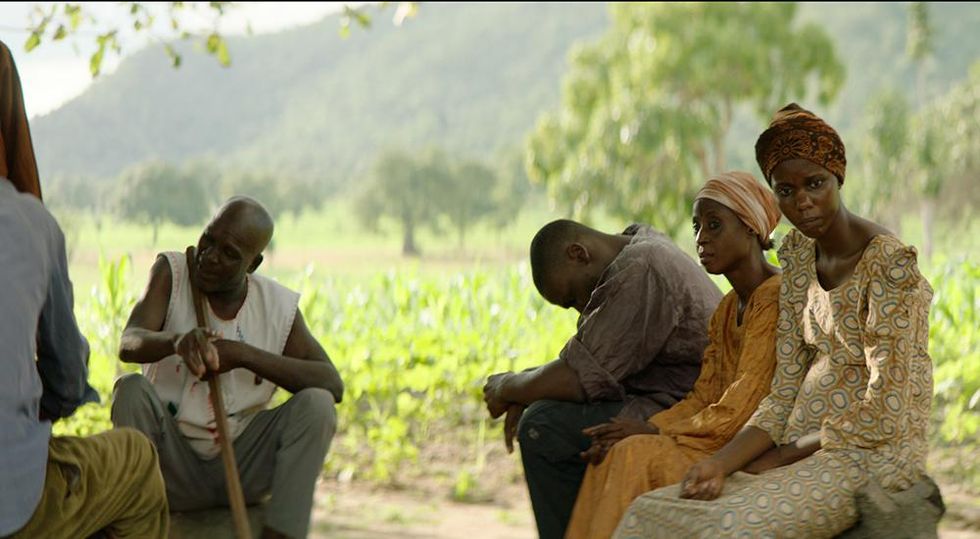 Behind-the-scenes of The Milkmaid.Photo: Milkmaid Movie
It took you six years from your debut, Render to Caesar to TheMilkmaid. That is like forever in Nollywood time.

I am the sort of person who needs motivation to make a film because it consumes such a long period of a person's life. After my first film in 2014, I needed to find something that interested me. It took a while but the reports of suicide bombings up north kept pricking my conscience. Of course, being in Lagos, I was far removed from what was going on over there, but I felt obliged to at least add my voice. Having decided on this, I knew that it was not going to be the most commercial project one could embark upon particularly in the wake of The Wedding Party. But there was a worldwide spotlight on Nigeria at the time and I felt like we should be in the driving seat of telling our stories if we consider ourselves filmmakers of any caliber.
TheMilkmaid feels so different from your previous film, in style and tone. How has your technique changed since then?
To be fair this is my first full directing effort. I didn't really direct Render to Caesar as it was meant to be a co-directing effort with Lucky Ejim. It was my first time working in the industry and I was producing as well so it wasn't until post-production that I took over the project. So I did not direct the actors actually. I did learn some lessons from my experiences on Render to Caesar and one of these was that actors tend to be more natural when expressing themselves in their native language particularly for actors who have to speak local languages frequently.
With The Milkmaid, you made a couple of unconventional choices; with the non-linear structure and by casting mostly unknown actors in the principal roles.
I feel that Nigerians have certainly been challenged by Hollywood films. You only have to watch a Christopher Nolan film to get your mind tied up in knots for two hours and Nigerians love his stuff. I thought that I could bank on my audience being used to a more complex structure and was willing to take a chance on this. For the actors, it was not a deliberate decision as I would have liked some marquee names. But once we went down the indigenous language route, that automatically knocked off most Nollywood actors. The other option was to gravitate towards Kannywood- the Hausa speaking segment of the industry- and we got Maryam Booth who is a popular figure over there. The challenge was that we were hoping to shoot for quite some time in Taraba state and we did not want disruptions to our schedule in terms of having big stars leave the set for competing projects as they often juggle multiple projects. As a filmmaker, one of my joys is to be able to discover new talents and I think we have shown with the film that there is a wealth of acting talent away from mainstream Nollywood just waiting to be discovered.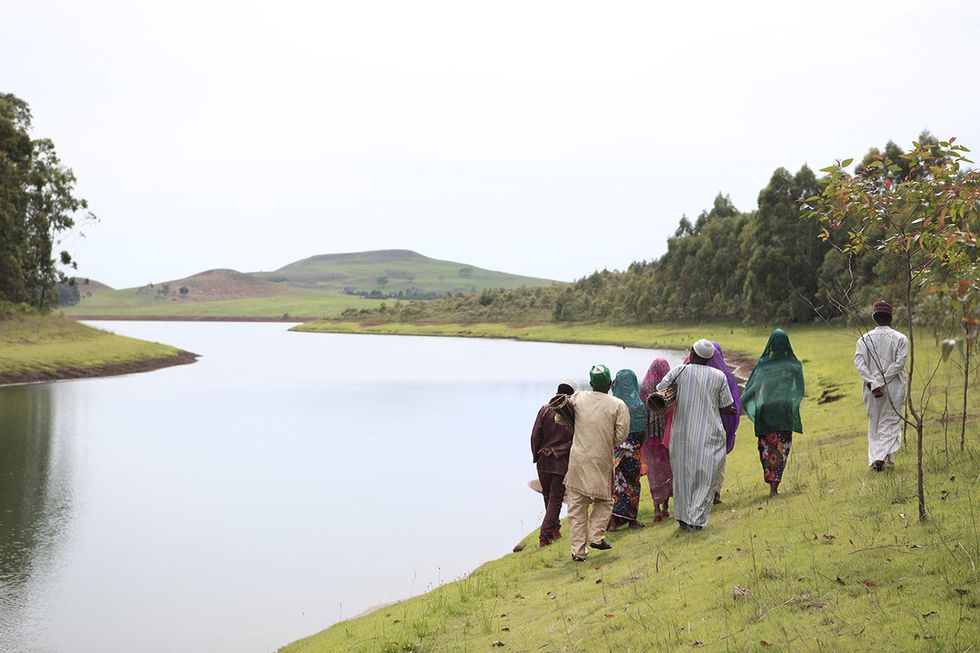 Behind-the-scenes of The Milkmaid.Photo: Milkmaid Movie
And the language is completely in Hausa…

It was simply the right thing to do. From the point of authenticity, it didn't make sense that hardcore fundamentalists would be speaking queen's English. Even though there is a perception that reading subtitles is not so user friendly, we needed the film to be as authentic as possible. The language of the characters in that situation would be Hausa, Fulfulde and to some extent, Arabic as well so we adopted all three. Also, we wanted to give ourselves a fighting chance of being eligible to compete for international awards like the Oscars that have foreign language as a requirement. Just in case we came out with a product of any sort of quality.
Speaking of the Oscars, The Milkmaid's theatrical release was delayed by grumblings from the national board. What was the situation with the board exactly and where are things now?
Some people felt uncomfortable at such an unflinching depiction of religious extremism and they received the film not as an expression of the truth but as a portrayal of a certain religion in an unflattering light. Our defense to the board was that there is nothing in The Milkmaid that breaks any new ground in terms of depicting the key players in these situations. The film is fictionalized but it is basically derived from publicly available material. We did not go for a sensationalist approach. We were just looking to tell an authentic story that resonated with what people had already heard and read. It was a bit surprising that the board read the film as castigating a certain religion. Matter of fact, we thought it was the opposite case particularly with how the story played out. We showed clearly that there were people distorting the tenets of the religion and that people could discover the truth for themselves by studying the holy book.
Are you happy with the version that audiences are going to see?
Anytime a filmmaker is going head to head with the censors' board- from Alfred Hitchcock with Rebecca to Biyi Bandele with Half of aYellowSun- there's always going to be compromises that might alter the original vision. There is no doubt that the edits recommended or instructed by the board are not in full keeping with my vision for the film but to some extent, the artistic vision is still there. One simply has to roll with the punches.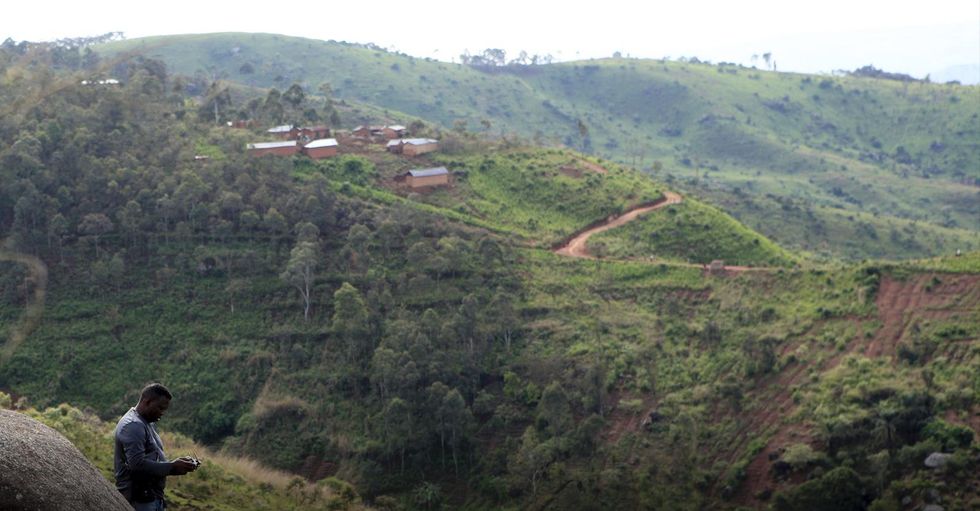 Taraba State, Nigeria, a location where the film was shot.Photo: Milkmaid Movie
You could be considered an outsider on three different levels. As a Christian man from the Southern part of the country taking on a pro-feminist story set in the core North. Why did you think you were the right person to tackle this story?

Writing the screenplay helped and in so doing, I trawled through every single news and agency report- local and international- available on Boko Haram. This really helped immerse and ground me in the thought processes and mindset and emotions of the world in which these characters lived and breathed. I sought to understand a bit their experiences going from living as free people to being held in captivity.
We live in a time where people are now particular about who tells certain stories. What would you say is most important if you are going to tell stories that aren't native to you?
I think that is a great question and I think that is where facts and objectivity are required so that you are not locked into favoring a particular constituency. I am a Christian and at the beginning of the insurgency, I recall there was some considerable bias in terms of the people that were being targeted. That wasn't the route I wanted to go because that could color perceptions as to why the film was made and the message the film was depicting. I didn't want that to be a distraction. In any case, the research showed that Muslim targets were the hardest hit and so it was easy for me to anchor the story on characters who are entirely Muslim. What was left was to try to arrive at as authentic a depiction as I could and this is reflected in the ideology that is portrayed in the film.
But for a story like this, I don't think that you can be objective. You have to take a clear stand at some point and I think you do this with the writing.
I needed the principal characters to have a certain degree of agency even though they were held captive. From the survivors' accounts, even in the camps where they were more or less slaves, they were able to use their own initiative to survive. The survival instinct always kicked in and some of them even managed to escape. You have to understand that the insurgents themselves, many of them are not trained soldiers but boys who are picked up on the streets and given weapons. They don't have the organization and precision of soldiers. Sometimes they fall asleep on guard duty. Those sort of lapses created opportunities for their captives to make a break for freedom and many of them did on several occasions. So it wasn't always a perfect, efficient Mossad type situation. More like teenage boys who had never been in such situations and were themselves struggling with the lifestyles that they were being indoctrinated into. It was a fluid situation for both captives and captors.
I am curious about the filmmakers that inspire your work.
When I went to FESPACO with Render to Caesar, I had access to other films from across the continent. I remember Abderahmen Sissako's Timbuktu which was centered around that subject matter. I was able to appreciate a different style of filmmaking from what I was used to from Nollywood and Hollywood and I took away some things from that. I was able to marry those lessons to my own inclinations as a filmmaker in terms of storytelling, not just for random artistic reasons but trying to use them to tell this story. I am a big fan of Martin Scorsese who is very much the auteur but also influenced by European directors. Mine is a sum of all these parts.