One night in Munich, in May 2012, the hopes of a million Chelsea fans seemed fated for the shredder. For the second time in four years, Chelsea football club was playing in the final of the UEFA Champions League. They had yet to win the trophy, the choicest in European club football. They came close to winning it in 2008 but lost to Sir Alex Ferguson's Manchester United in the final.
In 2012, when they faced Bayern Munich at the Allianz Arena, they got a second go at it. But with only seven minutes of playing time left, Thomas Müller put Bayern a goal ahead of Chelsea.
For Didier Drogba, Chelsea's main striker who wore the number 11 jersey, losing the final would have particularly stung. Three months earlier he had lost in the final of the Africa Cup of Nations, his country Ivory Coast losing on penalties to Zambia. Chelsea losing would have also forestalled Drogba's chance of redemption. In the Champions League final four years ago, he had unwisely indulged a fit of rage and was sent off the pitch. His lapse in self-control had vexed many Chelsea fans.
In Munich, with barely three minutes on the clock, Chelsea won its first corner-kick. Juan Mata took it. Drogba lurched towards the ball, Bayern's Jerome Boateng fiercely hounding him. But the Ivorian reached the ball first, redirecting it with his head into the net, his manner slickly practiced, his goal a timely CPR pumping Chelsea back to life. But that equalizer was only the first act of Drogba's canonisation at the club.
Act two happened during the penalty shootout in the same match. Dispensing with the fussy rituals often indulged by penalty takers, Drogba took the last spot-kick matter-of-factly. He sent Bayern's Manuel Neuer the wrong way and then dashed the other way in teary jubilation. Chelsea had won its first Champions League. Didier Drogba had become a Chelsea, nay, football icon.
Humble beginnings
Like the equalizer he scored in Munich, Drogba's childhood was scrappy. He was born Didier Yves Drogba Tébily on 11th March 1978, in Abidjan, to two low-income bankers. Like fellow Ivorian footballers Gervinho and Salomon Kalou, Drogba hails from the Bété tribe. He was born in the Ivory Coast which, despite the discovery of oil in Abidjan in the early '70s, was in an economic tangle. Inflation and unemployment ticked upwards.
It was also a time of political uncertainty . Félix Houphouët-Boigny, who had been Ivory Coast's president since the country's independence from France in 1960, had established no constitutional plan for his succession, leaving the West African country two streets shy of political disarray.
Considering these circumstances, Michel Goba convinced Drogba's parents to allow their son to live with him in France. Goba was Drogba's uncle, and at the time, a professional footballer for the French club Brest. Drogba's parents agreed. Soon a five-year-old Drogba was in a France-bound aircraft.
He wouldn't see his parents until three years later, when he moved back to Abidjan. There he played football nearly every day with other kids at a local car park. It's possible playing football in such improvised venues, and without the proper kit, instilled in the young Drogba the scrappiness he would often rely on as a professional player. It was a quality that allowed him to make a meal out of improbable goal-scoring chances. The cramped park Drogba played in might have also helped him to develop his close control. It perhaps explains why he would become an effective dribbler, retaining the ball even when pressed or in tight spaces.
Early career days
When Ivory Coast suffered a recession in 1989, an eleven-year-old Drogba moved back to France. By that time his uncle played for Dunkerque. Drogba joined the club's youth team, playing initially as a right-back, before playing as a centre-forward upon his uncle's prompting.
Most players sign their first professional contract by age 17 or 18. But Drogba, a late bloomer, didn't sign his first until he was 21, when he was signed by the French side Guingamp. In two seasons at the club, he registered 20 goals in 45 games, his flying form catching Marseille's attention. And in 2006 Marseille signed Drogba for 6 million euros. Its financial merits aside, the deal bore an emotional heft for Drogba: he had adored Marseille as a child.
Marseille: Introduction to the world
With its many Ligue 1 titles, Marseille lives in the imperial palace of French football. In 1993, it also became the only French club to win the Champions League. But by 2003 when Drogba joined the club, Marseille was scarcely in kingly form. It hadn't won silverware since 1993 but hoped to change that with Drogba.
Drogba's season began in full velocity, as though the Stade Vélodrome, Marseille's turf, had always been his home. He played alongside the likes of Egypt's Ahmed Mido and France's Steve Marlet, and he quickly grew a reputation for his versatility and pinpoint decision-making in front of goal. At six and two inches tall, Drogba was a fearsome presence in the eighteen-yard box. Using his immense physical strength, he often easily shook off defenders, as though swatting flies away. And with his deftness at using his body as a shield, retrieving the ball from him was often an arduous task.
Excellent poacher aside, Drogba also sliced through opponents with his speed and dribbling, a bill of goods on which he often relied to create goal-scoring chances for his teammates. His range of technical skills meant he was not the typical centre forward.
In the Champions League in his first and only season with Marseille, Drogba would introduce himself to Europe. He scored five of Marseille's nine goals, but it wasn't enough as the club was eliminated in the group stage of the competition. They continued their European campaign that season in the UEFA Cup, where Drogba scored six goals, helping Marseille reach the final after improbably beating Liverpool and Inter Milan. Unfortunately, Marseille lost in the final to Spain's Valencia.
It also placed seventh in Ligue 1, ending the season without silverware. But there was the prevalent idea that, should Drogba retain his form in subsequent seasons, the club was bound to win a trophy. That idea didn't make it past the cradle, for Chelsea came calling, offering Marseille £24 million for Drogba, nearly the sum Real Madrid had splurged on David Beckham a year ago. Both player and club couldn't resist the offer. Drogba's romantic season with Marseille ended, and the Ivorian became Chelsea's all-time most expensive signing at the time.
Though trophies eluded him at Marseille, the club was crucial in establishing Drogba as an international star. With his 32 goals in 55 matches, he was Marseille's top scorer in his first season. Still without silverware at 26 years old, Drogba hoped his talent would find productivity at his new club in West London.
Chelsea: A legacy forged
Like when he joined Marseille, Drogba joined Chelsea when the club was in a transition phase. Chelsea had just gotten a new owner—the Russian billionaire Roman Abramovich — and newly installed the Portuguese José Mourinho as its coach. The club was desperate for silverware, as it had last won one four years ago and had not won the Premier League for 50 years.
As he was still largely untested, Drogba's signing did not elicit from Chelsea fans the same frisson of expectation that the signing of Ukraine's Andriy Shevchenko would evoke two years later. There were doubts about Drogba's signing, to which Mourinho famously said ," judge him when he leaves the club."
While Marseille had lacked the financial clout needed to give Drogba the supporting cast his talent deserved, Chelsea had no such problem. Along with Drogba, they signed world-class talents like Petr Cech, Arjen Robben, and Ricardo Carvalho. Also, uppercrust players like Frank Lampard, Claude Makélélé, and Joe Cole were previously in the squad.
Drogba's first goal for Chelsea came in a league game against Crystal Palace in August 2004. Nigeria's Celestine Babayaro whipped in a cross, and Drogba headed the ball into the net. Neither Drogba nor Chelsea fans could have known it at the time, but the header foreshadowed one of Drogba's most important goals in his Chelsea career. Against Bayern in the Champions League final eight years later, he would also score a header from a cross by a left-footed player.
But it was not to be a flawless debut season for Drogba. He scored only 16 goals in 40 games, performed inconsistently, and received flak for his aptness to dive when tackled. He also struggled sometimes with his temper, a character failing that would shadow him closely throughout his career. But his temper was also proof of his competitive nature and hinted at the intense self-confidence which spurred the Ivorian to great athletic heights.
Despite Drogba's tame performance in his debut season, Chelsea won the Premier League. The club also relied on Drogba's goal when it beat Liverpool 3-2 to win the League Cup. Yet many fans remained skeptical about Drogba, becoming doubly so in the next season when the player's form did not improve. And yet Drogba was crucial to Chelsea winning the FA Community Shield in his second year at the club. He scored twice as they beat Arsenal 2-1 in the final.
In his third season at Chelsea, when he scored 33 goals in 60 matches, Drogba started to find firm footing at Stamford Bridge, winning over the fanbase. His consistent performance that season helped him retain his place in the starting eleven, even with the arrival of the immensely talented Shevchenko. Again, Drogba scored in a cup final, this time against Manchester United in extra-time, his lone goal in the match winning Chelsea the FA Cup. A pattern emerged: even when he was out of his element, Drogba was the player for big games. By the end of his Chelsea career, he had scored nine goals in nine cup finals.
In 2007 Chelsea fans again turned on Drogba when he publicly said he wished to leave the club. This was after Avram Grant replaced Mourinho as coach and Drogba became disillusioned with the club's direction. But the ire of the Chelsea fans was overwhelmingly placated by Drogba's brilliant performance that season. Though Chelsea ended the season with no trophies, Drogba placed fourth in the 2007 Ballon d'Or, the most prestigious award for individual brilliance in football.
His legacy at Chelsea, and as a footballer, was calligraphed with permanent ink in May 2012, when his goals won Chelsea their first Champions League. Wanting to leave on a high, later that month a 34-year-old Drogba announced he was leaving Chelsea after playing there for eight years.
In his 341 appearances for Chelsea, he scored 157 goals, making him the club's fourth all-time top scorer. He won 3 Premier League titles, 4 FA Cups, 2 Carling Cups, and 1 Champions League. He was also the first African player to score 100 goals in the Premier League and won the league's Golden Boot award twice .
But most important, is that Drogba completely won over the Chelsea faithful, despite the initial skepticism and occasional vexation which defined their relationship. That Drogba now lives in the hearts of Chelsea fans was made clear in October 2012, when a poll by the club's official magazine — 20,000 Chelsea fans had voted — named Drogba as Chelsea's greatest player of all time .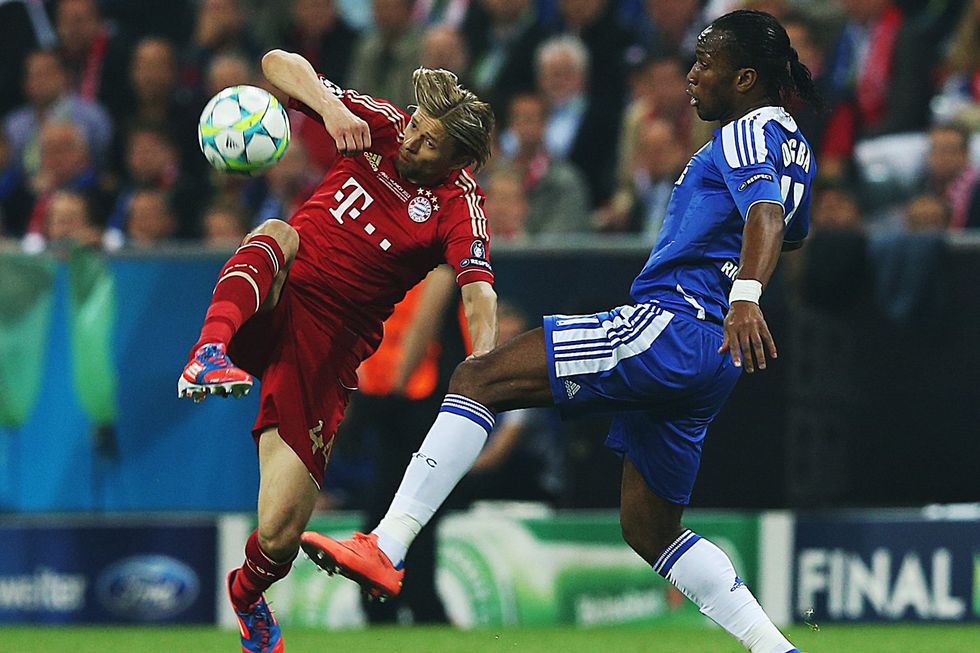 Didier Drogba of Chelsea vies with Anatoliy Tymoshchuk of Bayern Muenchen during UEFA Champions League Final between FC Bayern Muenchen and Chelsea at the Fussball Arena München on May 19, 2012 in Munich, Germany. Photo by Ian MacNicol/Getty Images.
Ivory Coast: Unlucky campaign
In a video Drogba uploaded on his Instagram account in February 2015, he screamed in rapture as Ivory Coast beat Ghana on penalties to win the Africa Cup of Nations (AFCON). It was the country's first trophy since 1992 and Drogba, arguably the country's greatest player, was not a part of the team that had won it. He had retired the previous year from the national team, with whom he never won a trophy despite reaching two finals.
He made his debut in 2002 for Les Éléphants in an AFCON qualifier game against South Africa. But he would score his first international goal in his next appearance, as Ivory Coast beat Cameroon 3-0 in a friendly. With his fame ballooning in the football league in France, and later England, Drogba was able to find a permanent place in the Ivorian starting eleven. His surging star power and leadership qualities would allow him to become Ivory Coast's captain in 2006.
Despite losing to Egypt in the 2006 AFCON final, the year remains special to both Ivory Coast and Drogba. Scoring 9 goals during the qualifiers, Drogba helped his country qualify for the World Cup for the first time in its history. He would also score his country's first World Cup goal , against Argentina, though Ivory Coast lost 2-1 and crashed in the group stage.
For his performance that year, Drogba beat Cameroon's Samuel Eto'o to win the 2006 African Footballer of the Year award, becoming the first Ivorian to win it. In 2009 he won the award a second time.
With his goals, he helped his country qualify for two more World Cups, the 2010 and 2014 editions. But each time they failed to reach the knockout round.
In 2012 Drogba would again be heartbroken as Ivory Coast lost in the AFCON final, this time to Zambia. His time at Ivory Coast just couldn't find the romantic ending he'd had at Chelsea. But there's no doubting his place as arguably the country's greatest all-time footballer. With 65 goals in 105 matches, he's the nation's all-time top scorer. It could be argued that Drogba's contributions, and those of Ivory Coast's so-called golden generation with whom he played — Yaya and Kolo Touré, Salomon Kalou, Didier Zokora, among others — helped to set the tempo for the eventual climax which the country reached when it won the AFCON in 2015.
Shortly after the 2014 World Cup, Drogba announced his retirement from international football.
Sunset years
After Chelsea, Drogba moved to China, where he played for Shanghai Shenhua. In 2013 he moved to the Turkish club Galatasaray, where he scored 20 goals in 53 appearances, even with his declining physical abilities. He also won the Turkish league title and the Turkish Super Cup .
After being sweet-talked by José Mourinho, who had been reappointed as coach, Drogba returned to Chelsea in 2014. His one-year deal with the club was more symbolic than it was utilitarian. He was not going to be a regular starter, his centre forward position now occupied by the younger Diego Costa. And yet his return filled Chelsea fans with an excitement eclipsing that which trailed his first arrival at the club. Although he contributed minimally to Chelsea's campaign in the season he returned, Drogba won the Premier League and League Cup .
Drogba played club football in two more countries, Canada and the United States, where he played for Montreal Impact and Phoenix Rising respectively. But in 2018, after a career spanning nearly two decades, Drogba retired from professional football at 40 years old.
He was born in the stiffest conditions, started his football career a little later than most, and had to brave false starts in his Chelsea career. Yet Drogba leaves behind an enviable legacy. Today he's a model for many young players, his name a metaphor in the football world for a goalscoring instinct that's both deadly and elegant. Mourinho was right all those years ago: Drogba could only have been judged when he left the sport.