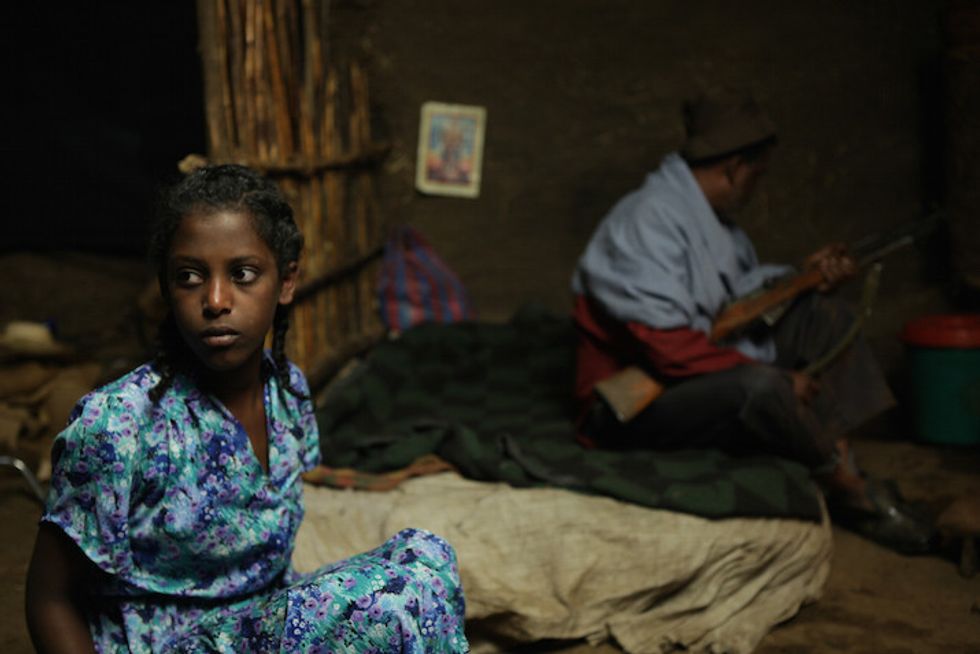 ---
Still from Zeresenay Berhane Mehari's 'Difret'
In the Sundance-winning Ethiopian court drama Difret, writer/director Zeresenay Berhane Mehari chronicles the true story of a girl and a lawyer who take on the tradition of abduction for marriage known as "telefa". Executive produced by Angelina Jolie, the film made its world premiere at Sundance 2014– where it won the World Cinematic Dramatic Audience Award– and was subsequently selected (but not nominated) as the Ethiopian entry for the Best Foreign Language Film at the 87th Academy Awards. Just in time for awards season, the film is headed to U.S. cinemas next month for a limited theatrical run beginning on October 23.
Mehari's debut feature, Difret tells the story of Hirut, a 14-year-old Ethiopian girl (Tizita Hagere) who is sentenced to death after she accidentally kills her abductor. Meron Getnet plays the lawyer who takes her case and joins Hirut in a fight to end the centuries-long practice of telefa, in which the abduction and rape of teenage girls is accepted as long as the man marries his victim. Difret's website further explains telefa and the legal precedent-setting case that resulted in the practice being outlawed:
"In the beautiful green plains of southern Ethiopia, girls are customarily forced into marriage by abduction. More specifically, the cultural practice of "telefa" involves abducting a girl, hiding her and then raping her until she becomes pregnant. Then, as the father of the child, the man lays claim to his future bride. The young girl's fate is sealed when her abductor approaches the village elders to negotiate the bride's price and act as middlemen between his family and the abducted girl's family.

This has been a way of life for centuries in Ethiopia, until one girl changed it all. In 1996, Hirut Assefa shot and killed her abductor with his own rifle. Three hours away, in the capital city of Addis Ababa, Meaza Ashenafi, a renowned young female lawyer hears about Hirut's story. Knowing that Hirut is facing the death penalty or life imprisonment, the lawyer embarks in a long battle to save this young girl's life.

Together Hirut and Meza fight the charge of murder in a dual battle that takes place in the courtrooms against the constitutional law and in the remote village against customary law. After two long years of fighting, Hirut, with the help of Meaza and her organization, the Ethiopian Women Lawyers Association (EWLA), is set free on the basis of self-defense. Telefa finally becomes illegal. Her case turns a new chapter in Ethiopia's legal history and she becomes the first woman to challenge and resist this type of violence. Aberash's act of resistance becomes an important symbol in the history of women's rights in Ethiopia."
Keep up with Difret via the film's official website and Facebook, and watch its just-released trailer via Shadow & Act below.