Watch The Video For Motèl Mari x Dirty Paraffin 'According To Who (Remix)'
Watch the shifting green-screen video for Motel Mari x Dirty Paraffin's "According To Who" remix.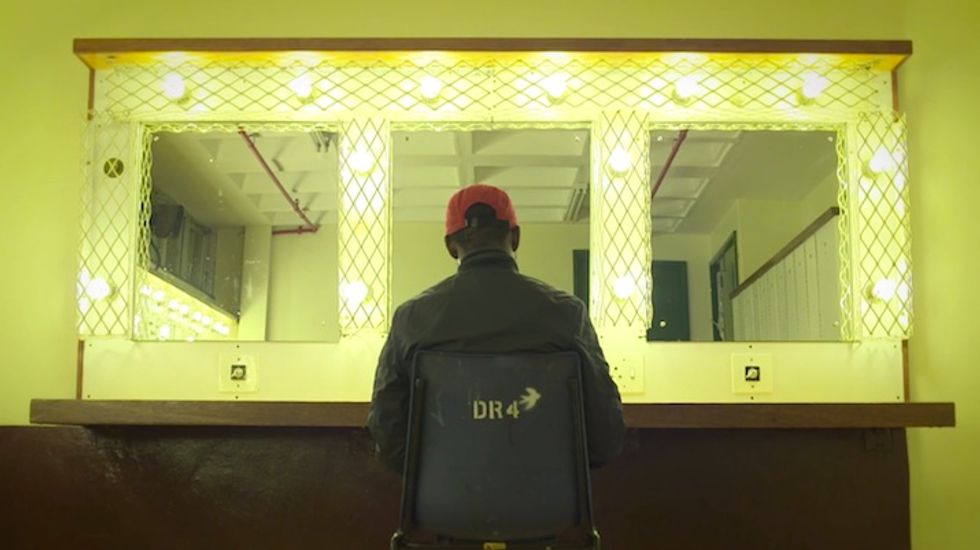 ---
Motèl Mari, the textural soundscape project from BLK JKS members Mpumi Mcata, Tshepang Ramoba and collaborator João Orecchia, drops a chroma keyed video for the Dirty Paraffin remix of "According To Who." DP's Okmalumkoolkat takes center stage as he spits his verse and trudges through the motions of a 'big talk show' interview only to walk off set into the shifting, green-screen dimensions created by his own head. Watch the Mpumi-directed video for "According To Who (Dirty Paraffin Remix)," premiering here, below and stick through to the 2-minute mark for some dance lessons from Okmalum. Grab this and other reworks on Motèl Mari's Eternal Peasant Remixes: South Africa x South Florida.
Starring OKMALUMKOOLKAT
With Dizzy Moeti, Spizee, João Orecchia, Mpumelelo Mcata, Tshepang Ramoba,
For Sisterhood of the Displaced Brides: Honey Makwakwa. Lindiwe Matshikiza, Vishanthi Kali, Lavendhri Arumugam, Myer Taub, Cara Snyman
Directed by Mpumelelo Mcata
Editing, Compositing, Effects and Background Videos by João Orecchia
Camera by Storm Solomons
Sign Language Shot by Liam Lynch
Green Screen Lighting by Xolani Ndlovu
Extra Background Video by Lindiwe Matshikiza