Disney+'s RISE is a charming, family-friendly film depicting traumas that one couldn't fathom. The movie tells the story of Greek-Nigerian basketball superstar Giannis Antetokounmpo (Uche Agada) and his ascent from poverty to National Basketball Association champion. The film retells the years the Antetokounmpo family spent dodging immigration officers, the four children sharing a single bed for years while their parents slept on the couch, and the sacrifices that led to the Antetokounmpo brothers' domination in the NBA. A harrowing tale of perseverance and dedication to family that could be an empathy-building tool for the sports fans that are attracted to the brothers' professional escapades.
---
The affectionately nicknamed "Greek Freak" and his brothers Thanasis,Kostas, and Alex(played by Ral Agada, Jaden Osimuwa, and Elijah Sholanke, respectively) grew up in a world where their existence and personal safety were constantly at threat. The film details the heavy decision that Giannis's parents made to leave Nigeria in search of a better life. Charles and Victoria Adetokunbo (Dayo Okeniyi and Yetide Badaki) were forced to leave behind their firstborn son, Francis (Anthony Abiola), in Nigeria when the couple traveled to Turkey. After an onslaught of horrific experiences -- including having their passports seized by Turkish authorities -- Charles and Victoria smuggle themselves across the Turkey/Greece border.
All four boys were born and raised in Greece. However, none were awarded legal documentation until three months before Giannia's NBA draft -- at the age of 18.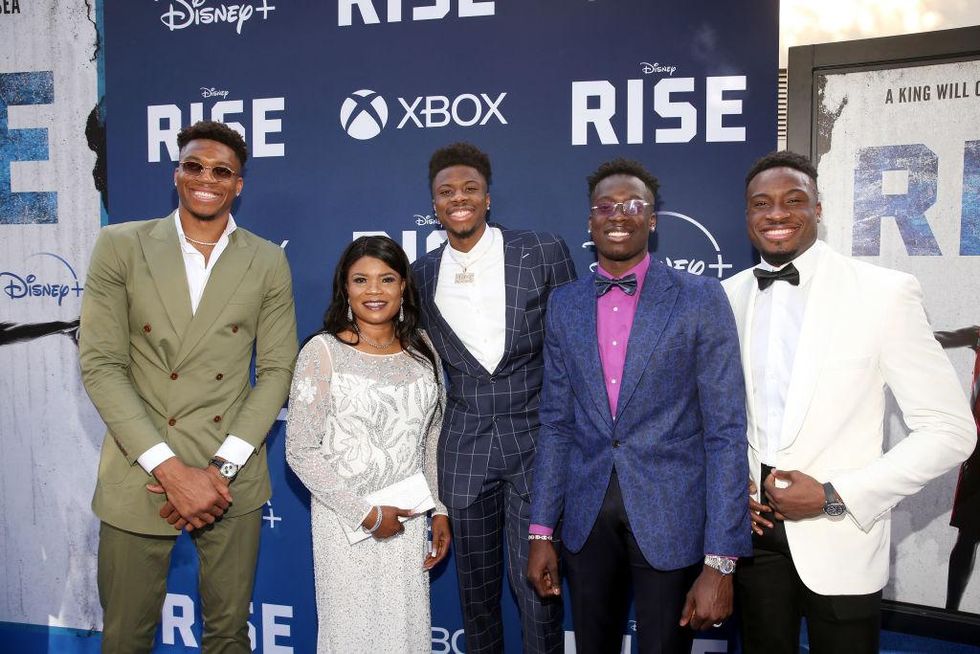 Photo by Jesse Grant/Getty Images for Disney
The story focuses largely on Giannis and older brother Thanasis, as they discover Basketball well into their late teens and see it as a way out for the family. Standing at a whopping 6′ 11″, Giannis towers over Thanisis. But the eldest of the clan is the first to master the sport. As the movie portrays it, Thanasis was seen as the family star and if not for an ill-timed ankle injury, would have preceded Giannis as the first to be scouted. The film is a sincere take on the belief that natural-born talent can only manifest as greatness if you put the work in. Giannis, now with the pressure of saving his family on his young shoulders, put in his hours days worth of commitment, eventually being picked by a Spanish club CAI Zaragoza before becoming eligible, in 2013, for the NBA draft.
In 2013, on their first trip out of Greece since birth, Giannis and Thanasis traveled to the US where the younger was drafted in the first round by the Milwaukee Bucks.
The movie reminds us of how quickly the ego can create uncomfortable family dynamics. Not only was there no animosity between Thanasis and Giannis when the former was expected to break into the industry first, but the Greek Freak also brought his band of brothers up with him; Thanasis plays alongside Giannis for the Milwaukee Bucks; Kostas plays for the Los Angeles Lakers, while youngest Alex is currently undrafted, last playing for the Canadian Raptors 905.
How do you detail a child as young as seven having to run away from violent police officers for trying to put food on their family's table in a Disney-friendly way? Somehow, they did it. One can assume that the final product is a watered-down version of the real experiences. We have to give Disney their props when considering how transparent the production giants let the Antetokounmpo family be. Shocking dramatizations of the young boys having to evade police custody and the ever-present ignorance that is racism fill the family's story. I couldn't recall a Disney movie ever tackling racism this head-on before, making this debut crucial for so many young eyes.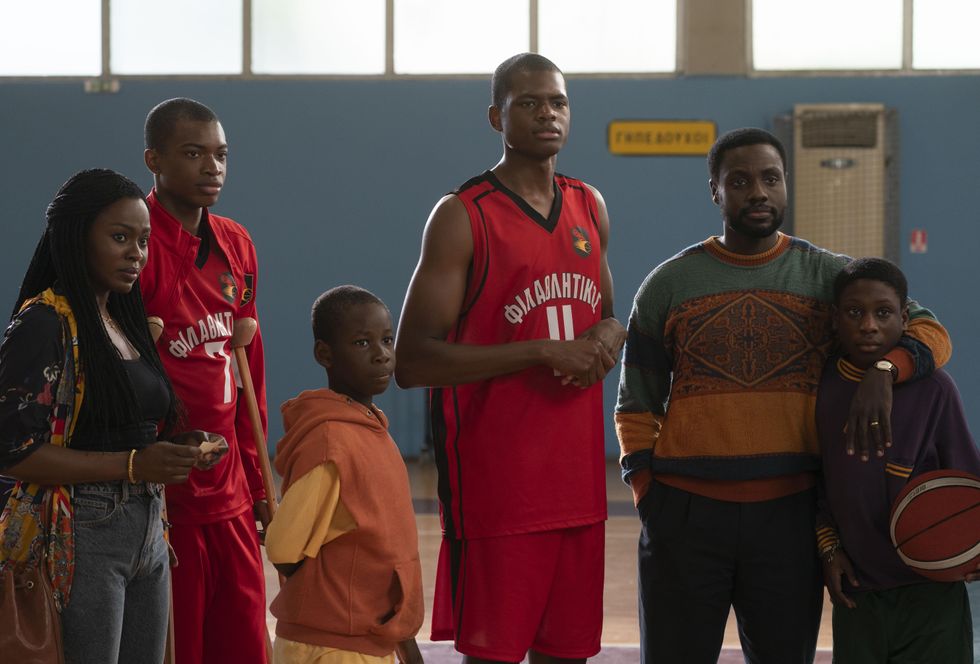 Yetide Badaki as Vera, Ral Agada as Thanasis, Elijah Sholanke as Alexandros, Uche Agada as Giannis, Dayo Okeniyi as Charles, and Jaden Osimuwa as Kostas in RISE, exclusively on Disney+.
Photo by Patrick Redmond. © 2021 20th Century Studios. All Rights Reserved.
To have to leave behind your infant child, driven by hope and a prayer alone into uncharted, unaccepting waters is something many will be lucky to never face. The reputation of those who leave the continent to seek better lives in different countries is often dismal. Often painting African refugees as less than human, as if someone would choose a life of insecurity and instability. Giannis's likability within the world of basketball is likely to draw an unsuspecting audience to Disney's popular streaming platform to witness a worldview they probably couldn't even imagine. Knowledge and understanding are key tools in dismantling ignorance, and that genre of society could use it.
RISE is available for streaming on Disney+ exclusively. Check out the trailer here!