For Nigeria's superstar DJ Obi, it was a romantic relationship gone sour – a situation that many Nigerians like to describe as 'being served breakfast' — that led him to this.

"I was served breakfast," confesses Obi. It was a vulnerable way to kickstart our conversation somewhere in the industrious city of Lagos. "I wanted to double my income because I figured the guy she was leaving me for was wealthier than I was. I decided not to do drugs, or be a bad boy. But I was going to make as much money as I could from entertainment," he explains.
Obi's House, his brainchild in collaboration with Hard Rock Cafe Lagos, has become an integral part of Lagos' nightlife, bringing in over 2,000 music lovers in attendance every Monday night. What started off as a way for Obi to engage his internet followers during the pandemic has now become a culture movement for young people and entertainment professionals in the city.
"Right before COVID-19 went crazy, DJ ECool put me on to Facebook live, and I named it Obi's House. That was how it started. He was already doing it in Atlanta and he taught me how to do the same while adding my CashApp for donations. He set up my laptop, did the whole thing, and we started testing out. Then I went through the heaviest breakup in my life."
In 2016, DJ Obi broke the world record for having the longest DJ set which had him spinning for ten straight days. His profile skyrocketed, achieving exactly what he aimed to attain with the stunt andm since then, it's only been upward movement for the Nigerian spinner.
We sat down with DJ Obi to talk about being a DJ in Nigeria, the success of Obi's House and his involvement in Lagos' nightlife culture.
This interview has been edited for length and clarity.
---
Image courtesy of DJ Obi.
How did you start DJing?
Some people will say it sounds cliché, but Jimmy Jatt was the first DJ that I saw and admired. I never really thought someone was in charge of playing the music at parties until my father took my siblings and I for a carnival, only for DJ Jimmy Jatt to get on stage, do a mix and the crowd went crazy. I wanted to know how that guy made everybody shout at the same time. This was in 1996.
Was the plan always for you to be a DJ?
Well, not DJing. My plan was to be like my dad, who worked in TV and radio. I just thought it was the coolest thing ever at the time. I wanted to learn how to do it too. So the truth is, the entertainment and media business has been a lifelong dream. In college, I realized that this entertainment thing was very broad. At that time in Nigeria, DJs weren't considered a part of the entertainment industry. It was through being in a different country that I realized it. The respect for DJs in the U.S. was different. I now began to understand that these guys were a part of this media/entertainment thing.
What went through your mind while you broke the Guinness World Record in 2016?
It was a PR stunt for me. I came back to Nigeria in 2012 and I just decided that I needed to make that entrance. At this time, I was still trying to book gigs and people in Lagos liked to act like they didn't know who I was and tried to cut my price to either free or almost nothing. For me, it wasn't even about the world record. I just wanted people to know that there's this guy that did this thing, so if they didn't still know me, it wouldn't be my fault because I would have done my work, and I did my job but staying awake for so many hours and ten days to prove to you that I can do this DJ thing.
What was that like, DJing nonstop for 10 days?
It was madness. It's the most tasking thing I've ever done to my body. I was delusional and hallucinating at some point. I lost a lot of weight because I wasn't eating. It was very tedious. I'll do it again for the right money, however. But I did that based on passion. That was the fill. That passion filled me up because I was passionate about proving myself.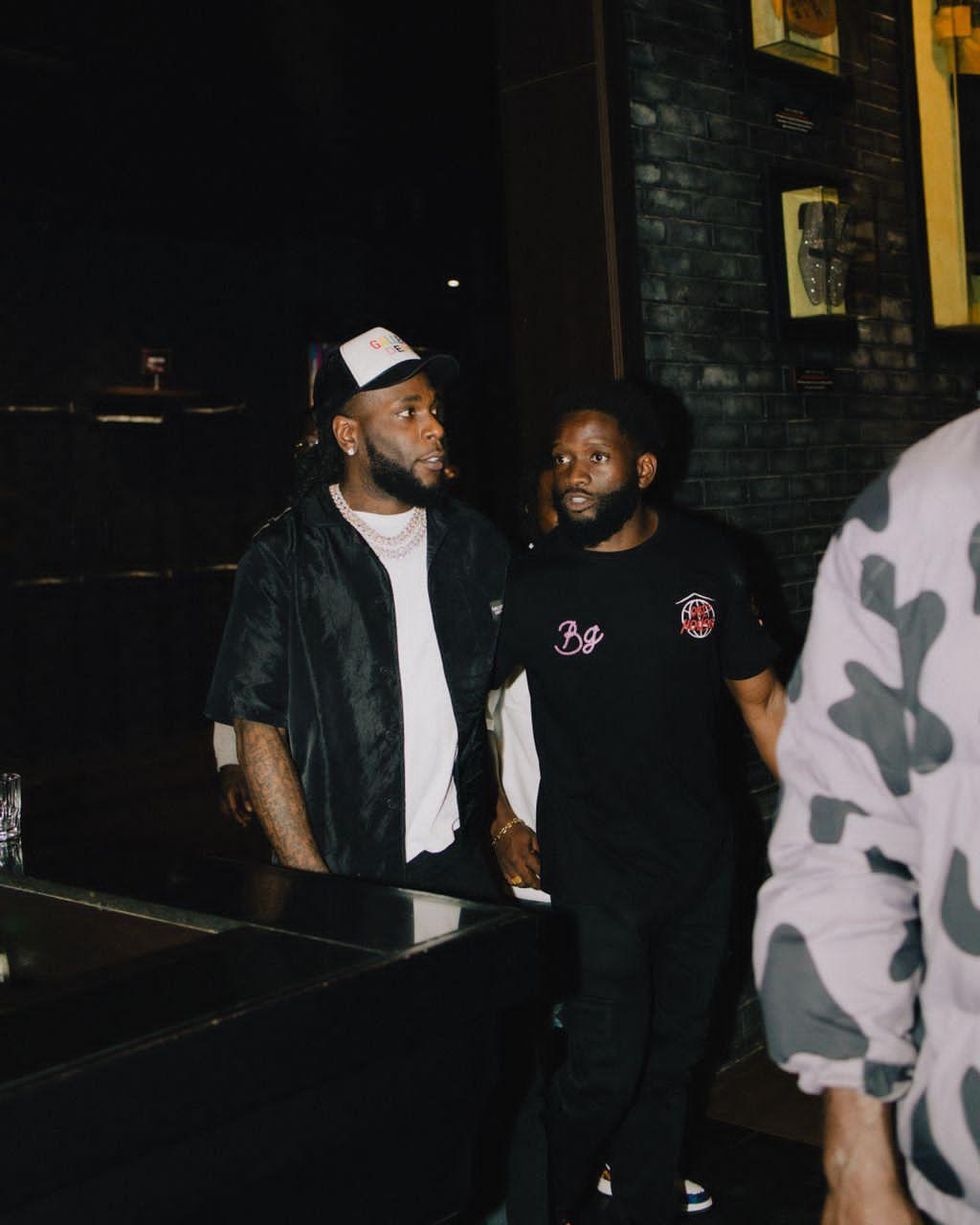 Burna and DJ Obi.Image courtesy of DJ Obi.
What would you say has been the most important ingredient in the success of Obi's House?
I can't explain it, you can't explain, Lagos can't explain it. Before Obi's House, everything was falling apart because I had been consistent at fucking up. I had been consistent at just dropping things that were important and never completing them. God is like, if I could transfer that consistency to showing up, things would begin to work out for me, starting with the gym. So I started being very consistent at everything I was doing.
Why did you choose Mondays?
The opportunity came up at a spot called Boulevard in Lagos to do something. I decided to take it. At first, it was supposed to be Thursday, but someone else already took it, so they offered Monday. I just remembered that it wasn't really about the party, but about me just being consistent at something. I remember I'd lost my laptop and everything in it because it rained on it. I decided to use that time to rebuild my library while playing at Boulevard. So that's how Obi's House started.
So it was more about you just learning to show up.
Yes. That's why when I travel out, I have to be back on Monday. Because that's my deal. That's the contract: consistency.
How does seeing superstars show up at Obi's House make you feel?
I don't call anybody. Everybody comes on their own accord. They just want to have a good time. I think the reason they pull up is because just like Obi's actual house, when people come around, they can feel free. Nobody is doing any celeb thing and that energy has been able to transfer into the event. When they come, they know they can be themselves. So if you see Burna Boy, Davido or anyone, it just adds to the experience. It makes me feel good, I can't lie. It makes me feel like people fuck with my jam and people can trust me enough to spend time with me. Because technically, that's what I'm doing. It's me saying 'guys, come to my house and let me host you after work on Monday.'
Image courtesy of DJ Obi.
I've noticed you always give chances to other DJs to play at Obi's House.
Because that's something that is not happening anywhere else. Nobody is respecting the DJs. Even some other DJs have held events like this and still not respected the DJs by giving us the forefront. But at Obi's House, it's a thing now. We're building a platform where DJs can actually express themselves. I'm trying to use this as a platform to teach the clubs and everyone else that you have to appreciate your DJ. Your club is suffering because you are not treating your DJ proper. If you're appreciating your DJ, that DJ will carry your club on his/her head. They will go and improve on their skills because they cannot let you down. You go abroad to different clubs, you'll see the DJs face on the billboard in front of the club. But over here, they're struggling to put our names on the flyers. This is why DJs like coming to Obi's House – because I'm free with them shooting content for their pages for promotion. And what better place is there to promote yourself in Lagos right now than Obi's House?
When you feel overwhelmed, what do you do?
Truthfully, I'm a prayerful smoker. Funny thing, but when I smoke, I get to the point where I literally just start talking to God and praying. Especially if it's about being overwhelmed. It's weird.
What's the best part of DJing in Nigeria?
In Nigeria? It's entertaining because you meet a lot of characters. You meet all kinds of people. I'm a people watcher. I love being in the DJ booth because I notice everything. I just laugh. If you spend time watching me in the DJ booth, it's a cruise because I have many facial expressions and I'm always seeing things. Asides that, I love DJing because it affords me the opportunity to travel and see the world. I feel like if I wasn't a DJ, I'd be in one place for too long. It's giving me the opportunity to see different parts of the world that I don't even have to pay for.
At the end of everything, what will be that benchmark of fulfillment for you?
I think that will be the moment where I look around to see that my kids are sorted out and there's peace around me. Not necessarily money. If I can just look around and see peace, then certainly money has done its thing. I look forward to such a time very desperately.