One of Pretoria's most popular lifestyle lounge chains, Ayepyep Lifestyle, is a power suit restaurant by day and a freakem dress club by night, especially on weekends. But what makes it a cut above other similar spots in Pretoria (or Pitori as it's commonly known) is its influence on South African popular music, especially the popular subgenre amapiano.
In 2009, when gqom was fast becoming the country's most popular genre, DJ Sumbody wanted to cut himself a space in the industry. Gqom originated in Durban, and, as a Pitori native, Sumbody needed to create a counterpoint to the mainstream. "I started this 'Ayepyep' thing as my party hook. So when people go 'Wololo,'" he says about the refrain popularised by gqom, "I go 'Ayepyep!' So, this thing grew and went nationwide with DJs and people on the dancefloor."
---
Building an empire
Today, Ayepyep has evolved from being Sumbody's signature refrain to an amapiano hit featuring DJ Tira, Thebe and Emza. The Ayepyep lifestyle lounge chain has two franchises in Pretoria and a third planned for Cape Town. Ayepyep is also a champagne brand in the making. What it all comes down to and holds it together for the lounge's proprietor is music.
"It started off with me as a DJ playing at birthday parties, pubs, weddings to me getting a sound system. It started off there, hustling around Pretoria, hustling these alcohol companies for me to supply sound systems whenever they've got gigs. I started creating gigs around the institution at Tshwane University of Technology, doing beach parties, hosting my annual birthday parties, then I felt like I had hit the ceiling."
DJ Sumbody ft. Cassper Nyovest, Thebe & Vettis - Monate Mpolaye (Official Music Video)www.youtube.com
Sumbody has grown with his audience beyond the glass ceiling and made Ayepyep a home for his peak stardom. Leaning more heavily on kwaito music than most of his amapiano contemporaries, he dubs his style "kwaito piano." Upon its release in 2019, his album Ashi Nthwela had three singles that were already playlisted on national commercial radio. His formula for success included collaborating with established artists—Cassper Nyovest, Kwesta, Thebe, Busiswa etc.—who would introduce his music to new audiences.

The tracks on Ashi Nthwela thin out the bass and drums, dampen the percussion and all, but remove instrumental solos to make room for Sumbody and his collaborators' vocals. Longtime house music producer Junior Taurus' style is recognisable throughout—with polished samples and live instruments composed, balanced and mixed a safe distance from distortion.
The rise and rise of amapiano and DJ Sumbody
Ayepyep's à la carte menu offers traditional African culinary staples like signature dishes mogodu (tripe), lleme (tongue) and maotwana (chicken feet) to its patrons in the upper reaches of the food chain. The DJs and their selections cater to this generation of patrons in their 30s and above who have a taste for 90s and early 2000s kwaito and house, but are current enough to appreciate the growing Pitori variation of amapiano.
From its beginnings in the Gauteng province early in the decade, amapiano has borrowed from jazz, kwaito, dibacardi, deep house and other sounds to create a drum- and percussion-heavy sound unique to South Africa. Solos, usually on keyboard, punctuate the progressive rhythm sections.
It was when vocals were added to the concoction that audiences began to relate to the music, recognise songs and the styles of individual producers more easily. With that, came the emergence of amapiano into the mainstream and out of the underground that it had dominated until circa 2018. Today, amapiano dominates both underground and commercial platforms and is in many ways the South African sound de jure.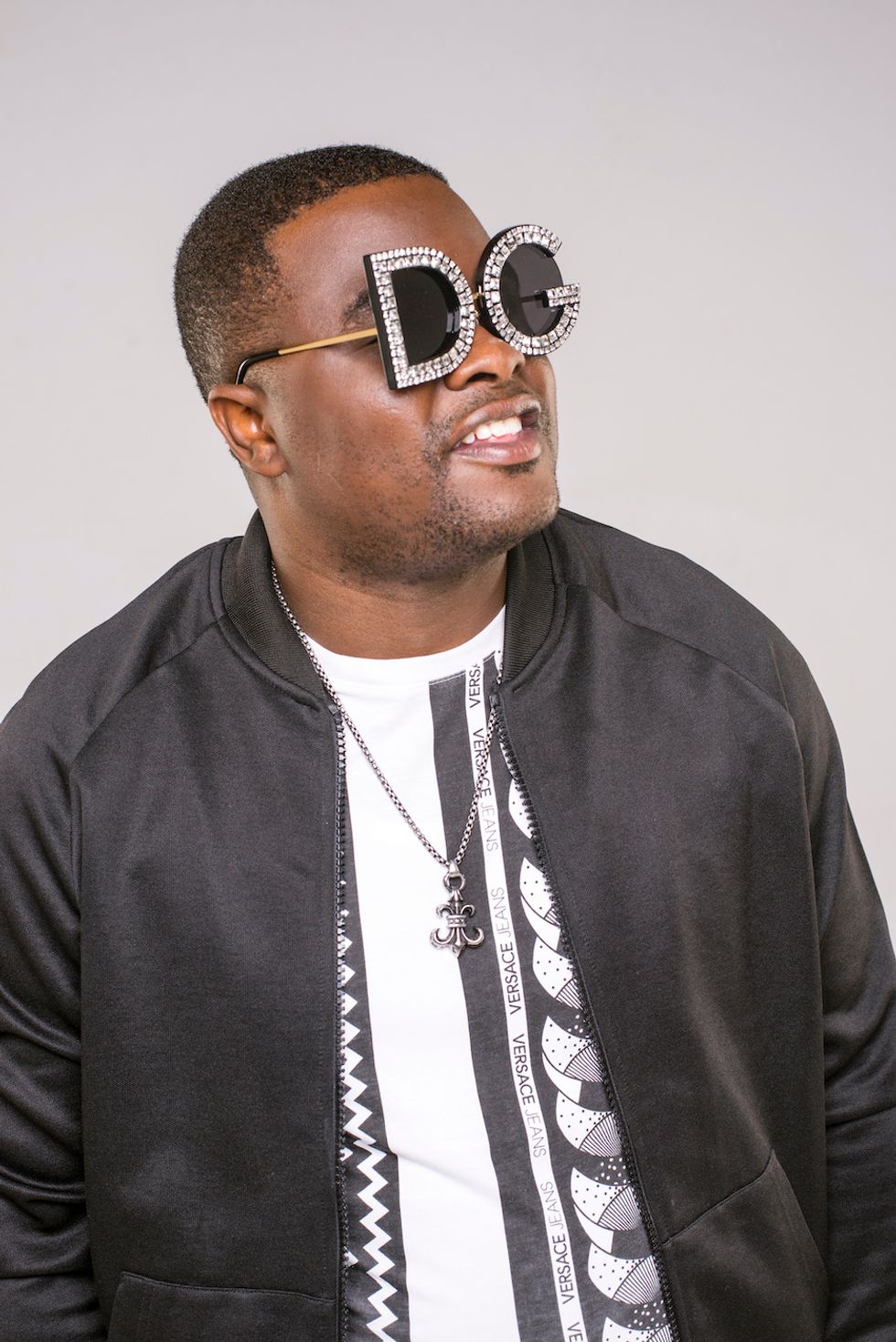 "I needed this Covid-19 thing because I was so busy that I was not thinking of other opportunities that are there," says Sumbody. Image courtesy of artist.
"If you go to Joburg, you have your Pop Bottles (event), your Taboo (club). I'd been seeing that Pretorians didn't have something that belonged to them so I created a Pitori hub where we showcase our music and invite other artists to come and feel our vibe." At some point or another, damn near everyone on the mainstream circuit—from kwaito pioneers M'Du and Bongo Maffin, rap's big names AKA, Cassper Nyovest and Anatii, to house music high priests Vinny da Vinci and DJ Christos—has played at Ayepyep Lifestyle or at the annual Sunnyside Block Beach Party hosted by Sumbody himself in the Sunnyside venue's precinct.

A platform for young talent
But Ayepyep is also the same place where DJs and producers who are gaining popularity in Pitori's townships expose their music to a different tax bracket and propel their careers nationally. Amapiano trio The Lowkeys came in through the back door by signing with Sumbody's record label, Sumsounds, then becoming a resident act for both venues. These are instrumental moves in their rising popularity.
As the group racks up appearances on terrestrial and online shows like Channel O's Lockdown House Party, MTV Base's MTV Basement and promoter Dinho Café's Amapiano Lockdown Sessions, they are helping fill the vacuum created by a national ban on gatherings. Sumbody on the other hand is pivoting to give them and other Pitori artists platforms to showcase their music. One of the projects scheduled for release in June is a collaborative album with Sumbody.
Finding innovative ways to stay afloat during the lockdown
Under the pressure of his venues being closed and no bookings due to the Covid-19 pandemic, Sumbody has migrated online through live streaming mixes and performances on MTV Base and Channel O. For a promoter, the golden formula is broken amid the pandemic. Just like every other artist, Sumbody needed a new avenue to reach his audiences for the music he produces.
DJ SUMBODY X BUSISWA X MDU MASILELA - 4 The Kulturewww.youtube.com
Enter Lockdown Sessions, the live streaming channel where, among other Pitori DJs, Junior Taurus, who produced Sumbody's hit song "Monate Mpolaye," has been featured. "When I did my streaming," Sumbody explains, "I did things the way that I do them at Ayepyep Lifestyle—drink if you want to, smoke if you want to." Because of that chutzpah, Hennessy and soft drink maker Schweppes have partnered with his channel to help fund the equipment, artists, data and other costs in exchange for the respective companies securing future alignment with the Ayepyep brand.

Amapiano, just like all other genres of music, finds itself at a difficult position in the time of Covid-19. YFM DJ Da Kruk, who was one of the first radio DJs to play amapiano, says the lockdown is the biggest threat to the growth of the popular subgenre. "The biggest vehicle of amapiano to date was the fact that the guys were able to activate the music," says Da Kruk. "They were able to play the parties, throw the parties. For amapiano, you need to be part of an environment where you are dancing or it's going down. Now that everyone's on lockdown, it's very difficult to activate the music."
But Sumbody's gospel is that amapiano is not going anywhere anytime soon. For the artist-come-promoter come-record executive who made his start in business by owning taxis, the lockdown has been a blessing in disguise. "I needed this Covid-19 thing because I was so busy that I was not thinking of other opportunities that are there," says Sumbody. "I was in the fast lane. This thing is like an eye-opener for me to start thinking out of the box. It is showing me that I can actually achieve more. Us, those at the forefront of amapiano music, we need to make sure that we encourage these up-and-coming producers and artists. Most of them are holding back with their projects, hoping that this thing will end because when you release music, you're hoping to get bookings soon. That's how we survive. I'm encouraging them to release their music."
Stream DJ Sumbody's 2019 debut album Ashi Nthwela on Apple Music and Spotify.