By Adaora Oramah

For anyone who saw the 1997 movie Amistad, the memory that remains years later is of a young Djimon Honsou, radiant in the role of Cinqué, a captured Mende tribesman from Sierra Leone who led a revolt against slave traders on the Spanish ship, La Amistad.
Honsou's electrifying performance illustrates the tribulations of Cinqué's quest for freedom. In one memorable scene he tells John Quincy Adams, played by Anthony Hopkins, about the power of his ancestors, invoking their presence to guide him through the Supreme Court trial that would return his people to freedom. Speaking softly, with eyes of zeal, Hounsou delivers a powerful monologue that conveys Cinqué's passionate connection to his Mende traditions:
---
"I will call into the past, far back to the beginning of time, and beg them to come and help me at the judgment. I will reach back and draw them into me. And they must come, for at this moment, I am the whole reason they have existed at all.
Amistad catapulted Djimon Hounsou into international stardom, sending him on a path to try and reshape the visual representations of Africa in global cinema.
From his portrayal of T'Challa in BET Network's animated rendition of the Black Panther, to his performance in Blood Diamond, his captivating roles in a slew of popular blockbuster Hollywood productions reveal that the Beninese star possesses an incredible talent and a fierce dedication to showcasing various stories about the continent.
Hounsou's acting career also mirrors his directorial aspirations. His documentary,"In Search of Voodoo: Roots to Heaven", provides an exploration on Voodoo-ism in Benin, offering in-depth discussions on the ways the legacy of colonialism has undermined the value of indigenous cultures and ancestral traditions.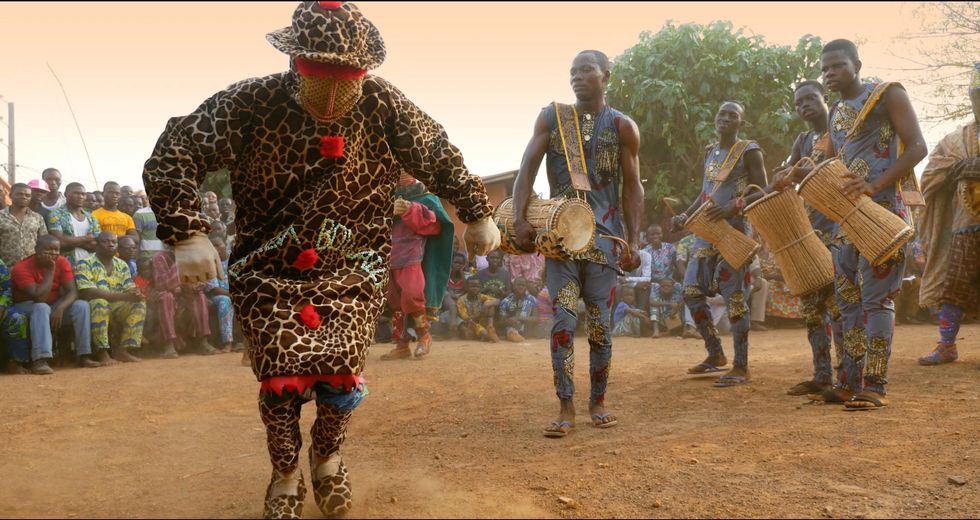 A still from Djimon Honsou's 2018 documentary "In Search of Voodoo: Roots to Heaven"Image courtesy of Djimon Honsou
Yet the Benin-born actor's professional endeavours extend far beyond Hollywood. In an effort to combat modern day slavery and human trafficking, Hounsou announced the Gate of Return Marathon and Festival at the United Nations headquarters, set to take place in Cotonou, Benin in 2021. Starting at the Reconciliation statue of Cotonou, marathon runners will race along the beach towards Ouidah and enter The Gate of No Return, a memorial arch that commemorates the enslaved West Africans who marched, shackled and bound from Ouidah's slave market to board the vessels that would ship them off to the "new world".

In an interview with OkayAfrica, Hounsou discusses his new film a Quiet Place Part II, his humanitarian interests, and how The Gate of Return Marathon and Festival aims to facilitate diasporic reconnections with the continent.
The interview has been edited for length and clarity.
You're known to take on incredibly powerful and moving roles. What are you looking for when you select a role? What moves you about a film character?
Mostly stories that really uplift the image of the African man. Movies that uplift the integrity of the black man. We're one of the oldest continents. We are the map to perfect DNA. We are the original people. Given the lack of education and awareness about our history, it would seem like most of our history only started from the days of colonization, or it would seem like we lack tremendous achievement as Black people. It's definitely the reason why I'm a little bit choosy with the films [that I participate in]. I have to say that I was quite fortunate to be asked to play some of those characters.
Can you tell us what viewers can expect from A Quiet Place Part II? How is it different from the first movie?
It's not much different other than it is a continuation of the first movie, which was quite successfully made. We had the original director come back. The original cast was also back for the second one, so that gives some reassurance for somebody like me coming in at the tail end of the second part. Some of the socially relevant issues that the movie addresses in the story, I think most of us as a normal audience, can transpose ourselves in some of those settings, and see how we would manage and cope in such a situation.
Can you tell us about your role in the film?
My character, and even the name of my character is under wraps. We're trying to keep it very hush-hush, because it's a spoiler. That's as much as I can tell you.
You always mention that Hollywood brought you back home to Benin—Like a "full circle" moment. Can you elaborate on what that means and how that occurred?
Being in the United States I realized that I have to portray characters that reflect on my origins. Like the character that I played in Amistad—the Steven Spielberg film—and Blood Diamond, which I played for the director Edward Zwick. So those films really took me back to my origins, and made me reflect on the legacy of my people.
In Search of Voodoo: Roots to Heavenyoutu.be
In your 2018 documentary, "In Search of Voodoo: Roots to Heaven", you return to Benin to explore and study the roots of Voodoo. Can you tell us more about your experience directing the film? Why was it important for you to tell this story?

Well, it's important because one of the big ailments during colonization is that European colonizers were trying to cut out our way of living. When they were transporting slaves, they were also trying to indoctrinate, so they obviously don't want to give them or allow them to have anything that uplifts them, right?
That is the reason why African ways of life were demonized so much for so long. You're kept away from having to live fully as who you are. We don't know anything about our identity. When you are brought up in life, your education is the education of the colony. Your religion is the religion of the colony. Everything else is from the colony, so where are you as the African man or the Black man? Where are you? What defines your existence? Not much, right?
The documentary came from a need to declare that this is an important way of life for various African communities. No matter how much you demonize us, you can still see within countries of the diaspora, like Brazil, Cuba, Argentina, Jamaica, Haiti—you could see our way of living in Africa, still has relevance in the ways that they speak about Voodoo, and the ancestral way of living.
You also established an independent production company Fanaticus Entertainment, to create content for a global African Diaspora. Your production company produced your documentary. Do you hope to be more involved in the film industry in Benin or in other African countries?
Yes, of course. We're trying to create content for our people. I think the film industry is a bit limited in terms of African blockbuster films. We don't have great movies that show the makeup of Africa or African people in a great way. There's a need to do films of that nature.
With the rise of movies such as Black Panther and now Nigerian Netflix, do you feel that this growing interest in African stories is important in reshaping the way Africans are being perceived?
The continent is a big market. It's the most youthful market. Certainly the world can see the financial potential there, but how you bank that is the question. We've got plenty of stories to tell.
You are dedicated to eradicating human trafficking and modern day slavery, and you have been vocal about relieving the plight of this crisis. What sparked your humanitarian efforts?
I was mostly touched by our brothers and sisters who are trying to cross over to Europe through Libya and some of them are being enslaved in Libya. We have to refocus our minds to understand what we are going to Europe for. What are we running to Europe for when the wealth of the world resides in Africa?
Djimon Hounsou announces his foundation that fights modern slavery and the Gate of Return Marathon.youtu.be
Last year, you visited "The Ark of Return" at the United Nations Headquarters, and announced your new initiative, The Gate of Return Marathon and Festival. You described it as a festival dedicated to healing the wounds of slavery. What do you hope to achieve?

I created the Djimon Hounsou Foundation to raise money for the Gate of Return. My idea of the Gate of Return is to symbolically use it as a triumph over slavery, but more importantly to heal the wounds of slavery by championing a visceral connection with the countries of the African diaspora to the continent, to the motherland. It is for the extended souls of Africa who are in Brazil, Cuba, Haiti, Jamaica. It is to say that DNA belongs to Africa.
Sports and music are the two elements that bring people together. I'm trying to use sports and our cultural festival event to show our connection with the diaspora, [and] for the diaspora to show its affinity with Africa through food, music, arts and crafts. It will be something that will go on for a weekend. The race will be on Sunday, but two days prior to the race is the festival where each country gets to demonstrate their strong affinity with Africa.
What motivated you to create this event? How was this initiative conceptualized?
What motivated me were my travels around the world. When I first landed in America, I was like "wow, these are my people." I felt so strongly connected, yet I was so disconnected at the same time. That was the one thing that I've been thinking about. There had to be a way to reconnect the diaspora to the continent.
Can you tell us about what the Marathon and Festival will entail? What can people expect?
The Marathon is going to take place specifically where UNESCO defines to be the triangle of the slave trade, which is The Port of Benin. Then the second point of the triangle is Virginia, and the third point of the triangle is Liverpool in England. So ideally we do the race in Benin. One of the key points recognized by UNESCO is The Gate of No Return. We'll do the second one in Virginia, and then the third one in Liverpool to try to heal the wounds of slavery and to try to champion everybody to speak of preserving the continent and the intergenerational identity of black people.
In your opinion, why do you think it's important for diasporans to reconnect with Africa?
I feel like without the continent's children who were born in exile—the extended souls of Africa—they are the ones who are going to truly save Africa. I think some of us in Africa are not quite aware of all the economic and social gains around the idea of being 'whole'. We need to reunite the diaspora with the continent, and that's because we can't exist without the diaspora. It's as if you're cutting your legs off.
What is the defining mission and vision that you want people to take away from The Gate of Return Marathon and Festival?
What we're trying to all embrace, at the end of the day, is the idea of unity and diversity.