If you want to get an emphatic and multi-layered view of Egyptian urban culture, the music springing out of youth-centric scenes in cities like Cairo, Giza, and Alexandria is a useful starting point on the life, opinions, and beliefs of citizens of the North African country. Over the last three years, drill music — the Chicago-pioneered hip hop offshoot — has come on in leaps and bounds in the country, helping to soundtrack the angst of a generation grappling with the after-effect of two violent political revolutions. Largely building on the pioneering work of acts like Abyusif, Marwan Pablo, Abo El Anwar, Moscow, and Wegz, a new generation of drill stars is rising from the country's capital with their base of operation localised in Maadi, a leafy suburb of Cairo.
Fast-rising rapper and singer, FL EX ( born Mohamed Ibrahim Hamed), is one of the acts helping propel Egyptian drill to stratospheric levels thanks to a pint-sized collection of singles and EPs that exemplify the dynamism of the country's hip-hop scene. Signed to Maadi Town Mafia, FL EX has played a key role in codifying the present ethos of drill music in Egypt, mixing the bravado of the nation's youth with a leering flow-pattern inspired by his icon, Eminem. All of this led to a proper breakthrough in 2022 that was confirmed by the success of the album, MESAMA3EEN EP,led by the anthemic "Logan."
Despite his success with drill music, the 21-year-old wasn't initially considering rapping over drill beats prior to joining Maadi Town Mafia. "I didn't feel a connection with it until I joined [them] and they convinced me that I was built for it," FL EX says about the sub-genre. "The team at Maadi Town Mafia told me that my talent lay there and that the way I approached my lyrics was going to be more evident in a drill framework. They also said they have a certain vision for me that became evident after we worked on two songs together and that just convinced me that I was on the right path."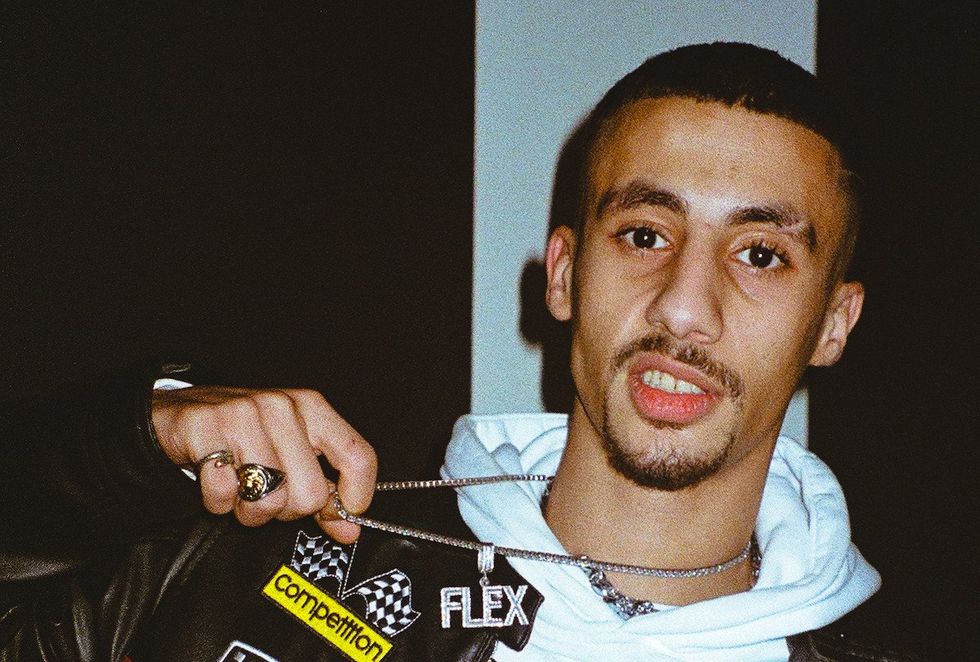 Photo by Héloïse Zdka/FL EX
Early Life & Rise
FL EX's path into music began a long time ago, as a child who spent most of his early life dreaming of music superstardom. Although he's primarily affiliated with the green of Maadi these days, the rapper spent a significant portion of his earlier life in Faisal, Giza with his tight-knit nuclear family, where he soaked in some of his earliest hip-hop influences and the street culture around him. "Faisal had an active hip-hop scene, even when there wasn't a big hip-hop scene in Egypt on a national level," he says. "It was a very special sub-culture where you'd see street fashion and graffiti culture everywhere — and the music tied all of it together. That's how I got into music because I wanted to do what the older guys in my hood were doing."
After being scouted by Maadi Town Mafia in 2020 and encouraged to experiment with the drill sound, FL EX debuted late in 2021 with Shayateen, a biting four-track EP that introduced the rapper as a bruising, technically proficient MC with a knack for raging against the conservative public outlook on life in Egypt. Importantly, his association with M-Town Mafia positioned him in an ecosystem that understood his strengths and amplified his gifts. " I found that Maadi Town Mafia was the best environment available for me to work in Egypt because I found my identity and creative direction here," he affirms. Importantly, the label also provided friendship for the rapper who spent his earliest years without people who understood his dream of being a musician.
Breakout Years
If 2021 was a year for unleashing his furious flow, 2022 saw FL EX lean into a new role of archivist, documenting the oft-overlooked life of people living on the edge of Cairo's big sprawl and in the shadow of its high-powered superstructure. That new essence helped propel the single "Logan" to national fame and regional prominence. MESAMA3EEN, the tape housing "Logan" also raced to the top of the charts, confirming FL EX's status as one of Egyptian drill's standard-bearers even if he was reluctant to work on the project at first
FL EX - Logan (Official Music Video) | فليكس - لوجانyoutu.be
"MESAMA3EEN was a massive milestone for me because I didn't expect the project to pop off as it did," he explains. "As much as I loved the process of putting it together, it represented a challenge to me as well because it was a solo project and the core value of operating in Maadi Town Mafia has always been rooted in our collaborative work. However, the team convinced me that individuality is key in any artist's career and having those five songs is an important step in my discography because it turned out great even if I didn't have high expectations."
Despite his burgeoning public profile and rising stock on a regional scale, FL EX is quick to acknowledge the work of other artists for the rise of drill as a key part of Egypt's modern musical identity. "I think that drill has taken off in Egypt thanks to the collective work of artists here as well as the effort and time put into the hip-hop scene by Maadi Town Mafia. It also has to do with the music we constantly put out with regards to myself and other label artists like Husayn and Wingii, consistency was key for the music to pop off," he says. Navigating his role as an ambassador for drill music is something that the rapper is still getting used to, and he's getting some much-needed help from label-mate, Husayn, who has been in the limelight for much longer. "It was rocky at the start but I've been able to gain some perspective with the help of Husayn who I consider a friend and big brother and that's been really helpful in putting everything in perspective," FL EX says.
FL EX, however, enthusiastically loves the thrill of giving a voice to an authentic representation of life in Maadi, even arguing that his music is growing to become symbolic of life in Cairo at large. "It's the number one motive of any hip-hop artist to be the face of their city," he says. "When I walk around Maadi and the people I grew up around tell me that I put Maadi on the map, it has a huge value to me and is a big source of pride because that was the motive from time. Thankfully, we've always been the face of Maadi and we get to put our area on the map but I'm also the face of Cairo. I consider that one of the biggest honours of my life because it shows that people see themselves in what I say in my songs and feel represented in my songs and there's nothing bigger than that at the end of the day."
Pursuing Law School Alongside Hip Hop
At present, FL EX who is also a law student at Cairo University, is concentrating on doing his best in school while continuing to grow his music career at a steady rate. "I try to find that equality between studying and achieving musical success but I'm trying to wrap up my law degree as soon as possible," he says. "I try to motivate myself by reminding myself that there's always room and space to do both things efficiently. I've been having a good career as far as music goes and I'm trying to take each year as it comes with regards to my education."
As our conversation comes to a close, the topic strays to the subject of his debut album that he's been working on for the last two months and he's pensive as he considers an answer on how that's going. When the answer comes, it's a reflection of a musician who is just taking things in his stride and living in the moment. "I'm enjoying the process, even if it'll take a while, because we're trying to make music that'll outlive us," he offers. "That's always the goal with me and Maadi Town Mafia."