"It's no surprise to me that in 2023 Fela is having a whole 'nother life," Duain Richmond tells OkayAfrica. "His spirit is one that will never die, which is the meaning of his middle name, Anikulapo: he who carries death in his pouch." The actor, who was born in Sierra Leone before moving to the U.S. at the age of 9, is stepping into the shoes of the iconic Afrobeat musician once again, some ten years after he first played him.
Two regional theaters in Washington D.C. have teamed up to stage Fela! once again. This time, a reimagining of the hit Broadway show that thrilled fans for sold-out shows, is directed by Lili-Anne Brown. Set in 1978, and framed as his farewell concert at the Afrika Shrine (now known as the New Afrika Shrine) nightclub in Lagos, the Round House/Olney co-production sees Richmond back as Fela himself – a role his cousin, Sahr Nganjah first played. And in the years since Fela! was last performed, a decade ago, Richmond has continued to play Fela in Fela: The Concert productions.
When he's not playing Fela in the D.C. show, Richmond is based in L.A., and in December, he is planning to help implement an arts and culture program back in Sierra Leone that he hopes will make it possible for youngsters to see a life in the arts as a viable career – as it's become for him. "If I can inspire just one other Sierra Leonean boy to continue to pursue this passion that they might feel," he says. "To know that there is a bigger world out there, where you can be a young boy growing up in Sierra Leone, like I was, and one day be on a big screen television, or in a movie or on a big stage like Broadway."
Richmond talked to OkayAfrica about taking on the part of Fela Kuti once again, and what the iconic musical figure means more than 25 years after his death at the age of 58.
The interview below has been edited for length and clarity.
Let's go back, can you remember first taking to the stage as Fela, and what that felt like?
Oh, yeah, it was scary. It was late 2012, and finally they brought me on board and I did my rehearsals in LA, at the time when the show was in LA. It took me two and a half weeks to learn the show to a point where, when I did my first performance, I was still learning the final song, an hour before the doors opened!
My first show was in Philadelphia. I'll never forget that evening. I was so nervous because I had been taking in so much information, because I had such a short period of time to learn the show. That very first show was scary; the moment I got up on that stage I remember feeling like my stomach was [down] to my feet. My palms were sweaty; I felt like I was gonna faint. But then the moment I stepped out on that stage, everything just kind of went blank. I remember walking on the stage and I remember taking my curtain call.
When I went back to my dressing room, there were tons of flowers and champagne from the producers. My manager at the time called me to say, 'I don't know what you did, but not only do they love the show, but they also want to sign you on board to do the show on Broadway in 2013.' And after that, I got to go on the national tour, and that's how the journey started for me.
So what made you want to return to it then now in this incarnation of it?
It's crazy because for me I never stopped the Fela journey. When the last tour finished, a new version of it was created, Fela: The Concert. So I've been doing that. We did a few stops before the pandemic happened, and then we had to shut everything down. When things started to get better again, we got back on the road.
So for me, the Fela journey has been something that I've always been connected to, even though I hadn't done a Broadway show since 2013. During the concert, that energy and the music is there, because the concert is basically just a show without the actors. I heard about this [theatrical] show, via Steve Handel, who is the executive producer of the show. He said, 'I can't think of anyone else who could be a better fit for it.' I wanted the challenge, to see what it would be like to step back into that character after 10 years.
This version of the show as it is now is a little different.
Yes, it is. [Director] Lili-Ann Brown wanted to make this version more of an ensemble piece. Previously, the show was mostly Fela acting, and the Sandra character. But now, every scene before where Fela would be acting it out [himself], there is now actually someone acting it out with him, for example the scene where he talks about the soldiers coming into his house and wanting to collect his feces, his s***, to examine it, we have all that. So it's a very ensemble piece. And I'm doing more physical work in the show. Fela is doing more dancing, so it's a lot on my body! [chuckles]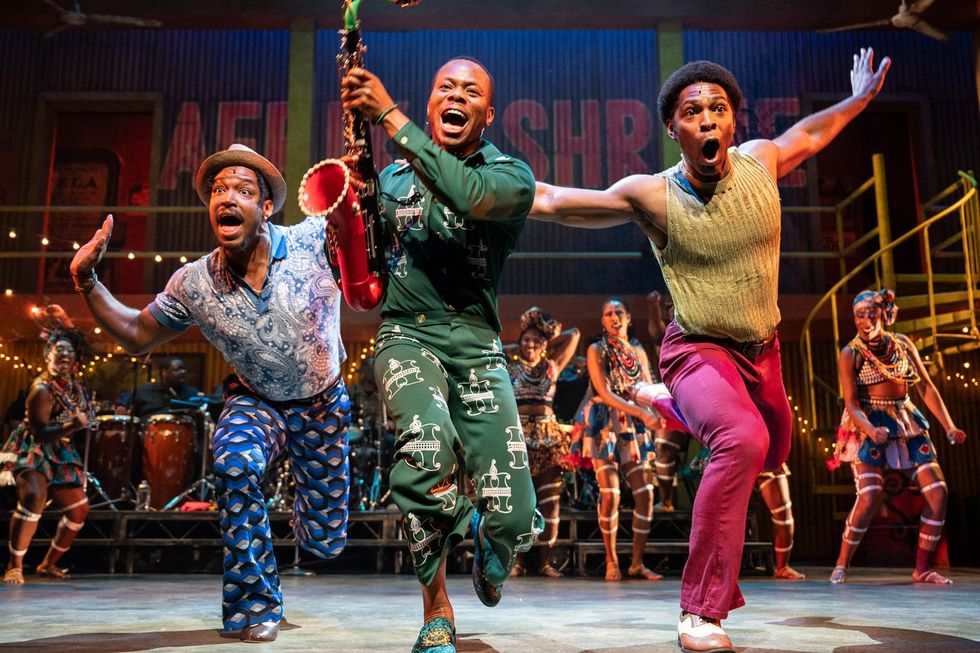 Duain Richmond as Fela Kuti with the ensemble in Olney Theatre Center and Round House Theatre's co-production of 'Fela!'Photo courtesy Teresa Castracane.
How has your understanding of who Fela was changed over the years?

Fela's story – there's so many layers to it. You have the afrobeat aspect of it, that he pioneered, and then you put that aside, you had a man who was fearless and went up politically against this government system and really just broke them down. Then after that, you also had the man who decided to marry 27 women all at one time, and when they raided his compound this man took a coffin to the head of state…there's so many layers to him.
The beauty for me, in playing this role now, is that I have a better understanding of Fela Kuti. While doing the concert, I've had to learn many new tunes that I didn't know from the show because we do more songs in the concert than we do in the Broadway show. I became a real fan of Fela Kuti; there's so many paintings and pictures and shrines of his that are at my house. I pretty much have read every book and seen every documentary that is out there on this man's life.
If there's ever a time that I doubt anything that's going on in my life or, sometimes fear always wants to creep in – that's a natural thing for us as human beings; it's a thin line between intuition and fear, and sometimes I struggle with that – knowing how fearless this one man was [helps]. He's almost like an ancestor [to me]. In his practice, when someone dies, they become an ancestor. In the Yoruba religion, we call them egunguns, and those are the people that we pray to. I have a shrine with my late grandmother, and he's right there. So sometimes I come in and I seek guidance and advice from him. So he's almost like a spiritual guidance now in my in my life.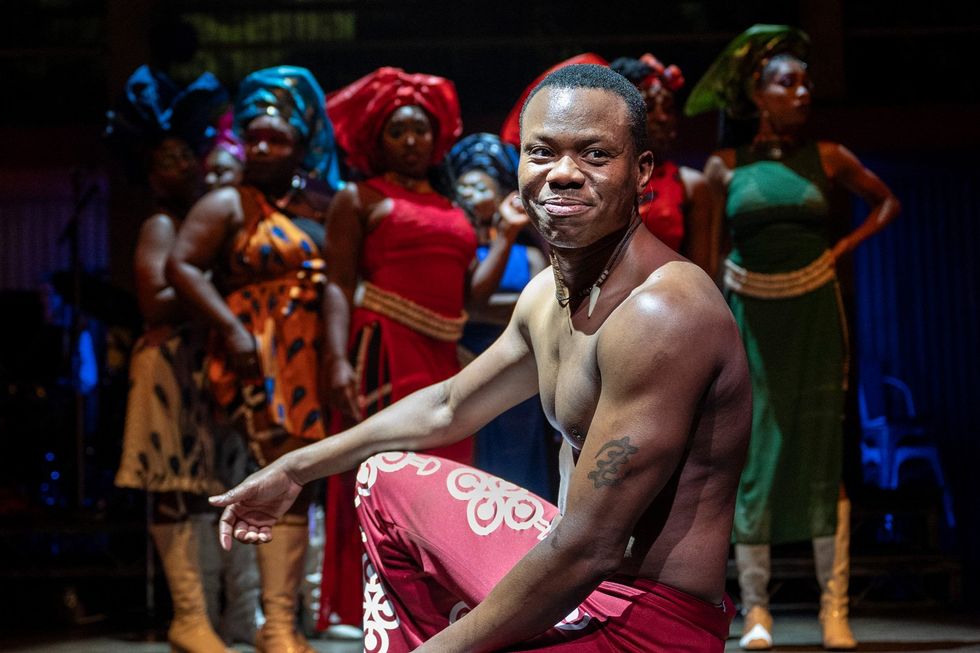 actor Duain Richmond kneeling at the front of the stage, smiling, during the Fela production.Photo courtesy Teresa Castracane.
Do you have a favorite scene to do?

On Broadway, when I did it, it was "Zombie." This time around, I love the "Expensive Shit" moment where Fela comes in, he lights this joint, and he asks the audience to say 'Igbo' and then he asks them if they've ever been to jail. I'm so comfortable now in that scene that my ad lib is on a whole 'nother level. So it doesn't matter what anybody says in that moment, I am ready! Sometimes I have the cast even laughing on the stage, because I'm just so spontaneous with the ad libs. So I love that moment.
Also, I love the final scene, "Coffin For Head Of State." Before, in the show the cast would come up with all these little small coffins and place them on the stage. This time around, there's just one big coffin that the cast members come out from the stage and they take it into the audience. And while they're doing that, I'm singing the song, just engaging with the audience. That moment is so powerful, like, I see tears in people's eyes, and you can tell the impact that the past one hour and 40 minutes have [had] on their lives.