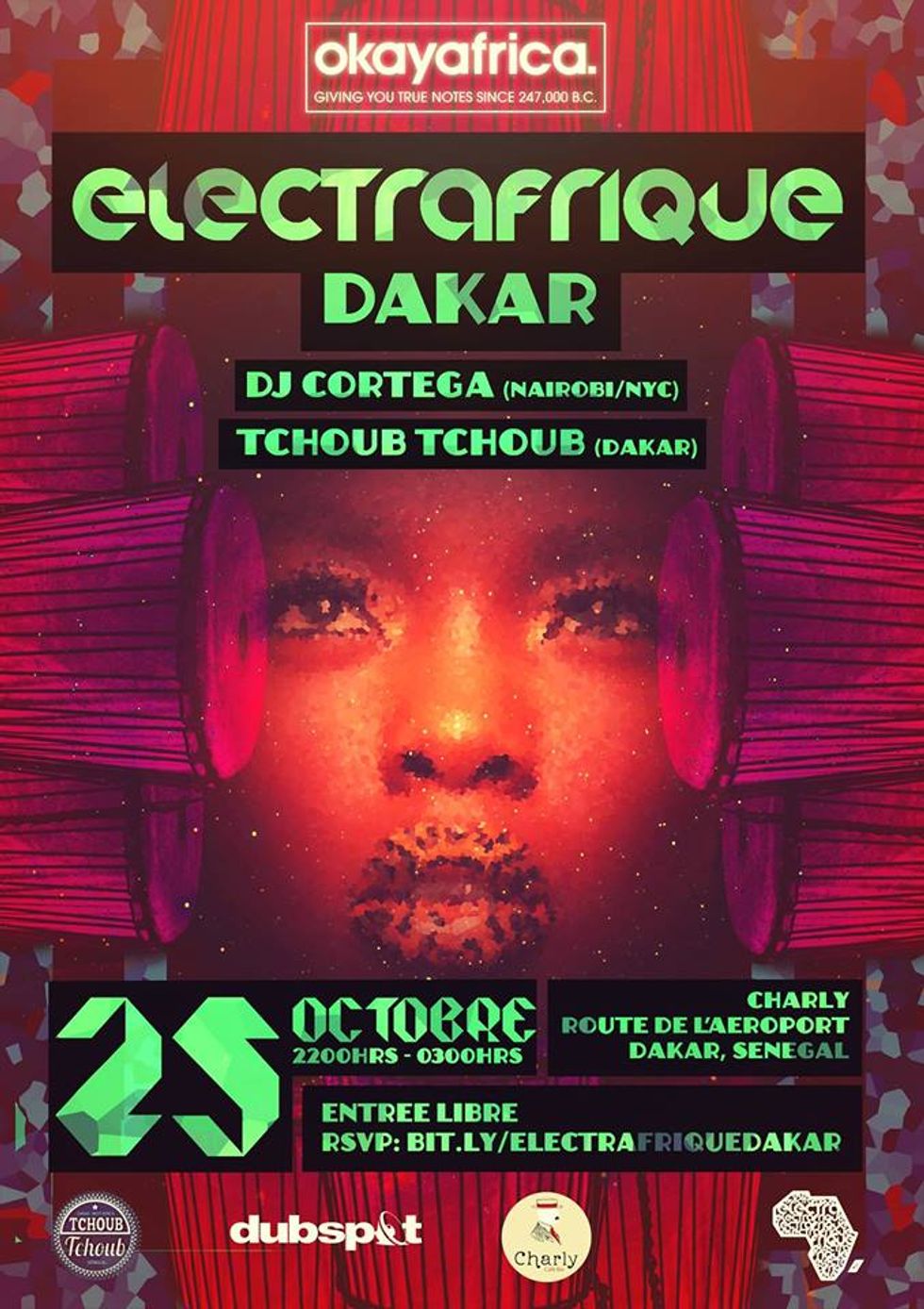 ---
This month we're taking Okayafrica Electrafrique to Dakar with Electrafrique founder DJ Cortega (Nairobi/NYC) and Senegalese DJ force Tchoub Tchoub (Dakar), on Saturday, October 25th. Entry is FREE all night. To celebrate, we're giving away a Fela Kuti Puff Puff Pass t-shirt. Enter your information below (or head here) for a chance to win.
>>>JOIN THE OKAYAFRICA ELECTRAFRIQUE DAKAR OCTOBER FACEBOOK EVENT
>>>ENTER TO WIN A FELA KUTI T-SHIRT
DJ LINEUP:
DJ Cortega, the driving force behind Electrafrique, is currently based in Nairobi, where this event has seen massive growth, hosting the likes of Black Coffee and Black Motion (South Africa), Boddhi Satva Official (CAR), Carlos Mena (US), or Renato Xtrova (Angola). Electrafrique and Okayafrica have partnered on a monthly party in New York bringing fresh new afro-futuristic music to the city.
TchoubTchoub has been the leading force behind progressive african dancefloor music in Senegal from afrobeat to afro house. An early supporter of Electrafrique, he hosted our first two events in Dakar, and has partner with Boddhi Satva and Offering Records, as well as Jojo Flores and Got Soul Records to host the first Offering Got Soul Weekender event that brought together DJs (Boddhi, Jojo, but also Sabine Blaizin and local acts), dancers and other artists (among them Omar Victor Diop, the photographer) around an afro house themed weekend-long jam.
OKAYAFRICA ELECTRAFRIQUE DAKAR
SATURDAY, OCTOBER 25TH
2200HRS-0300HRS
CHARLY
ROUTE DE L'AEROPORT