"We were met with a barricade of armed men and tankers on our way to the office." Conrad Omodiagbe, a 26-year-old writer living in Abuja tells OkayAfrica. "Upon seeing this, we immediately got on our knees to show that despite everything, we came in peace. These men—uniformed police men and not just members of the SARS unit—hosed us down with hot water, fired shots of tear gas into our midst and chased us around town with their vans and guns. It almost felt like a movie. I run a lot but omo it's a different thing when you have to run for your life because there's an actual gun tailing you. I saw them beat several people including a teenage girl with canes."

Omodiagbe was among a group of people who marched to headquarters of the Police Force in Nigeria to protest against the ongoing brutality from SARS—Special Anti-Robbery Unit Squad, a unit of the police that has grown particularly notorious for extorting, harassing and even murdering Nigerian youths. When these groups convened at the headquarters, they were met with large groups of armed men who fired water canons and teargas at them forcing them to run and scatter. When they reconvened, the police fired gun shots at them. The groups scattered and still reconvened, placards in hand and #EndSARS on their lips.
---
Photo: Umar Faruq Akinwunmi.
Across Nigeria, protests have erupted in Lagos, Delta, Abuja, Rivers States and more are still currently organized all to protest the ongoing brutality of the police unit known as SARS. The unit was created to deal with violent crimes: robbery, kidnapping and murder, but in recent years has become notorious for carrying out the crimes they were created to fight. SARS officials have become known for manning checkpoints from which they stop and search personal cars, ubers and taxi cabs of citizens, particularly Nigerian youth, and harrassing them, forcing them to pay for their freedom and using personal biases and filmsy excuses like stating a person "looks gay," "looks like a yahoo boy,"(online fraudster), or "looks like a sex worker" as justifications for the abuse.

Amnesty International noted that "detainees in SARS custody have been subjected to a variety of methods of torture including hanging, mock execution, beating, punching and kicking, burning with cigarettes, waterboarding, near-asphyxiation with plastic bags, forcing detainees to assume stressful bodily positions and sexual violence." These violent excesses reached a new high in the past few months especially following the lockdown restrictions put in place to restrict the non-essential movements of citizens which led to an increased presence of law enforcement officers on the streets, especially SARS. Reports from the last couple of months have shown a new level of extortion and harassment as many have confirmed that these officers now move around with POS machines and bitcoin wallets as a way to ensure that they can extort from citizens even when they do not have physical money on them.
Photo: Umar Faruq Akinwunmi.
The #EndSARS movement began in 2017 as young Nigerians took to social media to share their grievances about the operations of these SARS operatives and how they continue to harm, extort and intimidate them. Following the youths taking to the streets to physically protest, the unit was 'dissolved' according to reports that were shared then but eventually, SARS was back on the streets even more brutal.

The new physical protests were triggered after videos showing SARS operatives indiscriminately killing people in Lagos and videos of a man whose son was killed by SARS operatives in Port Harcourt, Rivers State were shared across social media. Organizations for the protests started from Twitter as many people responded in anger to these videos including popular social media influencers like FK Abudu, Ozzy Etomi, journalist Kiki Mordi and celebrities like Runtown and Falz who both gave a date and place for protests which took place on Thursday, 8th of October in Lagos. As they protested and the movement gained more steam, it also gained the attention of more celebrities like Nigerian megastar Wizkid who was physically present at a protest in London as well as Viola Davis, the City Girls, Trey Songz to name a few. Globally, Nigerians are protesting against the police brutality by tweeting in support—the hashtag #ENDSARS was the number one twitter trend worldwide on Saturday and Sunday—and by showing up to protest at the Nigerian embassies around the world. Protests against police brutality and for the government to disband SARS have been shown taking place in London, New York, Toronto and more.
Following the three day protests, the Inspector General of the Nigerian Police Force announced that SARS had been dissolved across the 36 states of Nigeria with immediate effect and that steps were taken to ensure the reform of the police force, he also ensured the citizens that police brutality would come to an end—a broadcast of the nation's president reiterated these points. However, in reaction to this news and a tweet from the President's personal assistant to new media, many Nigerians shared screenshots of when similar actions—SARS being disbanded and dissolved—were taken in 2017, 2018, and 2019 only for the officers to return to the streets weeks or months later even more brutal than they left. In response to this, Nigerians shared graphics detailing their demands which included: the immediate release of all protesters, an independent investigative body and justice for all victims of police brutality.
Since the announcement, protests have intensified across Nigeria and despite the supposed disbandment of SARS units and reassurances from the IG of the Nigerian Police, so has the backlash from the police. On Monday, as protesters in Surulere, a town in Lagos State, peacefully made their way through the town they were shot at by the police.
"We were sitting hanging around, people chanting and everything peaceful. Next thing, we heard a gunshot." Iyesogie Ogieriakhi told OkayAfrica. "We were arguing if it was a shot or not. Then next thing we heard another and people were running towards us that they just killed a man. So of course we decided to run towards it at first because they can't kill all of us. Next thing sporadic shooting from everywhere. They literally chased us off the road. We had to run into the streets and they chased us into the streets. Wasn't even like random shooting; they were trying to kill us, straight into the crowds. They don't care, man. They know nothing will happen to them."
Photo: Umar Faruq Akinwunmi.
As the protesters ran away, the police gave chase firing live shots at the unarmed group of young men and women. Videos show that at least one onlooker was killed, one protester was shot in his leg while two female protesters were dragged into a Police station. Nigerian singer Oxlade, who had been seen earlier at an #EndSARS protest, tweeted and shared videos of his manager Ojah B being dragged on the ground violently by officers of the police force. All this mere hours after the president and governor had affirmed the rights to peaceful protests by the citizens.

Speaking to Odun Eweniyi, the COO of the finetech company PiggyVest and who has been working with Feminist Coalition which has raised over 12 million Naira and is funding protests around the country, she tells OkayAfrica; "We don't know what the peak is yet. I get the sense that it might be tomorrow, we're calling it SuperTuesday now. But we can't really be sure. All I can say is that I've never seen young Nigerians this united and that's going to be a force for change." Eweniyi begins. "The masses have condensed what they want into a clear demand: #EndSARS. There's even a 5-point plan circulating. They should be listened to. If they're not, well then, we think the protests continue. We're here to help our people. As long as people want to fight for this, we will be here to support. That's why we're here."
Right now, there is no sign of an end to these protests as protesters are gearing up for an even bigger peaceful protest on Tuesday in Lagos and are funding more protests across the country even as they are met with violence. Organisations like Feminist Coalition and individuals like FK Abudu are all working hard to foot the legal bills of protesters arrested, provide medcial assistance as well fund protests around the state. The family of Jimoh Isaiq, who was killed by the Nigerian Police in Ogbomoso in South—West Nigeria has received pledges worth over $380,000.
To support the movement, people around the world are asked to donate to organizations like Feminist Coalition, sign petitions like this one, share resources like this one, and tweet the hashtags #EndSARS and #SARSMUSTEND at Nigerian government officials.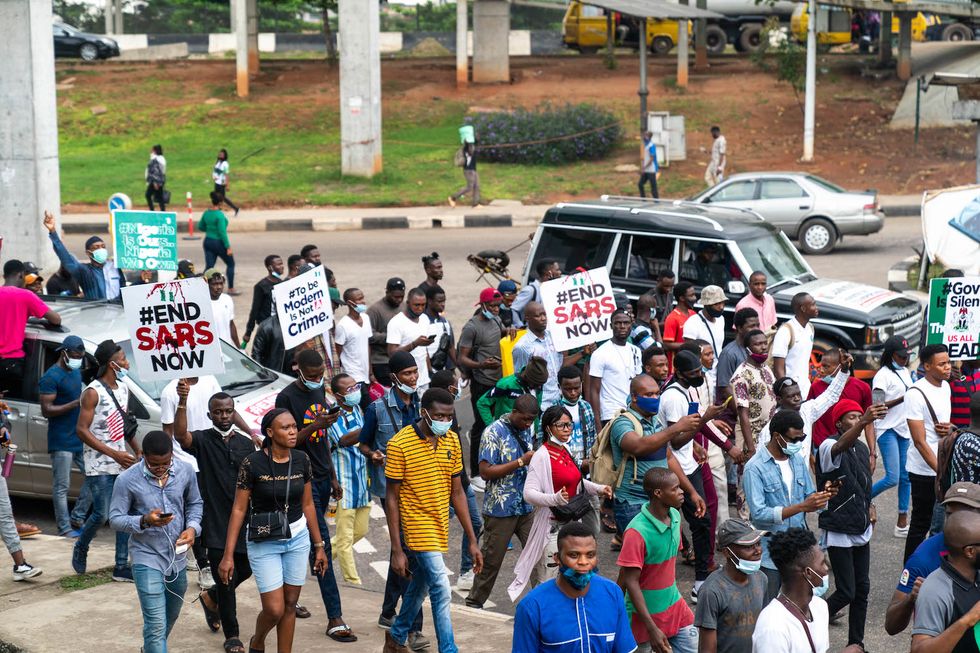 Photo: Umar Faruq Akinwunmi.
Photo: Umar Faruq Akinwunmi.
Photo: Umar Faruq Akinwunmi.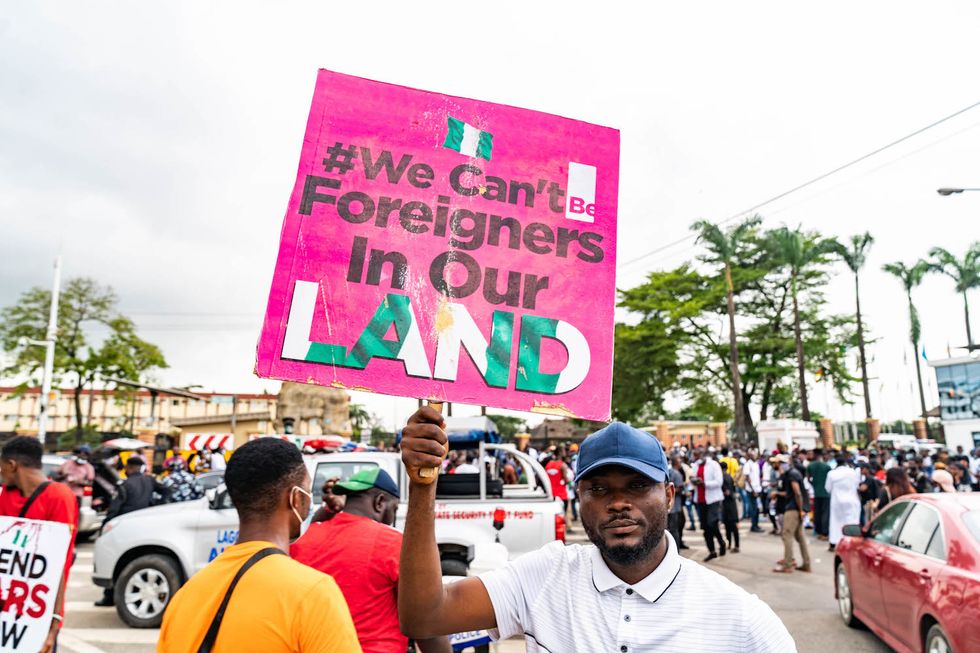 Photo: Umar Faruq Akinwunmi.
Photo: Umar Faruq Akinwunmi.
Photo: Umar Faruq Akinwunmi.
Photo: Umar Faruq Akinwunmi.
Photo: Umar Faruq Akinwunmi.
Photo: Umar Faruq Akinwunmi.
Photo: Umar Faruq Akinwunmi.
Photo: Umar Faruq Akinwunmi.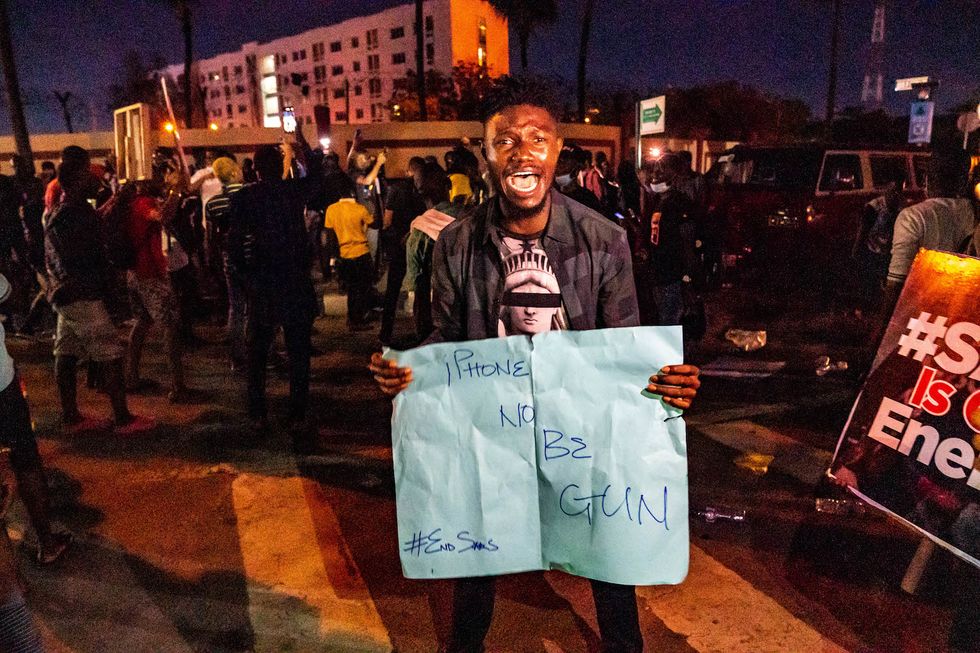 Photo: Umar Faruq Akinwunmi.
Photo: Umar Faruq Akinwunmi.
Photo: Umar Faruq Akinwunmi.