Knitting Factory Records has announced the upcoming arrival of their new Fela Kutibox set, which will be curated by none-other-than Erykah Badu.
The 7 LP release includes Badu's "favorite Fela Piece of all times," 1980's Coffin For Head of State, alongside Yellow Fever (1976), No Agreement (1977), J.J.D. (Johnny Just Drop) (1977), V.I.P. (1979), Army Arrangement (1984), and Underground System (1992).
Even better yet, you can now pre-order Erykah Badu's Fela box set from our OkayAfrica shop.
---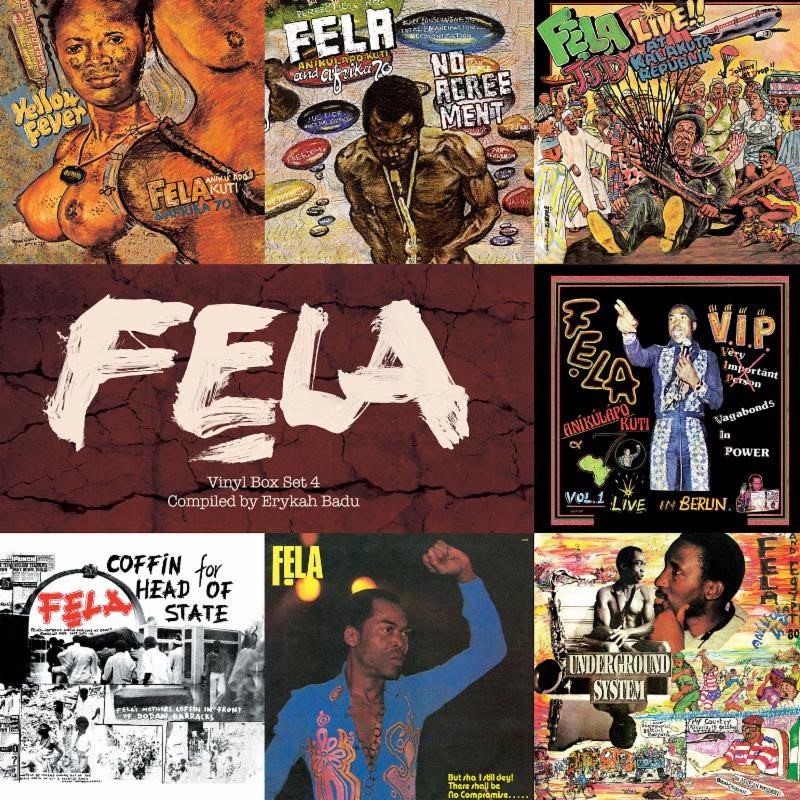 "Fela Kuti is a Fucking Genius," Badu mentions. "Please listen to these tracks, preferably with a nice blunt.. with a nice slow burn."
The box set will be limited to only 3,000 copies, which come with a 16" x 24" poster designed by Nigerian artist Lemi Ghariokwu, the creative force behind 26 of Fela Kuti's iconic album covers, and a 20-page full-color booklet. The booklet features seven personal essays written by Erykah Badu.
Previous Fela Kuti box sets have been curated by Questlove, Ginger Baker, and Brian Eno for Knitting Factory Records.
TITLES/TRACKLIST:

Yellow Fever
A. Yellow Fever
B. Na Poi '75

No Agreement
A. No Agreement
B. Dog Eat Dog (Instrumental)

J.J.D.
A. Part 1
B. Part 2

V.I.P.
A. Part 1
B. Part 2

Coffin For Head of State
A. Part 1
B. Part 2

Army Arrangement
A. Part 1
B. Part 2

Underground System
A. Underground System
B. Pansa Pansa