More than 40 years ago Ayalew Mesfin, along with the Black Lion Band, recorded music in Ethiopia. Now, after all that time, Mesfin is releasing his very first album.

Mesfin and the Black Lion Band, of whom Tamiru Wolde A'b, Teshome Deneke, Tamiru Ayele, Tamirat Ziltini, Tekle Tesfaezgi and the Italian Giovanni Vincenzo were founding members of, performed at venues such as Patris Lumumba Night Club and the Etege Taitu Hotel.
Their music, funky and groovy with Western instrumentation, is a beautiful amalgamation of the Black Diaspora. Built upon centuries of Ethiopian musical tradition and then skillfully infused with the influence and style of African-American musicians, Ethiopian artists, as well as others throughout the continent, produced some cold tracks.
In the past several years, the shining outburst of jazz, soul, and funk that was created in the 1960s and '70s Ethiopia with the help of the Éthiopiques compilation series, has come to the attention of those who had never lived in the country during the time of the music's production and the height of its popularity. The "music-heads" of the West have joyfully been introduced to these sounds. The songs from this period have been sampled in hip-hop, used in movie soundtracks, and perhaps ironically, play, most likely at a volume not too loud but not too quiet, at your local gentrifying cafe.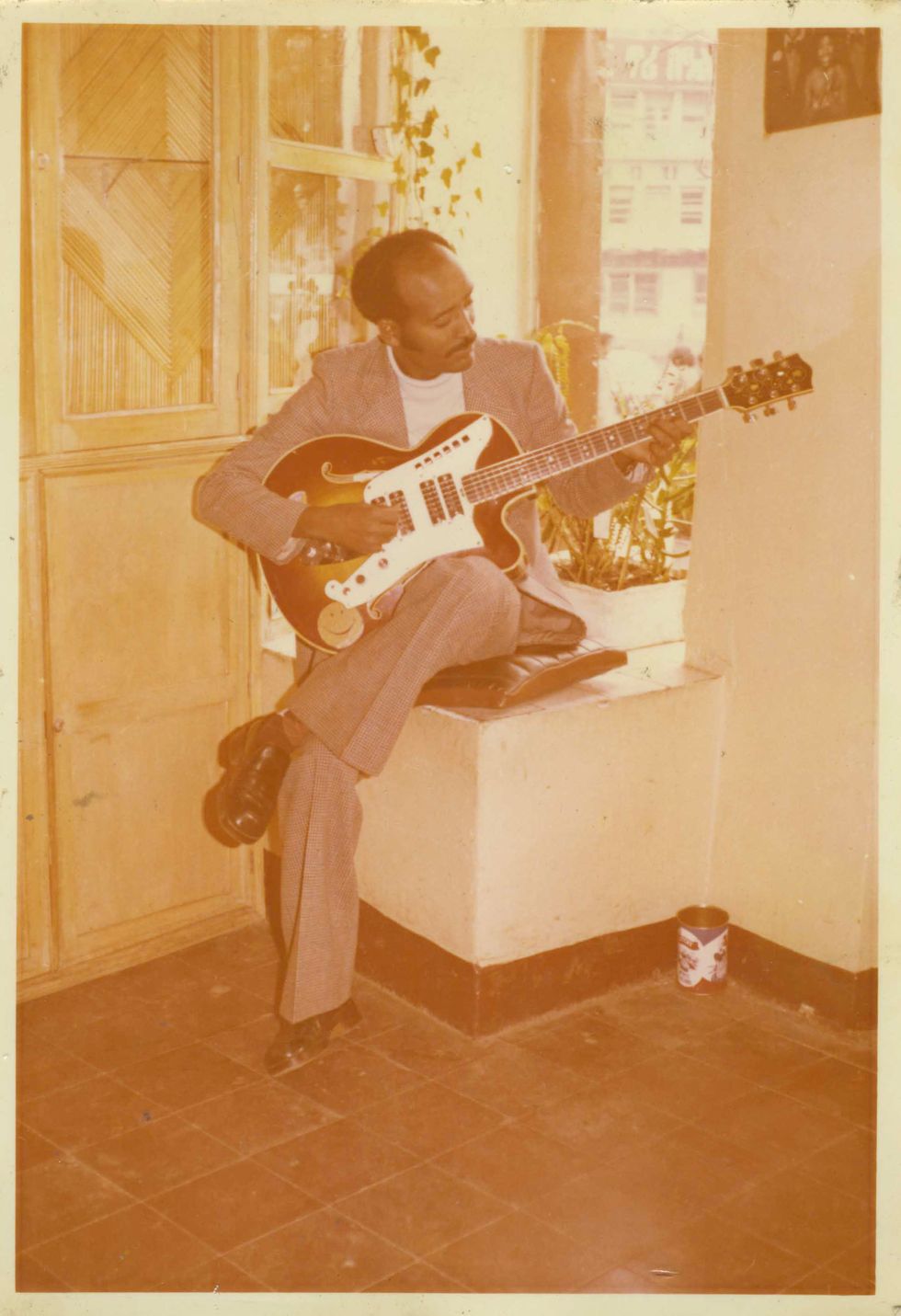 Photo: Vinyl Me, Please / Now Again.
Now, Mesfin's music is being released via Now-Again Records, an opportunity to venture even deeper into Ethiopia's rich musical past for those who have had a taste of it through the Éthiopiques series. Now-Again is owned and operated by Stones Throw Records GM and A&R Eothen "Egon" Alapatt.
Alapatt, as well as Cameron Schaefer, the Head of Music over at Vinyl Me, Please, traveled out to Denver, Colorado to meet up with Mesfin. The Ethiopian musician, who was jailed during the Derg regime and forced to sign an agreement to cease making music in exchange for his release, didn't exactly abide to said agreement. "I never stopped making music. Even though I had people checking up on me, I made this music underground."
His music career stifled by the volatile political situation of Ethiopia, Mesfin made sure to keep his recordings, some of which were unreleased, and eventually brought them with him to the United States, a period in his life in which his musical output diminished.
"Regrettably, my… years in the United States have been a void in my musical career. As I tell my musician friends, once you leave the country, your musical life will be like that of a fish out of water," Mesfin tellsVinyl Me, Please. "First, everyone is busy working to pay the bills. Second, all the musical crews we used to work together with are dispersed all over the states, and it is very difficult to get together again and work on our music."
Mesfin eventually agreed to release his music through Now-Again, which, up until now had only seen the light of day via 7" singles. Songs from Mesfin's personal catalogue, from reel-to-reel tapes and the aforementioned 7" singles, were chosen and made into an 11-track project, his first-ever official LP release. A project more than 40 years in the making.

The compilation record is available for purchase on maroon colored vinyl, complete with 16 pages of full color liner notes, a photo booklet, and an original art print from Billy Clark. It's also available on streaming platforms such as Apple Music and Spotify.
Mesfin's music previously escaped the confines of history by being included on the Éthiopiques Vol. 8's Swinging Addis, as well as on Vol. 13's The Golden Seventies. The song "Hasabe," which is included on Vol. 8, is the title of Mesfin's latest release.
"Most of my works revolve around social issues, as well as political commentary. Even though my songs appear to be about lovers, or other mundane topics, they are open to interpretation," Mesfin tellsVinyl Me, Please. "Social issues and social problems inspire my songs. I write the lyrics first, and then compose the melody."
Though his music was largely forgotten, lost to history and the political circumstances of Ethiopia, it is now finally resurfacing.
"I still have the dream and stamina to get back to working my music someday though!" Mesfin remarks to Vinyl Me, Please.
Ayalew Mesfin's Hasabe, which roughly translates to "My Worries," is now available to stream or purchase.
Hasabe is theVinyl Me, Pleasefeatured record of the month. Subscribers of their service will be receiving the exclusive color vinyl with art print and cocktail recipe.