#Okay100Women
Evelyn From The Internets on Knowing When to Log Off and What Brings Her Joy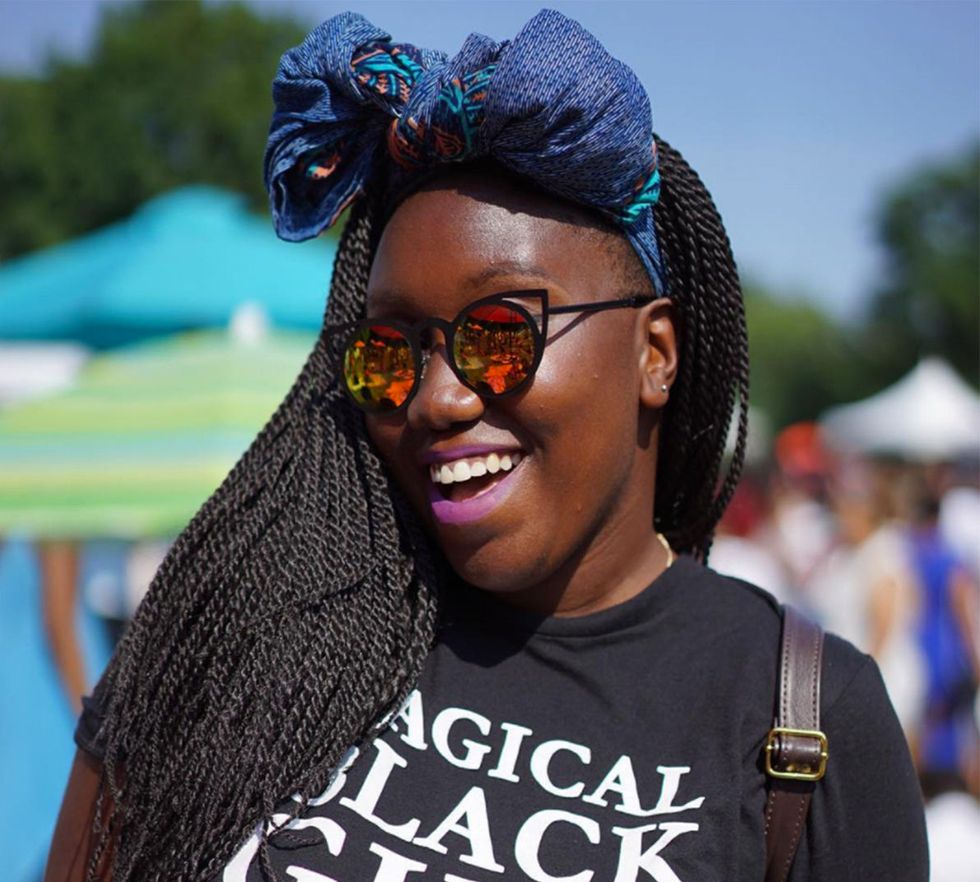 Our favorite internet cousin Evelyn Ngugi drops some quick gems on social media breaks, what brings her joy and more.
This feature is in conjunction with our inaugural list—"OkayAfrica's 100 Women"—where we take a look at the women making an impact on the African continent and in the diaspora.
---
Check out the biggest names in culture to young up-and-comers in "OkayAfrica's 100 Women" list here.
She's a celebrated web wonder and professional writer, who social media users refer to as Evelyn From The Internets. While she may describe herself as the "Kenyan with the slowest mile time," Evelyn Ngugi is always on time with the witty pop culture commentary. Just check out her YouTube page and you'll see why Queen Bey had to feature a snippet of Ngugi's words on her 2016 tour.
The Texas-based YouTuber nabbed a deal with Audible, and consistently racks ups thousands of views on her account which have led to interviews with the BBC and other outlets. Whether it's speaking candidly about suspect Buzzfeed articles, to sharing information about her beauty hauls, Ngugi is able to create woke content that resonates with people. The #Okay100Women honoree took some time to answer a few questions about knowing when it's time to walk away from social media, and the cultural dynamics of being a Kenyan in America.
Josephine Opar for OkayAfrica: When do you know it's time for you to take a social media break?
Evelyn Ngugi: It's easy for my opinion of the world to be influenced by the tweets of people I admire, but it's time to take a break when I realize I don't have any unique thoughts on a particular subject (especially politics). What do I think? How does my worldview shape my opinion? If my mind is clouded by the reactions and essays of others, it's time for a break.
How did the formative experiences of your life shape who you are today?
The culture differences between my Kenyan household and U.S. schooling/upbringing shaped my ideas of Blackness and African identity. From politics, to pop culture, navigating these spaces has given me so many stories, both funny and sobering. It's now my desire to share these stories to show just how similar many of our experiences are.
How has your mother impacted your life?
I grew up with daily affirmations from Mom. "You are the head and not the tail. The first, not the last." She instilled in me the knowledge that I not only deserve respect, but success. She leads by example—she helps those in our community, supports her family, and exemplifies love in her job as a nurse. I aspire to be as gracious and confident. Mom is everything!
What is home to you?
Home is location independent. Home is the people who make you feel completely at ease, the people who make you feel full just being in their presence.
What brings you joy in your work?
Knowing that my videos helped someone feel less alone.