Falz is one of Afropop's most distinctive figures. His songs have defined several periods of Nigeria's push into international spaces, formed on the background of rap but possessed with amorphous creativity. With the backdrop of a global pandemic, the 31-year-old musician again found himself staring down the well of reinvention.

Having made appearances across several facets of the entertainment industry, he wanted to move into a new soundscape. He poured that motivation into his fifth studio album BAHD, a collection of twelve songs which show Falz at his most risque and naughty. "To be honest it's a big mix," he mentions to OkayAfrica some days after its release. "It's arguable whether this is actually pop. This can even be looked at as an Afro R&B project, it's an Afro-fusion project as well. I definitely touched on a few different genres while making BAHD. That was the aim from the beginning: I just wanted to have an album with a vast scope of sounds".
Each featured guest uniquely broadens his vision. Whether it's Tiwa Savage on "Beautiful Sunflower" or The Cavemen on "Woman," there's a seamless entry into the lush sonics of Falz's universe. He tells me animatedly that he's always wanted a song with the iconic Ms. Savage, and already has multiple songs with the Highlife-influenced Cavemen. His curatorial skills are present on "Inside," combining the unusual duo of Timaya and Boy Spyce to fine effect. Apparently the record was created way before the latter was signed to Mavin Records, pointing towards Falz's continued inclination for digging deep and leaning into new styles and sounds.
---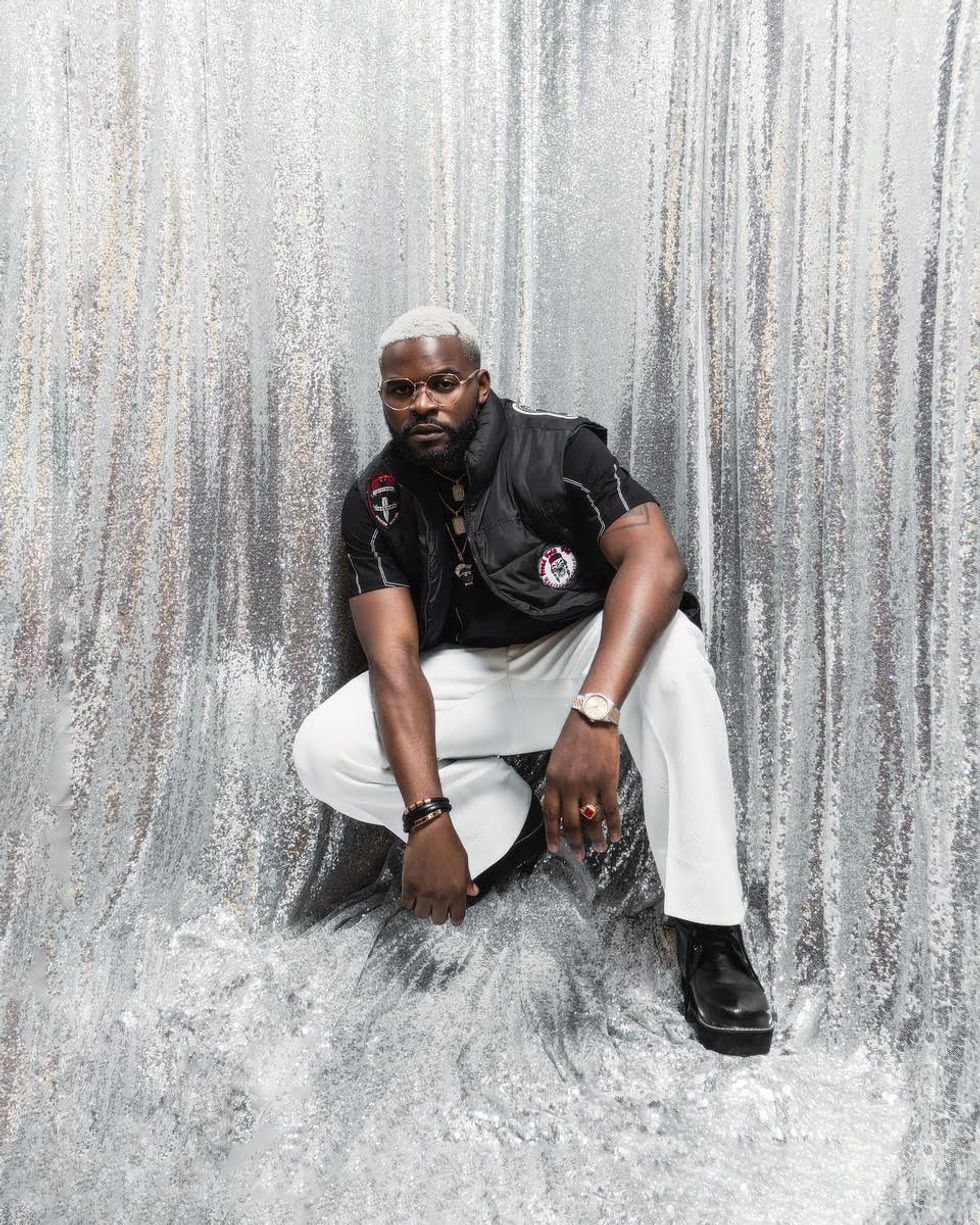 Image courtesy of Falz.
On "Knee Down," the soul-baring Chike delivers one of the album's most evocative hooks while L.A.X and BNXN (formerly known as Buju) turn up for more upbeat performances, coloring the album's closing moments with the frenzied prospects of a late night out in Lagos. Even the choice of producers contribute to its lived-in texture. Falz says most of them are his friends, with others connecting with him through similar channels.
This creative intimacy propels Falz to deliver some of his most dynamic performances ever, whether it's crooning sensual notes through the entirety of a track or delivering a verse in the twang of an American accent. BAHD chronicles a lifestyle lived (or at least advertised) by anyone who's as popular as him, often entangled in romantic affairs but rarely in love. "I've always been a guy that likes to take risks," he explains matter-of-factly, "I've always been a lover of experimenting with sounds."
As a teenager Falz was a huge fan of The Trybesmen, a seminal rap group with outsized influence during the foundational years of Nigerian pop in the 2000s. "Listening to these guys, it was something I aspired to do," he says. "It was so interesting. It was rap but with a completely different twist. And if I was ever going to do rap, that had to be what I'd do."
In later years the lessons of those technical quirks were combined with his expansive ear for great music elsewhere: Fela Kuti, Kanye West, M.I Abaga. "I then took a lot of different elements from all these musical influences, mixed everything together and created a fusion. And that was how I birthed my sound." Ever since making his debut with 2014's Wazup Guy, the acronym behind Falz's moniker Brilliant And Highly Distinctive has become the defining quality of his artistry.
He holds his own alongside rap titans Show Dem Campand Ladipoe, boasts a joint album with Simi, and spearheaded the most potent hit song in recent times that's bridged the Nigerian and British music scenes ("Bop Daddy"). All this while winning AMVCA acting awards, lining up eccentric and often comic performances in movies like Jenifa's Diary, Merry Men and Quam's Money, where he starred as the lead.
"My personality has always been about maximizing my life," he says now. "That's just what I live by, make the most of life while you're here. All the different things I've always loved, I've always wanted to make sure that I do."
When we discuss politics, Falz is instantly alert. Some days before we spoke he had orchestrated the Youth Vote Count mega concert, pulling tens of thousands to Lagos' Tafawa Balewa Square on a Saturday. At the venue several people were on ground to register voters and start off the process to getting their voters cards, ostensibly due to the possibilities of an incredible number of disenfranchised voters in the state.
Falz has always been dedicated to being an everyday citizen. His frequent incursions into the world of politics don't come with the celebrity dross of having a better life to get back to. Indeed, much of his music relays the boiling quality of the country's ugly sides. His previous album, Moral Instruction, was constructed on Fela samples to offer poignant, brutal assessments into the public and private lives of Nigerians, mostly its ruling elites.
"There's that energy in the air," he says about Nigeria's forthcoming elections in 2023. "Everybody is feeling like, 'this cannot be business as usual'. We've been trapped in the hands of the worst of our kind for the longest time, and everybody wants to make a difference at this point in time." He concedes that although the response from people with influence has been good, it can even be better. "There can be more people actually lending their voices to the cause," says Falz, who's also a trained lawyer. "Personally that's what I would like to see."
As Afropop moves into a bigger position in global pop culture, there's no doubt is aware of his qualities. We briefly discuss concerns about the state of rap in Nigeria. "I don't think I'm particularly concerned," he admits, "music is this kind of thing that constantly evolves. That hip-hop might not be at the forefront at this moment doesn't mean that [Nigerian rap] is dead entirely."
A project like BAHD is streaked with narrative continuity. Across songs like "High Class" and the more recent "Squander," he's often proved to be comfortable parlaying his rap potentials into transcendental bops. Among the myriad Afropop stars making international incursions, this nucleus cushions Falz onto a distinctive position only he occupies.
No one is aware of this more than him. "I see myself in my own lane," he admits. "I've never been one to compare myself or judge myself by another man's yardstick. I've always been an artist of my own caliber."