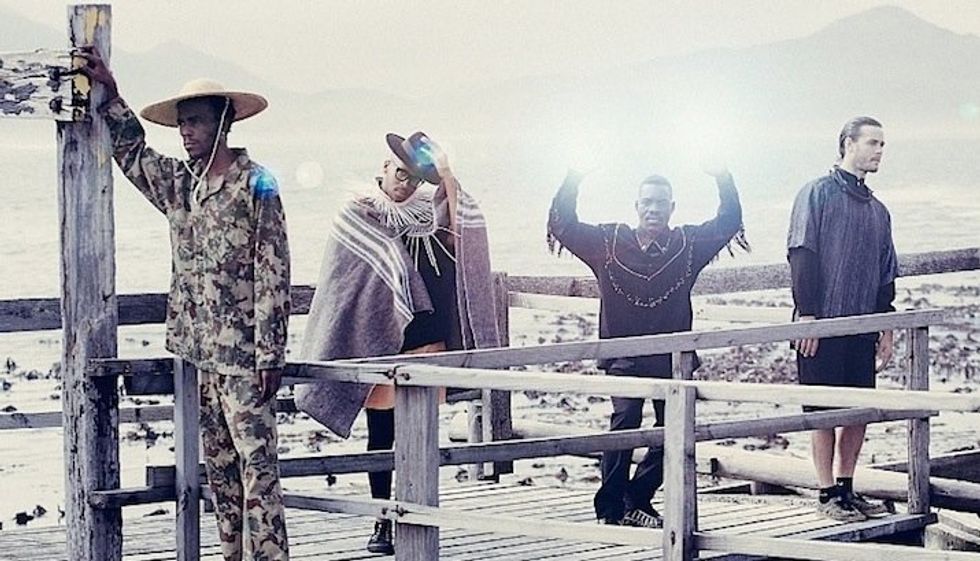 ---
Photo: Kent Andreasen
" Sefty Belt ," the first official track to come to light from South African "supergroup" Fantasma , has been on heavy rotation in Okayafrica HQs since it first introduced us to heavenly military snares in late August. The five-man band, whose debut EP Eye of the Sun we've been looking forward to all year, unites afro-futurist renaissance man Spoek Mathambo with Attridgeville Pretoria's bacardi house hero DJ Spoko (whose debut album War God arrived last month on Lit City Trax ), guitarist Andre Geldenhuys (from the Cape Town bluesy rock band Machineri ), Durban maskandi multi-instrumentalist Bhekisenzo Cele , and drummer Mike Buchanan . According to their bio, the group's hybridized take on future Mzansi music "weaves together electronica, hip-hop, traditional Zulu maskandi music, shangaan electro, South African house, psych-rock and punk."
Today they've unveiled a second cut off the five-song EP, the frenetic title track. "Eye Of The Sun," which premiered over at Dummy , is the more psych-influenced of the group's twin offerings– this time Geldenhuys' guitar and Cele's bass taking command alongside Spoko's hyper-speed production and a pair of verses from Spoek. Eye of the Sun (which can be pre-ordered here ) is due out 10 November via Soundway Records . Fantasma are set to make their first ever UK headline show at the 100 Club in London on 18th November.
In related news, back in June Spoek began letting loose a series of solid mixtapes dedicated to (and sometimes assembled by) key players on South Africa's electronic music landscape as a part of the Future Sound of Mzansi Mix Series . With the film set to begin its first string of South African screenings this month, the series returns today with 29 minutes of reworked and warped hip-hop-influenced bass from Cape Town's glowLDB beatmaker Wildebeats .
Wildebeats Future Sound of Mzansi Mix Tracklist:
1) Ophelia x Wildebeats - Torture
2) The Brother Moves On - Party @ Parktown Mansions (Wildebeats remix)
3) Wildebeats - Oxidate
4) Wildebeats - Cape Ether
5) Wildebeats - Dikeledi Drums (2697)
6) Brandy - Who is she 2 U? (Wildebeats remix)
7) Wildebeats - Bo$$ed Up
8) Michael Jackson - Thriller (Wildebeats Button Bashers remix)
9) Wildebeats - Saxy Gel (Fever)
10) Wildebeats - S.R.G. 2 ft. Seferino
11) Madonna - She's Not Me (Wildebeats Remix V2.0)