Video
Fantasma Share Spectacular Live Action Cartoon Music Video For 'Shangrila'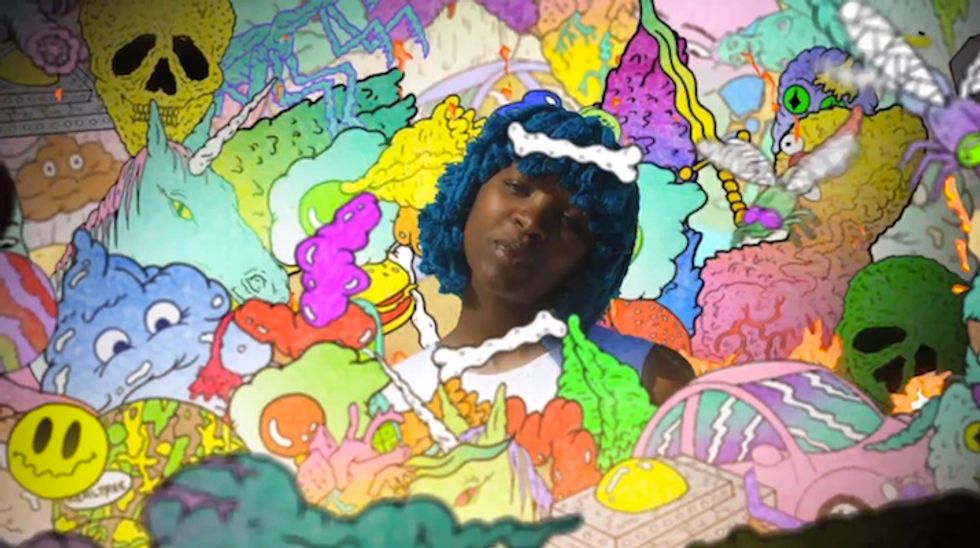 Spoek Mathambo and DJ Spoko's Fantasma share a spectacular live action cartoon music video for "Shangrila," featuring Moonchild.
---
If you follow us on Instagram, you may have noticed our feed this week has taken on a colorful new flavor. That's because afrofuturistic renaissance artist Spoek Mathambo is reporting on his musical shenanigans as he travels around Addis Ababa, Luanda and Lusaka this month. But meanwhile back in Fantasma-land this week, Spoek and his bandmates have shared a spectacular new video for their sinister love-and-sunshine track "Shangrila." The song, which originally featured on Fantasma's excellent EP introduction Eye of the Sun, sees the 5-man group linking up with blue-haired avant-darling Moonchild [Sanelly], who left her mark last year with a pretty eccentric debut art show and the videos for her supernatural-pop ballads "Go Starring" and "Rabubi" with BLK JKS drummer Tshepang Ramoba.
"'Shangrila' originally featured Bheki singing about how all murderers are going to burn in hell," Spoek told The FADER. "But the summer was more about love and sunshine, so that theme came in." Featuring Moonchild in a starring role, the "Shangrila" video is a part-animated, part-live action bizarre retro feast shot in the Yzerfontein Dunes in the West Coast of SA, and sees the return of Spoek's Wave Crusher mixtape cartoons (both of which were done by New Orleans illustrator Otto Splotch). "Shangrila" will appear on Fantasma's forthcoming LP debut, Free Love (due out March 9th on Soundway Records). Pre-order the album here. For more, listen to the group's latest single, "Want Your Love," and their 2014 song-of-the-year, "Sefty Belt."