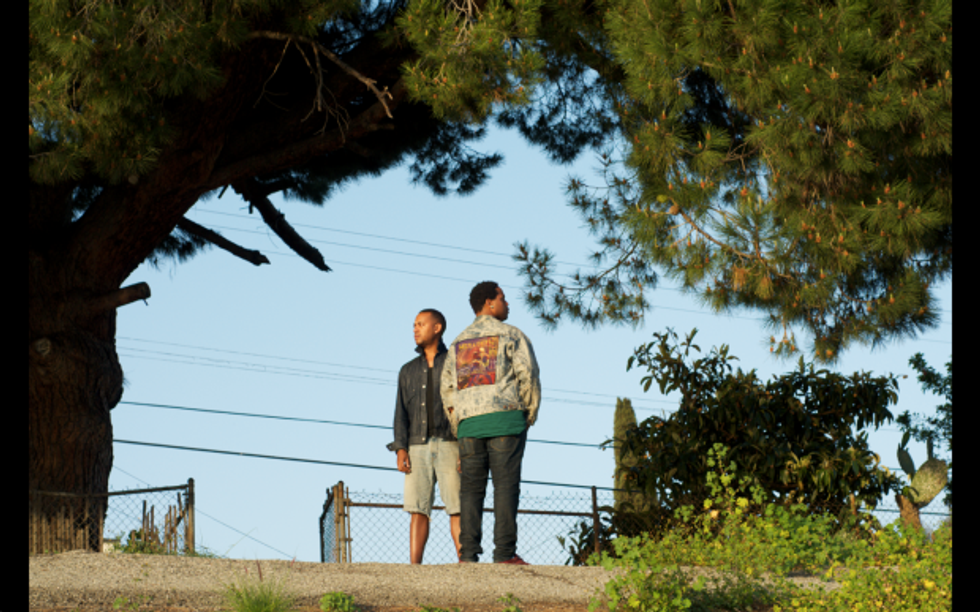 ---
Emerging Nigerian/Houston rapper Fat Tony is probably best known for his feature on A$AP Rocky's mixtape but dude's been steadily dropping a flow of gems, many in DIY youtube form, leading up to the excellent Double Dragon mixtape alongside producer Tom Cruz (released back in June). We asked both Fat Tony and Tom Cruz to curate some of their favorite African tracks — which they aptly delivered in youtube-playlist form. Tony explained his and Cruz' background:
One of the first reasons I connected with Tom Cruz was his background. Both of us are American born and bred but our fathers are both from very non-American places and only came to this land as adults. His father is Jamaican and my father is Nigerian. Growing up with my dad, I quickly noticed some of his vocabulary was way different from the kids at school. Much more British than American, and overall very Nigerian (Igbo to be exact). Every time he asked me to reach in the trunk he'd call it the boot. I asked for a wife-beater once and he looked at me puzzled as fuck, until he searched it on the world wide web and figured out I was asking for a singlet. Tom Cruz and I always embraced our foreign backgrounds, and now that I'm a little more grown I'm embracing it more than ever. It's an honor to share some of our favorite songs that remind us of our homes with all of y'all. It's the next best thing to welcoming you in, sitting you down, pouring you a Guinness, and preparing a plate for you. Enjoy.
Think of it as a double-sided cassette, stream Fat Tony's picks (Side A) and Tom Cruz' (Side B) below! Full tracklists accompanied. Keep an eye out for new work from them both via Young One Records.
FAT TONY MIXTAPE (SIDE A)
1. JJC & 419 Squad - Gbao [NIGERIA]
2. D'Banj - Oliver Twist [NIGERIA]
3. Sade - Love is Stronger than Pride [NIGERIA / ENGLAND]
4. D'Banj - Mr. Endowed (Remix) feat. Snoop Dogg [NIGERIA / AMERICA]
5. Fela Kuti - Teacher Don't Teach Me No Nonsense [NIGERIA]
6. 2Face - If Love is a Crime [NIGERIA]
7. King Sunny Ade - M.K.O. Abiola [NIGERIA]
8.Robo Arigo - Get Up Stand Up [NIGERIA]
9. Spoek Mathambo - Skorokoro (Walking Away) feat. Okmalumkoolkat [SOUTH AFRICA]
10. Die Antwoord - Fatty Boom Boom [SOUTH AFRICA]
TOM CRUZ MIXTAPE (SIDE B)
1. Angelique kidjo (BENIN) - Malaika
2. Aswad- African Children (ENGLAND/JAMAICA)
3. Hector Lavoe- El Periódico de Ayer (Puerto Rico)
4. Grace Jones- La vie en rose (JAMAICA)
5. Akon - Mama Africa (SENEGAL)
6. Barrington Levy- If You Give to Me ( JAMAICA )
7. Akon- Locked Up (SENEGAL)
8. Yoskar Sarante- Vale la Pena (Dominican Republic )