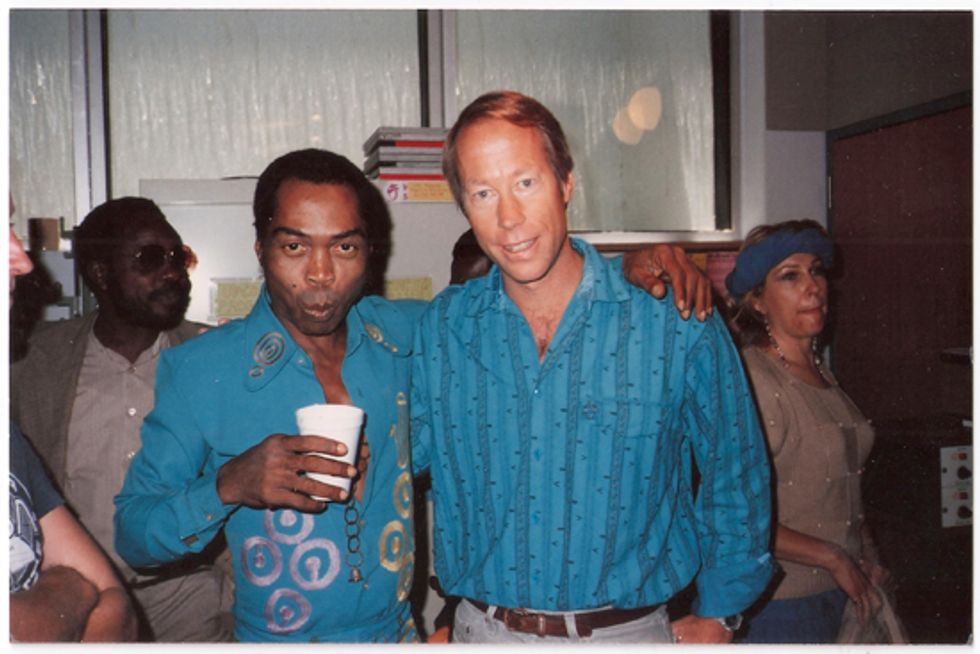 ---
Back by popular demand, FELA! The Musical is making a second round of appearances in Los Angeles, prompting legendary L.A. radio station KCRW to dig in their audio crates for some vintage Fela Kuti interview clips to commemorate the event. In 1986, KCRW's Tom Schnabel (pictured above) profiled the afrobeat pioneer, but the interview was two years delayed due to Fela's arrest at the Lagos Airport on trumped-up currency violation charges prior to departing for the United States. It was his 451st court appearance in ten years. When he finally arrived back in Los Angeles after serving a partial sentence, Kuti took to the KCRW airwaves to discuss the incident:
"The whole thing of the government then was that people like me should be incarcerated, that was the policy then." - Fela Kuti
Schnabel also fondly recalls a Fela Kuti performance at the Greek Theater (or was it the Wadsworth? asks the author - such details are hard to keep track of when recalling a legacy as large as The Black President's) where Fela's bevy of wives — 27 to be exact — took to the stage in a clothed display of their, shall we say, "assets." Visionary musician, activist, troublemaker — Fela was all of those, but perhaps was none more than a lover of the female form. Never one to conform to institutional pressures from society, Fela explained to Schnabel why he felt marriage imposed upon his personal freedom (peep the chuckle in response to his wives possibly exercising that same freedom).
Stream a few interview clips below and head over to KCRW's Rhythm Planet blog to read/listen to the rest of Tom Schnabel's heartfelt and thoughtful remembrance of Fela Kuti. FELA! will be in Los Angeles once again from April 26 - May 5. Grab your tickets below.