Forgiveness is a silent character that looms large in Ellie Foumbi's debut feature, Our Father, The Devil. It hovers offscreen for the most of the time, as it vies with revenge for a place in the life of lead character, Marie, but its presence is undeniable throughout the director's captivating psychological thriller.
---
For Cameroon-born Foumbi, the idea of forgiveness – of moving forward in the face of devastating tragedy and vicious circumstance – has long been on her mind. Her father's work at the United Nations, finding aid and rehabilitation for former child soldiers, led her to wonder how it's possible to ever recover from such pain and start life over anew. After researching the subject and talking to survivors, she penned the script for Our Father, The Devil, a film that pulls apart ideas of redemption, fear, faith, friendship, and so much more.
In Marie, a former child soldier living in a remote French village, Foumbi has a conduit to explore these themes on a visceral level. Played with sharp poignancy by Guinea Bissau-born Belgian actress Babetida Sadjo, Marie has learnt to suppress her past, wearing black lipstick and holding down a job as head chef at a care facility. Nothing can shake the fortress she's built to contain her emotions. Nothing, that is, until a priest who looks awfully similar to the man who once recruited her for his army comes into her life.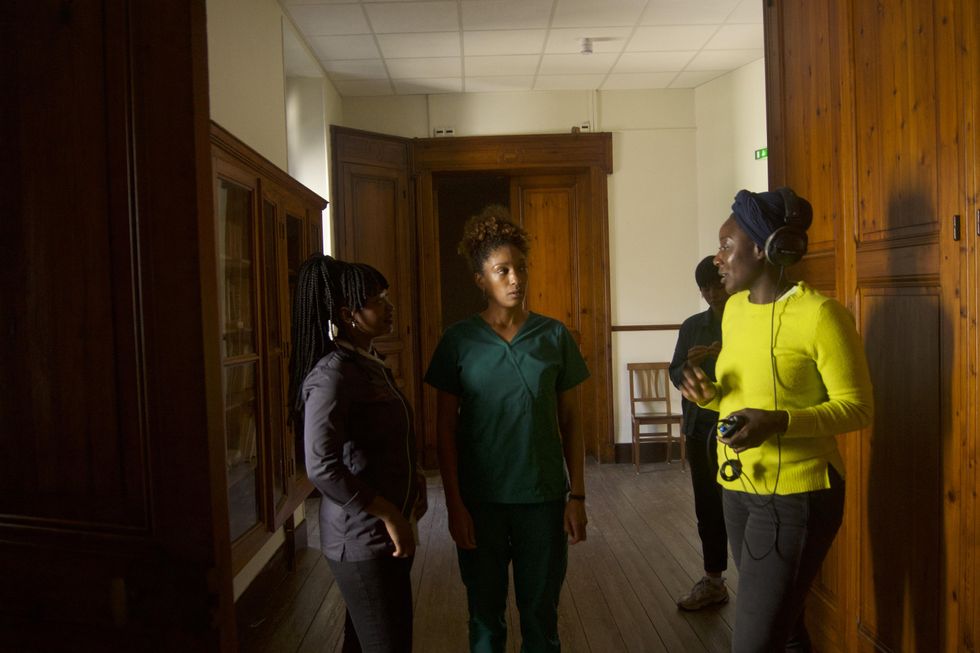 Ellie Foumbi on set of 'Our Father, The Devil,' with co-stars Babetida Sadjo, who plays Marie, and Jennifer Tchiakpe, who plays Nadia.
Photo: 42West
"Working together [with Babetida] on this film was life changing for me," Foumbi tells OkayAfrica, via Zoom, "because she is such an intuitive actor. She is so smart. She added so much; she breathed life into this character in a way that I even couldn't imagine possible."
Sadjo, who won Belgium's highest acting honor, an Ensor Award, for the 2014 thriller, Waste Land, draws the audience in, gripped as we follow the choices her character makes. When faced with the opportunity for confrontation, for vengeance, for closure by any means necessary, will she take it? Will she give in to the tease of redemption? Or can forgiveness make its voice heard amongst all the noise?
It's a riveting film that spawns many a post-credits-rolling conversation. For a first-time director, Foumbi has made a stand-out debut, which has earned a steady buzz since its first screening at the Venice Film Festival in 2021. The film was made as part of the festival's College Cinema initiative, and Foumbi recalls how apprehensive she was to show it for the first time.
"I was scared," she recalls. "Even though I was extremely proud of it, I was nervous. I didn't know what to expect; I'd heard all the stories of people walking out of films, and I just had all kinds of anxiety." Foumbi, who studied directing at Columbia University, and had made a number of short films previously, needn't have worried about walkouts or bad reviews. Applause for the film has not stopped since – having picked up 18 awards so far, including the Tribeca Film Festival's audience award.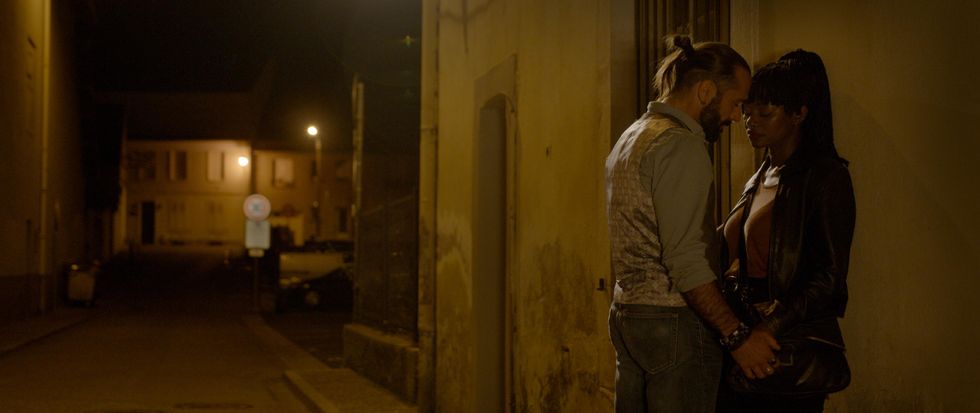 Ellie Foumbi says working together with Babetida Sadjo on the film was life changing "because she is such an intuitive actor."
Photo: 42West
And it's up for a Film Independent Spirit Award on March 4th – not in the first feature category, but in the best feature one. "I was shocked and I was moved," says Foumbi, about receiving the nod. "I was so happy for my team, for my actors, for everyone that pitched in because it was such a battle to get to the finish line. It's a small movie; we didn't have a lot of resources."
At the same time, while the film will compete at the Spirit Awards, it will also bow at FESPACO, which runs from February 25th to March 4th. An honor that left Foumbi, who came to the U.S. as a 5 year old, in tears when she found out it was happening. "I've been asked at different festivals, Have people in Africa seen it? I was holding out for FESPACO because I felt like this is the way to arrive in Africa, through the biggest festival on our continent," she says.
"This is very much an African film; I've been describing it as such at every festival," she says. Alongside Sadjo, Ivorian actor Souleymane Sy Savane stars as Father Patrick and Syrian Beninese actress Jennifer Tchiakpe is Marie's friend, Nadia. "It was important for me to feature an African cast to show Africans in a way that I don't think we've been shown before, to allow other people to experience something very specific but very universal."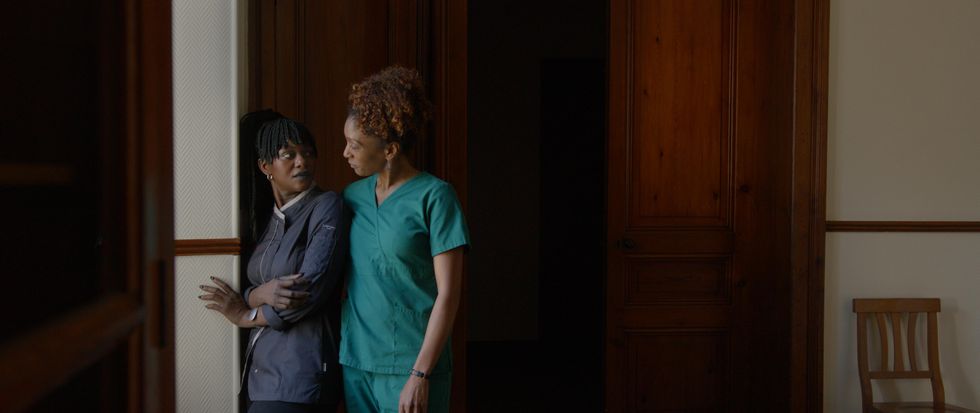 Ellie Foumbi wanted to feature an African cast to show Africans in a way that "I don't think we've been shown before, to allow other people to experience something very specific but very universal."
Photo: 42West
That the film has resonated with so many has brought Foumbi great fulfillment, and it will likely to continue doing so when it's released theatrically in the summer. "It's the thing I'm most proud of," she says, "making such a specific story but there's a universality to it that people are able to grab from it. And now when I watch it, I feel so many different facets of the story that even I didn't anticipate when I was making it, and it's taken on a life of its own, and I feel like that's really beautiful."
At each screening, the film has brought up different things for those who experience it. "I've had people come up to me talk who are dealing with a sexual assault; at [the] Venice [Film Festival] I had a man who talked about the family discord that this film brought up for him. I've had people talk to me about war," says Foumbi.
Talking to people about the subject of forgiveness has helped Foumbi crystalize her own feelings about it. "Forgiveness is not about the other person," she says. "We all have the capacity to forgive. It's what I've learned. I'm not someone who's gone through war. I haven't ever been recruited, I don't have any experience as a child soldier," she acknowledges. But having shown the film in countries like Albania, Ukraine and Kosovo, listening to rooms of people speak up during post-film Q-and-As, there has been a pervading thought. "There were voices who all say you have to find a way to forgive. It's not for the other person, it's for you."
Indeed, Sadjo's Marie has a quiet rage that simmers in her, and her expression of that contributes to the film's power. "I felt that Babetida just helped me deepen certain moments," says Foumbi. For example, changing Marie's lipstick color as a signal that she's trying to allow herself to be open to the possibility of love. Sadjo brought ideas to the table that, "just really solidified Marie's character in a way that you just don't get with someone who's not that in tune [with her role]."
Foumbi, who travels back to Cameroon when she can, aims to continue telling stories that tap into her heritage. "Almost everything I've written features African characters, and the next thing I've written for Babetida is, again, sort of an African immigrant story in the U.S. I feel like that's going to be a part of the tapestry of my work forever. There's no way to divorce that from me; it's part of my identity."
And, yes, she's already enlisted Sadjo for her next project. "I'm excited to start a partnership with her. We're going to continue working together forever," she says, adding with a chuckle: "I think it's gonna be a Scorsese-De Niro thing."
Here's hoping the duo indeed becomes film history's next greatest collaboration.