Events
'Finding Fela' NYC Premiere & North American Theatrical Dates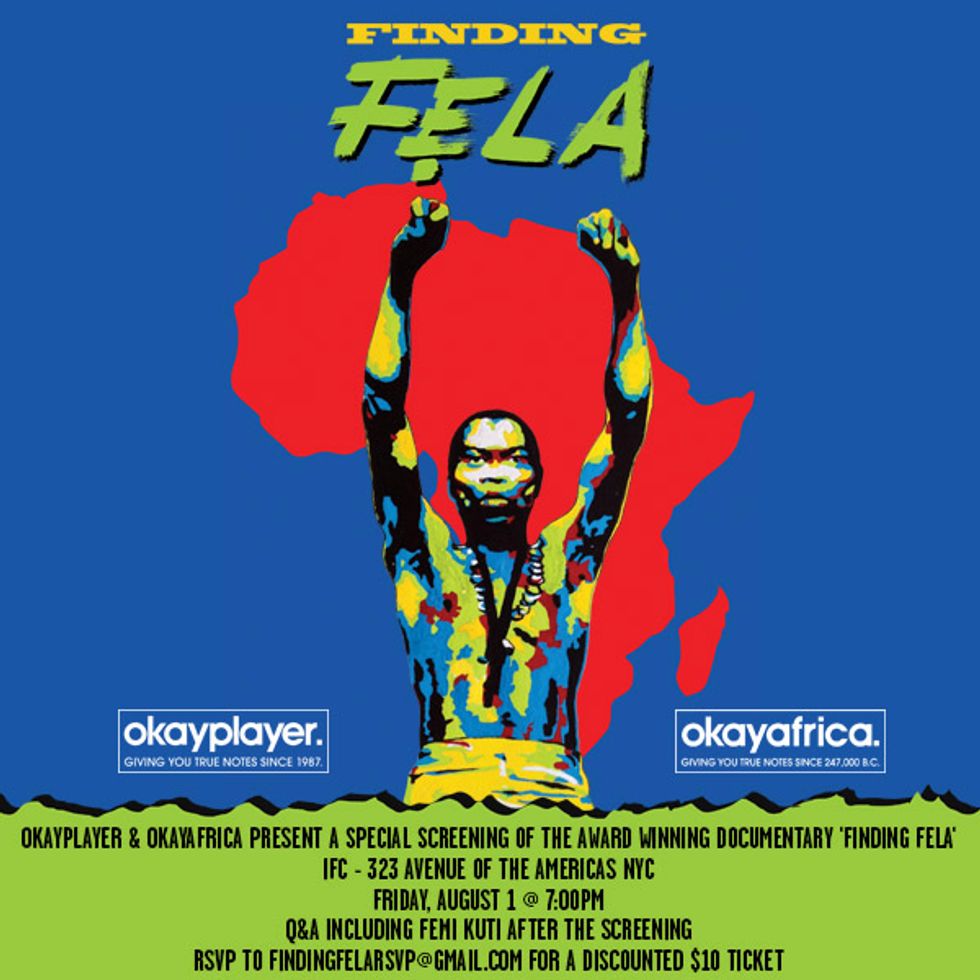 Okayafrica and Okayplayer presents the premiere of 'Finding Fela' on Friday, August 1st, at 7PM at the IFC Center.
---
Okayafrica & Okayplayer are excited to host the premiere of Finding Fela this Friday at 7PM at the IFC Center, with a special Q&A afterward featuring Femi Kuti. Finding Fela, the new Fela Kuti documentary from Academy Award-winning director Alex Gibney, begins its North American theatrical run this Friday with a weeklong engagement (8/1-8/7) at the IFC Center in NYC before the film expands to over 20+ cities. Stay caught up on all things Finding Fela via the film's facebook, twitter, and official site.
>>>BUY YOUR TICKETS NOW to Okayafrica & Okayplayer Presents Finding Fela, Friday 7PM, at the IFC Center in NYC (with a special Q&A after featuring Femi Kuti!)
Update 7/31: Although the Okayafrica & Okayplayer premiere of Finding Fela is now SOLD OUT, you still have plenty of chances to catch the film August 1st- 7th (and to see Femi Kuti speak on various panels). We'd highly recommend that you cop your tickets now for the 9:40 showing on Friday, immediately after our premiere, for the ImageNation Cinema Foundation & Jill Newman Productions premiere of the film, which also has a panel discussion after with Femi Kuti. If you can't catch that one, click here to see all the times and showings of the film at the IFC Center in NYC (8/1-8/7).
To celebrate the upcoming theatrical run, we've been finding Fela in our Okayafrica archives with a look back at our favorite Fela-related videos, galleries, remixes, interviews and much more. So far we've dug up interviews with Questlove and TV On The Radio's Tunde Adebimpe, the Best Fela Kuti Mashups, and our favorite videos from Red Hot + FELA. Check back this week for more from the Finding Fela Archives.
Finding Fela North American Theatrical Dates
New York, NY, IFC Center (August 1-7)
Rockland, ME, Strand Theatre (August 1-5)
Denver, CO, Landmark Chez Artiste (August 8-14)
Washington, DC, Landmark E Street Cinema (August 8-14)
New York, NY, Mist (August 8-14)
Vineyard Haven, MA, Martha's Vineyard Film Society (August 8-10 & August 15-17 ONLY)
Santa Fe, NM, The Screen (August 8-14)
Berkeley, CA, Landmark Shattuck Cinemas (August 15-21)
Los Angeles, CA, Landmark Nuart Theatre (August 15-21)
San Diego, CA, Landmark Ken Cinema (August 15-21)
San Francisco, CA, Landmark Opera Plaza Cinema (August 15-21)
Atlanta, GA, Landmark Midtown Art Cinema (August 15-21)
Boston, MA, Landmark Kendall Square Cinema (August 15-21)
Philadelphia, PA, Landmark Ritz at the Bourse (August 15-21)
Nashville, TN, Belcourt Theatre (August 15-21)
Honololu, HI, Honololu Museum of Art (August 15-17, 19, & 21 ONLY)
Brunswick, ME, Frontier Cafe (August 19-24)
Houston, TX, 14 Pews (August 21 Tugg Screening)
Minneapolis, MN, Landmark Lagoon Cinema (August 22-28)
Albuquerque, NM, Guild Cinema (August 22-25)
Columbus, OH, Gateway Film Center (August 22-28)
Oklahoma City, OK, Oklahoma City Museum of Art (August 29-30)
Houston, TX, Museum of Fine Arts, Houston (August 29-31)
Lambertville, NJ, Acme Screening Room (August 29-31)
Seattle, WA, Landmark Varsity Theatre (August 29 - September 4)
Portland, ME, Space Gallery (September 2)
Chicago, IL, Music Box Theatre (September 12-18)
Memphis, TN, Memphis Brooks Museum of Art (October 23)