Last we touched base with Nigerian visual artist Fred Martins (or Martinx), he gripped us with his conscious illustrations of Afrocomb portraits celebrating righteous African activists.
---
Martins shares his new art series titled, "Onye isi, 'Lee Nu Echi," which he tells us translates to 'Leader, Look At Tomorrow' in Igbo. His aim is to confront the "ignored struggles of African children."  Martins presents the plights of the child bride, child laborer and child soldier—who have been rendered voiceless—and confronts issues such as clean water sanitation and "necklacing" or lynching.  Each African child has been overlaid on an airy, sky-blue background, possibly symbolic of the promise of their futures that are being shortchanged.
"Necklacing," Courtesy of Fred Martins
The latter topic touches home for Martins who tells me over email that in 2012, the only son of his late friend and two other children were allegedly "necklaced" in Aluu, a community in Port Harcourt, Nigeria. The illustrator explains that in some African countries impoverished children, sometimes accused of practicing witchcraft, are lynched, abandoned, forced to imbibe poison or otherwise killed, and government officials on the African continent appear to be doing very little to prevent these crimes.
"'Lee Nu Echi' is created to interrogate the problems lower class African children are forced to face due to poverty, urbanization and weak law enforcement, that the international community worries more about, but are [being] completely disregarded by the African leadership and authorities," Martins writes.
I asked the graphic artist to explain further. Here's what Martins has to say. This interview has been edited.
Erin C.J. Robertson for Okayafrica: Your previous art has touched on different subject matter such as environmental conservation and incarceration of African activists, what's the impetus behind this series?
Fred Martins: It is disheartening to wake everyday with all cognizance that children who are believed to lead the [future of] Africa are still left to die or grow in conditions that are very hostile to their [mental health]. As such, I create art to protest the issues that I don't agree with, aiming to positively influence my society.
"Lee Nu Echi: Child Labor," Courtesy of Fred Martins
"Lee Nu Echi: Hunger," Courtesy of Fred Martins
How did you decide on the themes you touch on in your latest illustration? In particular, recent imagery of the child solider has become controversial, what sort of dialogue do you hope to initiate?
I am worried about the future of Africa. These works are aimed at questioning the instability that undermines our leadership. The chances of breaking out of the cycle of poverty in Africa is inconceivably [minute] with these issues brushed aside. I lived in the Crimea during the turmoil that resulted in Russia annexing the state. The war speculations then were very disturbing for me as an adult, and seeing those war-ready tanks, planes and masked soldiers with big guns wasn't a good moment to behold. To get children involved in a war is to ruin their future as they develop. Post Traumatic Stress Disorder makes them instruments of war throughout [their] life. The detrimental effects do not fade easily. The major dialogue intended is to implore the African youths to resist the selfishness that is crippling Africa's development.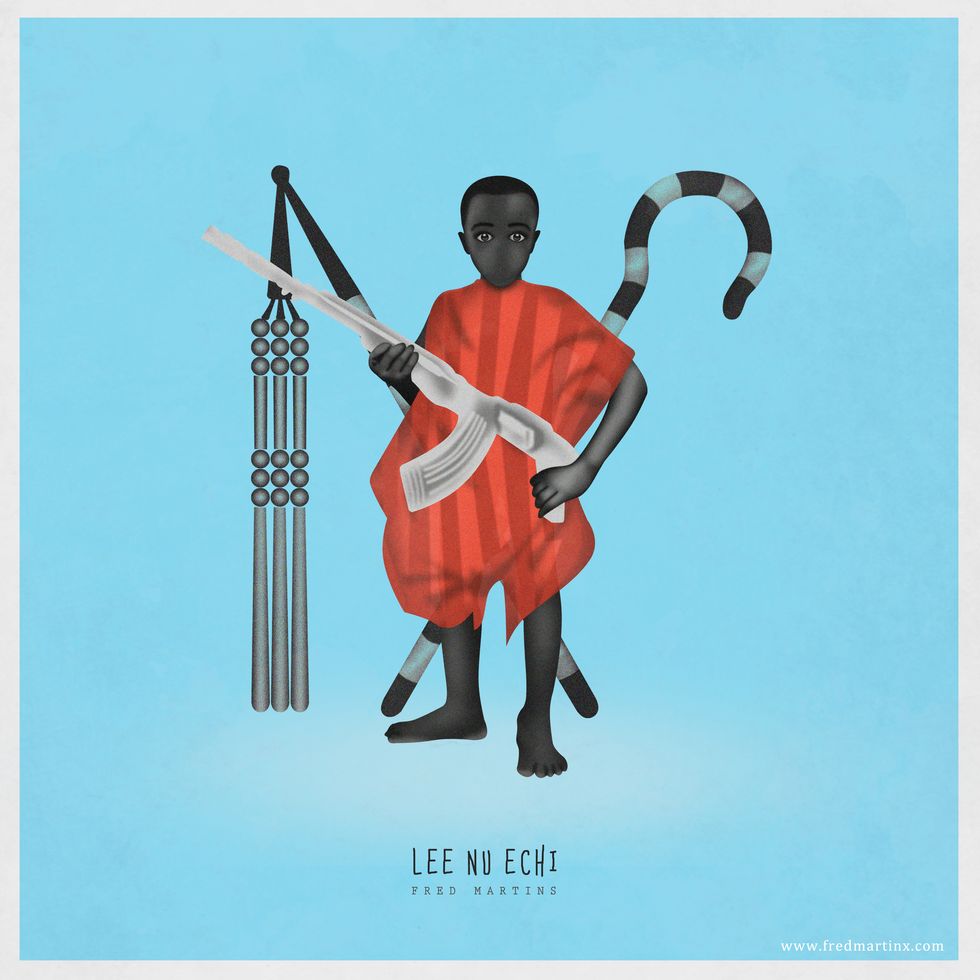 "Lee Nu Echi: Child Soldier," Courtesy of Fred Martins
Could you explain the process involved in creating these illustrations?
They are digitally painted. Mostly inspired by images found when searching for 'African child' on the internet. I also had to investigate more to understand which regions these issues are common in.
Why do you think the African government has largely ignored the challenges that African children face?
Selfishness. Ignorance. Many of these leaders consider these issues as normal and expect that the children live and deal with it. Or still, they expect an unseen force to fix them. I once said that 'Africa seems to be where all future lies in God's hand, while Europe is where the future is planned, worked out and handed to the people under God's watch.'
"Lee Nu Echi: Child Bride," Courtesy of Fred Martins
"Lee Nu Echi: Good Water," Courtesy of Fred Martins
What do you hope your series "Onye isi, Lee Nu Echi" will accomplish for those who view it? What do you hope they will come to understand?
To challenge good leadership emotionally, so that they will reach down and work to ensure a brighter future for tomorrow's Africa, rather than [choose] self enrichment. I hope that we understand that we are the saviour of our own selves, [even though] we keep leaning on foreign aid to resolve all our problems.