Arts + Culture
Fred Martins' New Series Honors the Struggles of African Liberation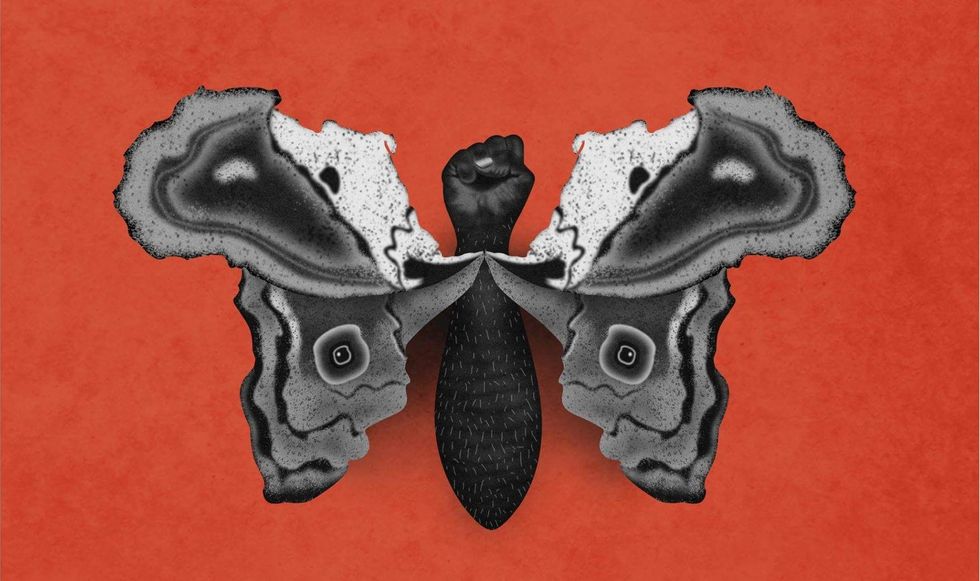 Nigerian visual artist Fred Martins' new series for Black History Month celebrates past African heroes who stood against colonialism.
In the spirit of Black History Month, Nigerian visual artist Fred Martins shares a new series commemorating the African struggles for freedom.
---
With Black and Freedom, Martins celebrates the "African heroes that stood against colonialism in Africa, although massacred in thousands and in millions, but they had tried to protect their lands, culture and people."
Using butterfly imagery was intentional for Martins—they symbolize life or the soul in many African culture, he tells Design Indaba. The fists stand for power, bravery and unity.
"It all defines the suffering inflicted and the strength exhibited by the African ancestors who were ardent and concerned about protecting the future of Africa," he continues for Design Indaba, "and the message they tried to communicate to the present and future Africa."
He continues:
"A great number of Africans today have no real idea of what their past looked like. The culture, values and the great men and women that devoted their lives lighting a path for the people of today are unrecognized. The story of our ancestors resisting colonization should not be neglected, their bravery and mistakes should be revisited and taught in our schools so people know about the challenges that brought us to our knees and how they can be fixed. History is essential."
This series honoring past heroes is another opportunity for Martins to teach through his work.
"Visual work is deep, powerful and controls the subliminal framework of the people. I hope that these works stir a hunger to know more," he says.
To read more from his interview with Design Indaba, click here. Have a look at Black and Freedom below.
[oka-gallery]