That there once was a period in South Africa's political history where Black people were forbidden from enjoying the most basic human rights is still unfathomable. It was a moment in history that robbed Black people of their dignity, rendering them invisible and inconsequential in their country of birth.
Freedom Day, celebrated annually on April 27, is one of the most important dates on the South African calendar. It is a day on which South Africans are encouraged to reflect on the struggles of the brutal Apartheid regime that saw political leaders, students, teachers and ordinary citizens lose their lives in the long, arduous battle for democracy and political stability.
True to the George Santayana adage, "To know your future, you must understand your past!" And with this understanding firmly clasped in our hands, may history never repeat itself. May we remember that a long, winding and prickly road to healing and building awaits. Here's to 27 years of freedom!
Below is a rundown of important dates to know…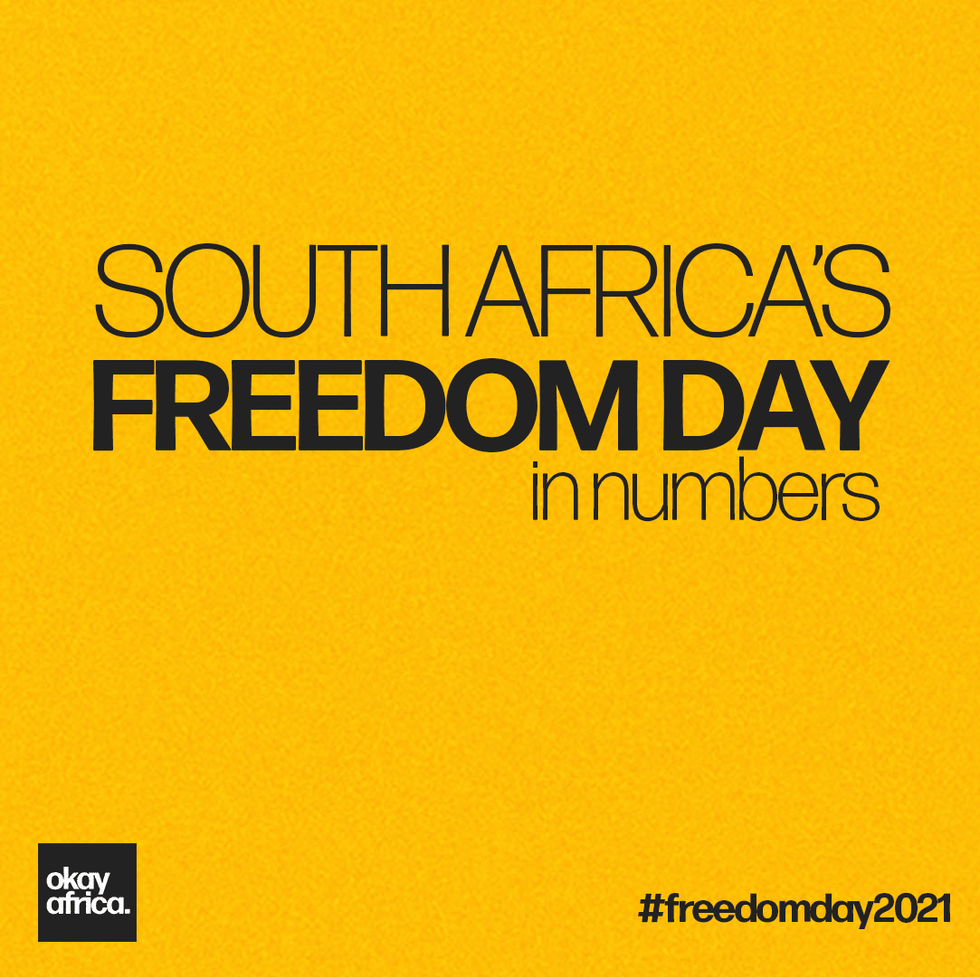 Freedom Day South AfricaOkayAfrica
300 the number of years colonialism plagued South Africa. Colonialism also introduced politically enforced prejudice.
1948 Apartheid, an Afrikaans word meaning 'the state of being apart', was officially administered in South Africa. When the all-White National Party government took over the power reins that year, they wasted no time in enforcing the racial segregation policies already in place.
1994 South Africa's first-ever non-racial, democratic election took place — allowing all individuals over the age of 18 to cast their vote. Prior to 1994, voting was a privilege only extended to the country's White population.
27 the number of years South Africa has been 'defining' its fledgeling freedom.
19 political parties contested in the 1994 election. These were: African National Congress(ANC), National Party (NP), Inkatha Freedom Party (IFP), Pan Africanist Congress of Azania (PAC), Freedom Front (FF), Democratic Party (DP), African Christian Democratic Party (ACDP), Africa Muslim Party (AMP), African Moderates Congress (AMC), Dikwankwetla Party of South Africa (DPSA), Federal Party (FP), Minority Front (MF), Sport Organisation for Collective Contributions and Equal Rights (SOCCER), African Democratic Movement (ADM), Women's Right Peace Party (WRPP), Ximoko Progressive Party (XPP), Keep It Straight & Simple Party (KISS), Worker's List Party (WLP), and Luso-South Africa Party (LUSO).
19.7 million South Africans voted out of the 22.7 million eligible voters.
62.65% The percentage margin with which the African National Congress (ANC) — the ruling party — won the 1994 election. The National Party (NP), the official opposition, followed with 20.39 %; Inkatha Freedom Party (IFP) with 10.54 %, Freedom Front (FF) with 2.2 %, Democratic Party (DP) with 1.7 %, Pan Africanist Congress (PAC) with 1.2 % and the African Christian Democratic Party (ACDP) with 0.5 %.
27 April 1994. South Africa's new flag, bearing six colours and signifying a nation headed towards unity, replaced the old Apartheid flag which had been used since 1928. The new flag was designed by the late Frederick Gordon Brownell, a South African vexillologist and genealogist.
---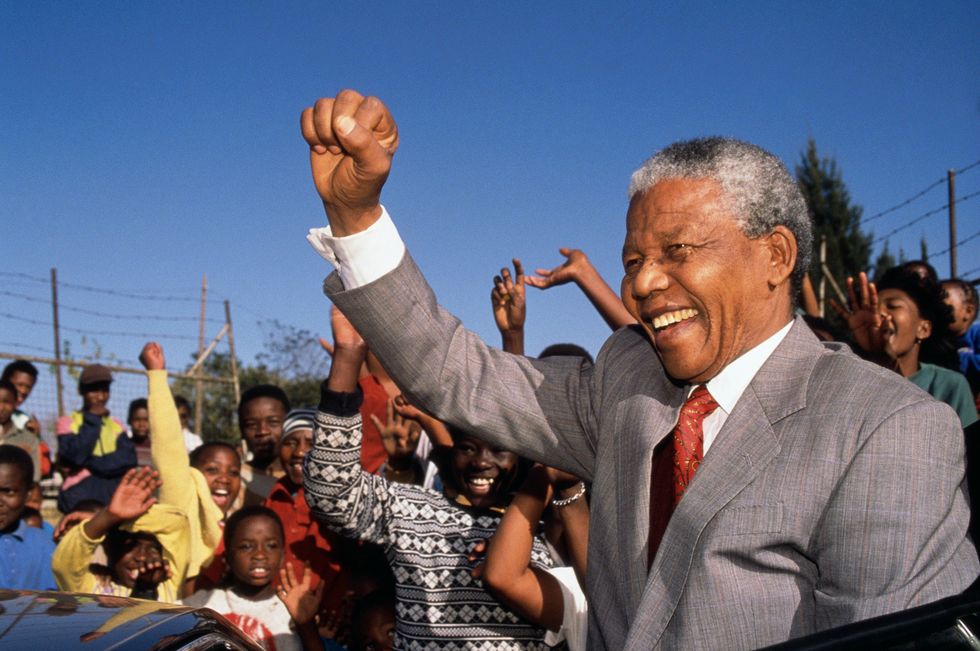 The late Nelson Mandela, South Africa's first Black President.Photo by © Louise Gubb/CORBIS SABA/Corbis via Getty Images.
10 May 1994.The late Nelson Mandela was inaugurated as the first Black President of the country at an emotional ceremony held at The Union Buildings in Pretoria.
1995 The year when Freedom Day was first commemorated, a reminder of how far South Africa had come in its long fight against the brutal Apartheid regime!
10 December 1996. The final draft of South Africa's Constitution was signed into law by President Nelson Mandela in Sharpeville, a township located south of Gauteng. The Constitution, however, only came into effect on 4 February 1997.
11 The number of official languages equally recognised by the South African Constitution.
2 February 1990. The National Party government started the process of unbanning political parties and activists, as well as releasing political prisoners — the late Nelson Mandela being among them. The transition period between February 1990 and April 1994 was, sadly, characterised by political turmoil and gruesome murders between the ANC and IFP.