For the Nigerian- born, Los Angeles based music producer 1srael, congratulation messages were in order that February day after winning his first ever Grammy Award. Walking up the stage in the company of ATL Jacob to accept his award for Future's "Wait For U'' featuring Drake and fellow NigerianTemsin the Best Melodic Rap Performance category, 1Srael was lost for words.

Born in Lagos, Nigeria and raised in Prince George's County, Maryland – Israel Fowobajae (professionally known as 1SRAEL), is currently devoting himself to developing his production company Agency 301. Growing up in a house full of musicians, he knew that music was the route he wanted to go early on. It was the first avenue he pursued where he was able to witness the fruits of his labor.
The 24-years-old producer, artist and photographer was up against the big shots in the music industry that night—including DJ Khaled, Rick Ross, Lil Wayne, Jay Z, Kendrick Lamar, Jack Harlow, and others—but he still came away with the win for hi
OkayAfrica caught up with 1srael via Zoom for this chat below.
---
You are living in LA right now, but are originally from Nigeria. Tell us about your Nigerian background, youth and how that has influenced your music production.
My background consists of a lot of things. I was raised in a Nigerian church, Celestial Church of Christ to be exact. That church has a record of raising really rhythmically sound kids. I started from the cowbell to the Congos and worked my way up to all the main instruments like piano, guitar, bass and drums. It especially helped since my mom was always a music director of some sort at every church and also was a pretty renowned gospel singer in Nigeria. We moved to the USA in 2003 after my mom quit her music career to raise me, my brother and sister. My childhood was action packed with just music and culture; those are the things I feel keep me grounded in who I am and my sound now.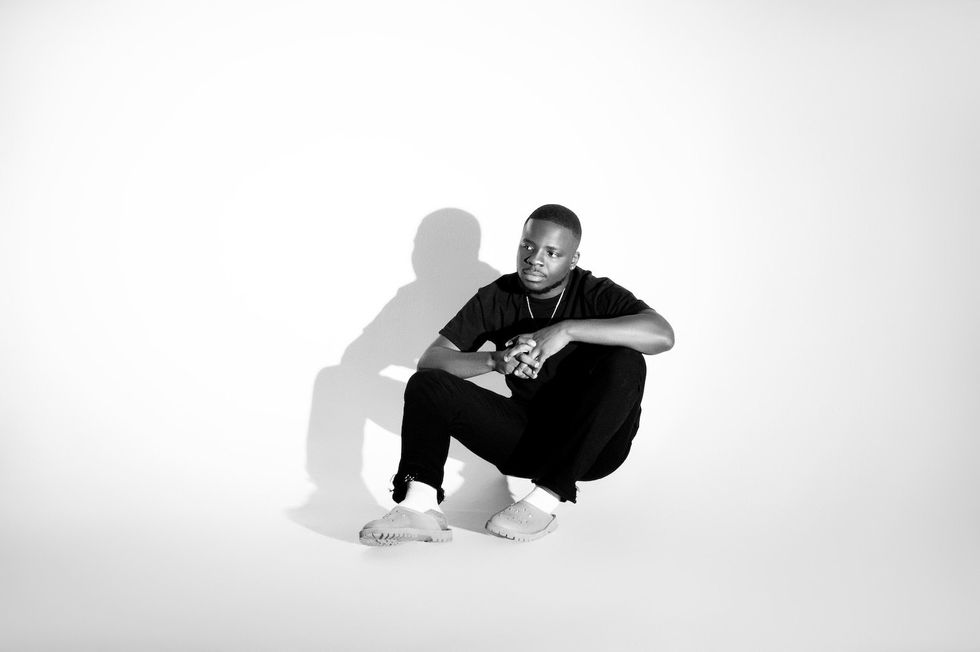 1srael.Photo courtesy of 1srael.
When did you start learning how to produce songs?
Honestly, I have always known I wanted to do music or at least something in the arts. I always played every instrument but my first profession was photography and cinematography. I went to school and studied photography, cinematography and graphic design. I started doing photography professionally in 2013 until today. Although I originally went to college for things like petroleum engineering, business administration and marketing, I soon dropped out and just completely dedicated my life to producing music and developing artists from 2017. That is the time I signed my first artist since I already knew how to do marketing, graphic design, videos and make music. The first song that I ever produced, M3CCA "Gods Incense," actually came out around 2017-18.
How did you get started in hip-hop?
The culture and the surroundings I was in, everybody did different things and I did what needed to be done at that moment, and that moment included R&B, hip hop. I didn't want to be the kind of a person who is like 'I can't do that.' Just being in the creative community and trying to add value to any artist I could at the time and it so happened that a lot of them were in hip-hop. I have always added my soulful touch in everything I do.
How did you start working with the likes of Future and ATL Jacob?
Originally I had a good working relationship with Tems. I was doing music direction with Tems alongside Sonic Major. I had to recompose the progression of the song then, one day, one of the compositions was used for the "Wait For U" record. That opened my relationship with ATL Jacob and Future.
You define yourself as a multi-genre producer, tell us what you mean by that.
I feel the fact that I'm very proficient in playing every major instrument allows me to be able to float in every genre as I see fit. Music is just a feeling at the end of the day.
The list of accolades under your belt include winning a BET Award for Best Collaboration, and an AMA award for Best Hip-Hop Song.
By the grace of God, one record collected all those awards, to top it off we were blessed with a Grammy. That changed everything.
How do you feel winning your first Grammy Award?
It's a feeling I still can't explain. One side of me is like the award does not make sense as I already know who I am. On the other hand, the award has paved the pathway for me in the industry. This is not the end.
What does the win mean to you?
It just feels like all the sacrifices I've made in my life weren't in vein. One day I'll tell my story but it's still being written.