"To consistently see African fashion being projected on the world map, and finding ways to use our talents and creativity for the common good."
This is the mission statement which Victoria Michaels chooses to abide by.
The award winning model has flown in from Ghana for seventh Africa Fashion Week London. This year, the high ceilings and vastness of Kensington Olympia has been swapped for the many pews of Freemasons Hall in West London, which is cavernous when dimly lit, and better suited for spotlighting a catwalk.
Michaels is approving of the change. "The aesthetics is more glamorous, more elegant especially for the audience. For us models, it's a bit tight but of course we'll work with what we're given."
For Michaels, a successful showcase is "for the designers to have people making enquiries about their brand, to say, 'We'd like to invite you to our fashion show, we would like to buy pieces from your collection' and then the organizers getting good reviews," she says. "That's the bigger perspective."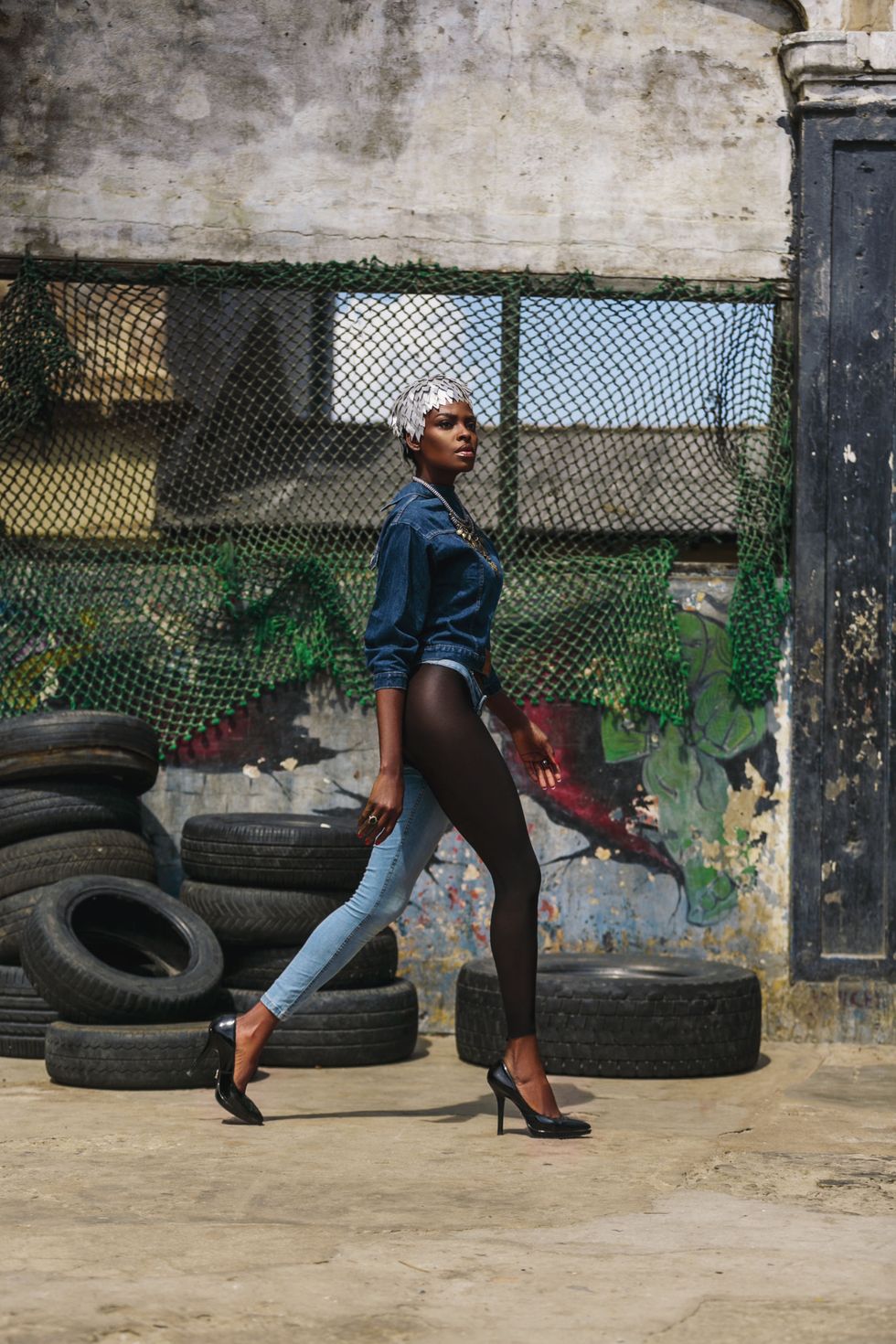 Photo courtesy of Victoria Michaels.
For her as a model, "success would be getting amazing images that the media would talk about and say, 'She did great on the runway.'"
Michaels was the face of Africa Fashion Week London in 2015, but missed last year's event due to a conflicting schedule. Whether to make up for the miss, or simply just going about a normal day's work, she appears be enjoying this year's edition.
Speaking on two occasions in August—one at the London event and the other while at her next job in Toronto—Michaels is as alert when speaking in person, as she is engaging and voluble over emails.
"It all started when I got enlisted into the Alliance Française in Ghana," says Michaels of her career start. "I had just enrolled into the French school when I was approached by the organizers of Miss Francophone."
"They thought I had 'an interesting and edgy look,'" recalls Michaels, of why organizers of the pageant encouraged her to enter the contest. She agreed, going on to win first runner up at the finals, "Even though most of the audience were shouting my name as the winner that night," she adds.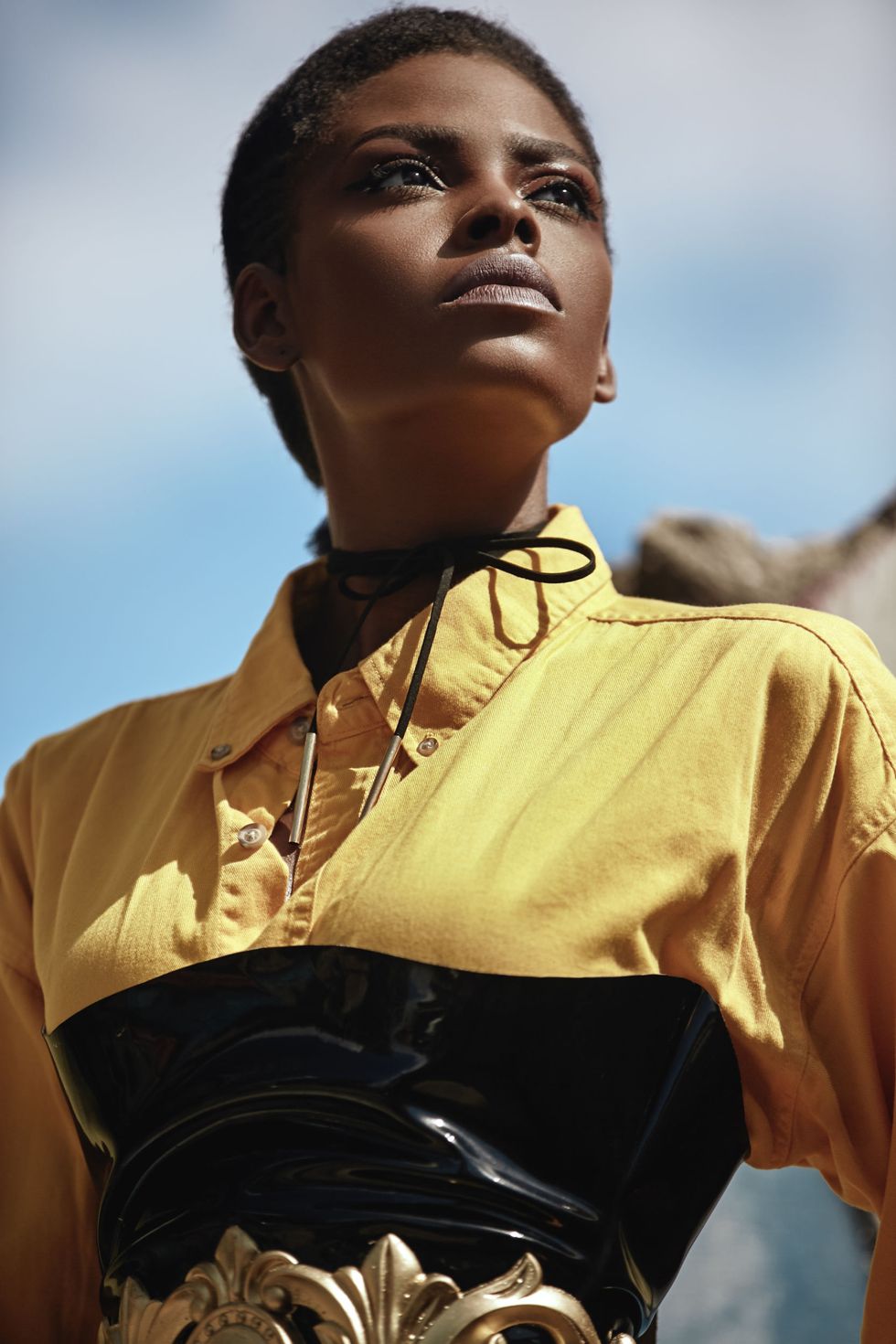 Photo courtesy of Victoria Michaels.
The words "interesting" and "edgy" describe Michaels' looks and demeanor well enough, and if "confident" wasn't mentioned then, it would be now—qualities which all contribute to a self-possession that is beguiling to witness in person.
Self-possession might as well be a quality professional models have as a basic requirement. Not many people are able to maintain mental and emotional balance while being watched, admired and judged.
Backstage at Africa Fashion Week, the models were often the only presence of calm amid the flutter of designers, hair stylists, make-up artists and other personnel.
During fittings, Michaels tried on the different outfits and posed for some photos with what seemed like relish—an appreciation of the many inventions she's trying on for the first time, and will have to present, not long after, as an ideal.
She is able to break away from the clamor around to respond to interview questions with well-judged answers. Considering the festive air in the halls and market stalls, it's hard to believe that "six weeks ago we were going to cancel," says Anna Marie Benedict, press officer and member of the planning committee since 2014. "It takes a certain amount of grit to push through."
As a result, close to 900 people were in attendance at the final exhibition. "It takes a whole year to plan the two day event," says Benedict, encouraged by the feedback which she says has been overwhelmingly positive.
One other challenge the organizers faced was booking some African models whose fees were too high. Michaels is one such model whose agent had to be "cajoled," and his client promised "lots of catwalk."
"I really looking forward to seeing some lovely designs, especially by the African designers," Michaels says of what she likes most about fashion weeks. "When I see the way they create their work, it goes a long way to project us."
Photo courtesy of Victoria Michaels.
Working across the continent and Europe puts Michaels in a position to better compare how the fashion events on both sides are done, "I've done the Glitz Fashion Week, I've done Cape Town, I've done Mercedes Benz Accra. I just love the creativity all the designers put in, especially African designers. They think outside the box."
Michaels has a string of endorsement deals which include one with Woodin, where she says a big campaign will be done and with Melcom, Ghana's retail giant. "It's a 50/50 situation with the Melcom and Victoria Michaels Foundation," she explains. "Since we entered this relationship, the brand has evolved mine as well."
Her next stop after the U.K. is Canada for Africa Fashion Week Toronto. While there, she won the "Achievement Award" for her "contribution to African Fashion and for impacting the lives of the less privileged through the Victoria Michaels Foundation."
Michaels' charity work aims to assist disadvantaged kids by taking them "off the streets, putting them in schools and vocational institutions."
One aspect of this is to improve literacy. "We started not long ago and we've been able to set up seven mobile libraries," she says.
Sourcing the funds needed to carry out these good deeds, even for a self-described "influencer," hasn't been without its challenges. "It's actually quite hard to approach people and say, 'We want you to support our project.'" But since the success of one is built on seeing the evidence, investors "believe that whatever resource they put into your project will be utilized."