During the month of August, we'll be highlighting aspirational folks who are setting major #goals and achieving them, and asking them to share their stories and insight to help motivate us all to "live our best lives."
---
These athletes, artists, fashionistas, scholars, entrepreneurs, and more, are a reminder to us all, that dreams are valid!
We kicked off the series with arts mogul and producer, Bolanle Austen-Peters . For the latest installment we speak with Gabonese fashion designer Teddy Ondo Ella .
Teddy Ondo Ella is a creative ensuring that the African continent is at the center of his entrepreneurial projects. Just this spring, he displayed his first collection in New York at Men's Fashion Week. The "Heritage Collection" is a subtle hat-tipping to his culture of both Gabon and Europe. It's comprised of "abacos" or tieless suits and modern, African geometric prints.
Gabon is the "DNA of his brand," a place he considers a hidden gem that he wants to introduce the world to. "I love Japan and I go to it through films, food, and manga," he says. He hopes to bring his country to the world in the same way through his work. The newcomer cites Marc Jacobs' color palette, the eclectic designs at Louis Vuitton , Tom Ford's tailoring and Ozwald Boateng's twist on the suit silhouette as influences for his work.
Where Gabon is the muse for the onset of his luxury fashion career, his upcoming Fall/Winter collection "La Sape, the Society of Ambiance-Makers and Elegant People," pays tribute to the Congolese movement that started in the 1960s as an offshoot of 19th century dandyism. He later hopes to travel the entire continent to gain even more inspiration.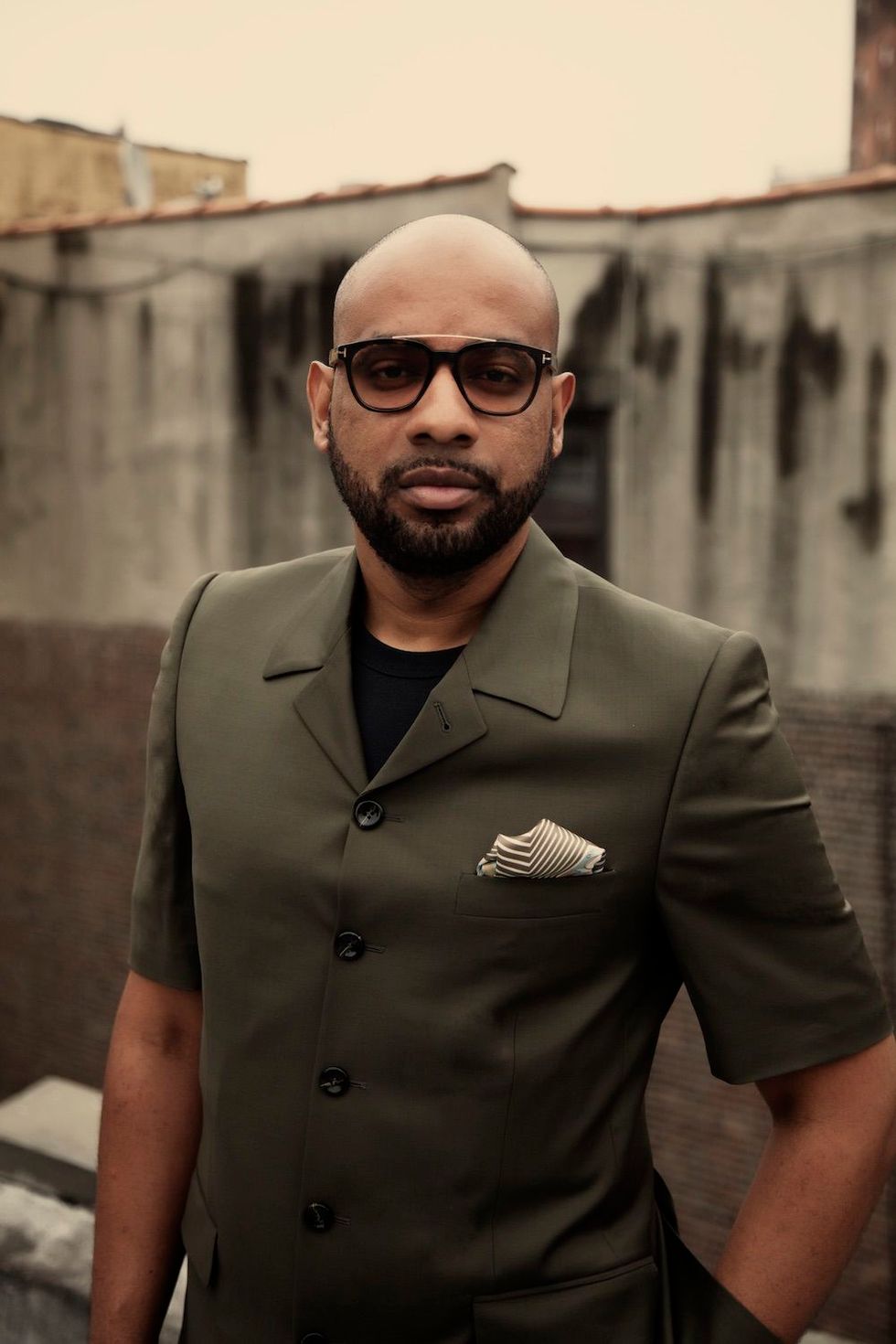 Image courtesy of Teddy Ondo Ella
Like other African citizens of the world, what is most moving about Ella is his story and what he stands for.
Born in Brazzaville, Congo in 1979 to a Congolese mother and Gabonese father and raised in Libreville, Gabon, Ella was introduced to the size of the world around him at a very young age. He often accompanied his mother, who owned a boutique named after him, on trips to Paris to purchase clothing and shoes, and his father was a steward for the first African airline, Air Afrique, as well as Air Gabon. He left home to pursue an education in Paris where he studied information systems management and even released a rap album on the side under the name, Jewel . He would leave MIS behind to return home knowing that he could make a greater impact on his country in it, rather than overseas.
From there, he started a marketing agency, then opened the Sneakers Club in Libreville, which carried limited edition shoes and in 2012, Ella launched Only Made in Gabon —his streetwear brand—characterized by the emblem on the majority of its garments: a Gabonese parrot, which Teddy affirms is the most intelligent and kind parrot in the world.
His more recent, namesake brand's emblem is the mask of his tribe, the Fang, it represents justice and takes the form of a gorilla's face, which further attests to how subtly yet powerfully he's able to illustrate his culture through design. Ella wants his work to reach all walks of life and cultures.
In a conversation with the desigener, he opens up more about his Gabonese-Congolese background and how he's found his place in the fashion industry.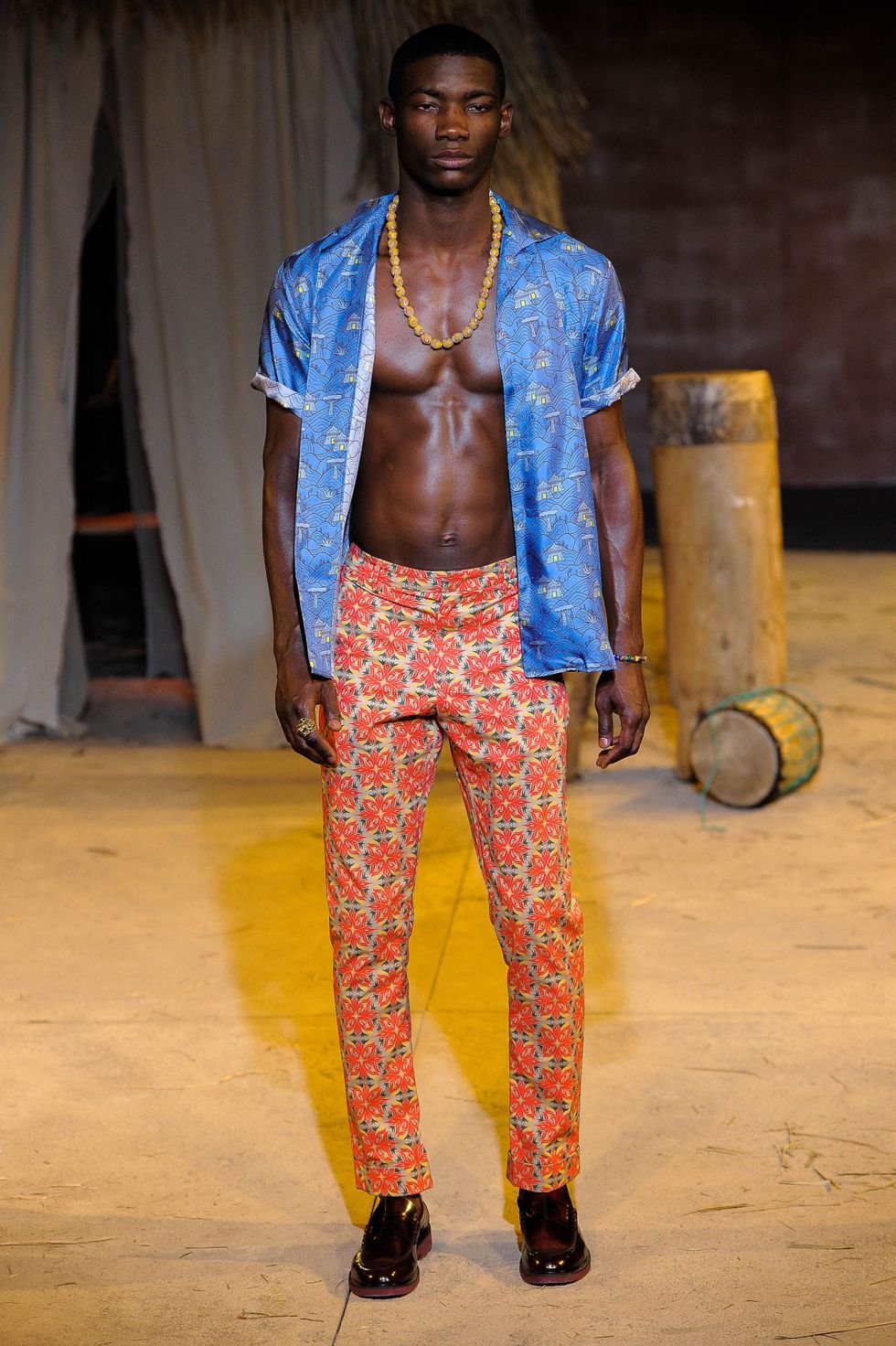 Image courtesy of Teddy Ondo Ella.
OkayAfrica: How do your parents feel about the career path you've chosen being that it is creative and the creative realm isn't necessarily encouraged in African culture?
Teddy Ondo Ella: In Africa everything is about titles. My parents are very open minded. My mother is my number one fan. She supports me and I cannot complain. I was raised in an open environment and my parents raised me far away from politics.
I just want to express myself in different ways. I chose music then I chose clothing, tomorrow it can be something else. I have a lot of ideas. Sometimes, when I feel I am inside a box, I need to go to something else.
Image courtesy of Teddy Ondo Ella.
Would you consider yourself successful?
Not really. I have a lot to do. I stay humble and realistic. It is hard in the fashion industry. I am tough on myself. I always find mistakes. Maybe in 10 years when I have plenty of stores and revenue, but for now I am still a newcomer. I need to stay humble to keep my creativity on top.
I am proud. Not everyone can make it to a runway in New York. The youth in Gabon are proud of me, as well. I have received many direct messages and emails. It isn't usual to see a young african man trying to make it overseas in the fashion industry.
I am not choosing the easiest way but I have a feeling this was the right time for me to come in the industry. As an african, I am fighting other people's perception of us. It is my responsibility to display Gabon in the way I see fit.
What do you do when you aren't designing clothes?
Sleep. *laughs* I don't have a lot of time. I have 2 kids. I spend time with my family but I am always creating. I have 4 companies.
Image courtesy of Teddy Ondo Ella.
What's next for you?
There is a lot. I want to bring the Teddy Ondo Ella brand to the next level. In the short term, I want to open my own store. It will be the best way for my customers to live an experience instead of just buying it. You enter the store and discover the story and everything behind the brand.
Would the store be in Miami where you are based?
It would be in Paris. Believe it or not, France and Africa have some of the strongest ties in the world and it will be easier for people to understand this concept. This is advice Ozwald Boateng gave me in London. He said, "If you make it right in Paris, you will make it everywhere."
For those in the audience reading your words and looking up to you in this very moment, what is your advice?
Believe in your dream. If you believe in something, go for it. I want to leave a legacy. One of my companies is named Push, I created the logo when I was in high school. When people don't have vision and dreams, they become angry and jealous. People doubted me when I started. Africans need vision to change their countries and the continent.
Keep up with Teddy through his Instagram pages @onlymadeingabon , @teddyondoella_brand and @teddyfromgabon .