Nate Araya is the Ethiopian-American digital storyteller dedicated to championing narratives from the diaspora.
This has been the aim of his many visual projects that center on his unique first-generation experience, including the 2013 documentarySincerely Ethiopia as well as his most recent documentary The Diaspora Journal.
With his upcoming travel-based documentary film series, Growing Up In America, the storyteller is broadening the scope even further—seeking to highlight stories from members of various black minority groups in the United States whose voices often go unheard. The very first episode of the series tackles taboos around mental health and the need for open and honest dialogue within communities that allows for people to share their experiences.
Dealing with mental health can be complex, especially when you come from a community where the issue has been stigmatized. The path to improved mental health is different for everyone, but Araya is clear on what he believes is the starting point: "I believe all change begins with a good conversation," he says.
---
We spoke with the filmmaker about his latest project and what it means to be dubbed "The Voice of the Diaspora" by his supporters and more.
Read on for our conversation to learn more about the unique vision behind 'Growing Up In America," and watch the trailer for the first episode "Mental Health is Wealth" below.
This interview has been edited and condensed for clarity.
For people who aren't familiar with your work, can you tell us more about yourself, your background, and what exactly you do?
My mom is Ethiopian. My dad is Eritrean, but they were both born in Ethiopia. They came to America seeking educational opportunity and had me in Dallas, where I was born and raised. I studied mass communication in college, and then, took a trip to Ethiopia for the first time in 2011 to shoot my first film.
I realized that everything that I create, I want it to be intentional with a message that can impact lives around the world. My "Sincerely Ethiopia" was made out of the idea of always seeing the negative stigmas that exist around Ethiopians and presenting a positive light to people's stories and the work that they're doing. "The Diaspora Journal" was birthed after that, which is my personal story about being a first-generation Ethiopian-American, never fitting in, never feeling African enough or American enough, and then, going to Ethiopia to walk a day in the life of people. I learned so much and I've been touring with that film for about two years, with some first-generation people, sharing my story and liberating others to do the same.
I noticed on your website it said that you've been dubbed, "The Voice of the Diaspora Generation." Can you explain what exactly that title means to you?
That title resonates with me due to my vulnerability. I never shied away from my experiences, at least when I was older. When I was younger, I was very embarrassed of where I came from. There were not many positive images. And so, lack of representation and misrepresentation are just as detrimental to who you are, and sometimes it starts to drown you.
I experienced nothing but the lack of representation. You can only be what you see to a certain extent. So, for me, I never perceived what a first-generation filmmaker, community leader would look like. I had to just literally figure it out on my own, with immigrant parents who were growing with me. So, it was just a bit of a challenge. In the process, I learned that my vulnerability can be a vehicle to be a voice for many people that share the same burdens, challenges and roadblocks as me. As I've been able to voice my story, I understood that every barrier has become a bridge of conversation and change through my vulnerability. That's all I've learned, if anything. I have to be able to use it as a vehicle, and take every barrier that I've been dealt with and turn it into a bridge of conversation and change. I think that's the beginning of finding relief to the fear of starting a conversation.
What led you to create your new Youtube series, "Growing Up in America?" Can you tell us about how that came about, and what your mission is with this project?
"Growing Up in America" is a documentary film series that highlights culture, community, and conversations surrounding minority communities in America. The idea is to be able to provide a voice to a part of America that is not publicized as much. I think I want it to be a bridge for many people, like me, that may feel misrepresented, or not represented at all. So, "Growing Up in America" is a travel based documentary series.
The first episode of this documentary series pertains to mental health. The way this episode came about was through my conversations with friends, family, and people within my community. I noticed that people are having certain challenges navigating the things that they're feeling. People don't always know how to articulate the trauma that they've experienced.
With the first episode, I want to accomplish three things. I want to start a conversation—I think that every great change starts with a great conversation. The second thing I want to accomplish is, I want to release the fear. I want to release the fear of mental health care, because I feel that many people have a stigma around what mental care is, or we scale it down. So, for example, if you have schizophrenia, or if you're hearing voices—then it's acceptable, because that's more extreme, but we dismiss anxiety, or depression, or we're told that you can just pray about it instead of getting therapy or counseling, especially if you come from a church.
"At the end of the day, we just need to know that we're not alone, and that it's okay to not be okay all the time."
Third, I want to inform the community about therapy, counseling opportunities, and resource sharing. I'm launching a national film screening and community discussion tour on mental health. I'm working to really build community and conversation around the silent struggles that we face, because the biggest thing that I want people to take away from this episode is, you're not alone.
I've learned from this process, that we may not be able to fix every problem that we deal with, but every problem needs to be faced. Though we may not have all the solutions all the time we can face it, embrace it, see it for what it is and grow with one another through these experiences.
It starts with a conversation, releasing the fear, informing the community, and letting people know that they are not alone. You can be a light to somebody by just sitting with them in the dark. That's what I want people to understand: how important community and conversation is, with the doubts, with the hurts, with the things that you feel in your life. Community and conversation is literally a majority of the healing process. If you can talk about and articulate what you're feeling, and you can surround yourself around people that have gone through those experiences, there's great power in that.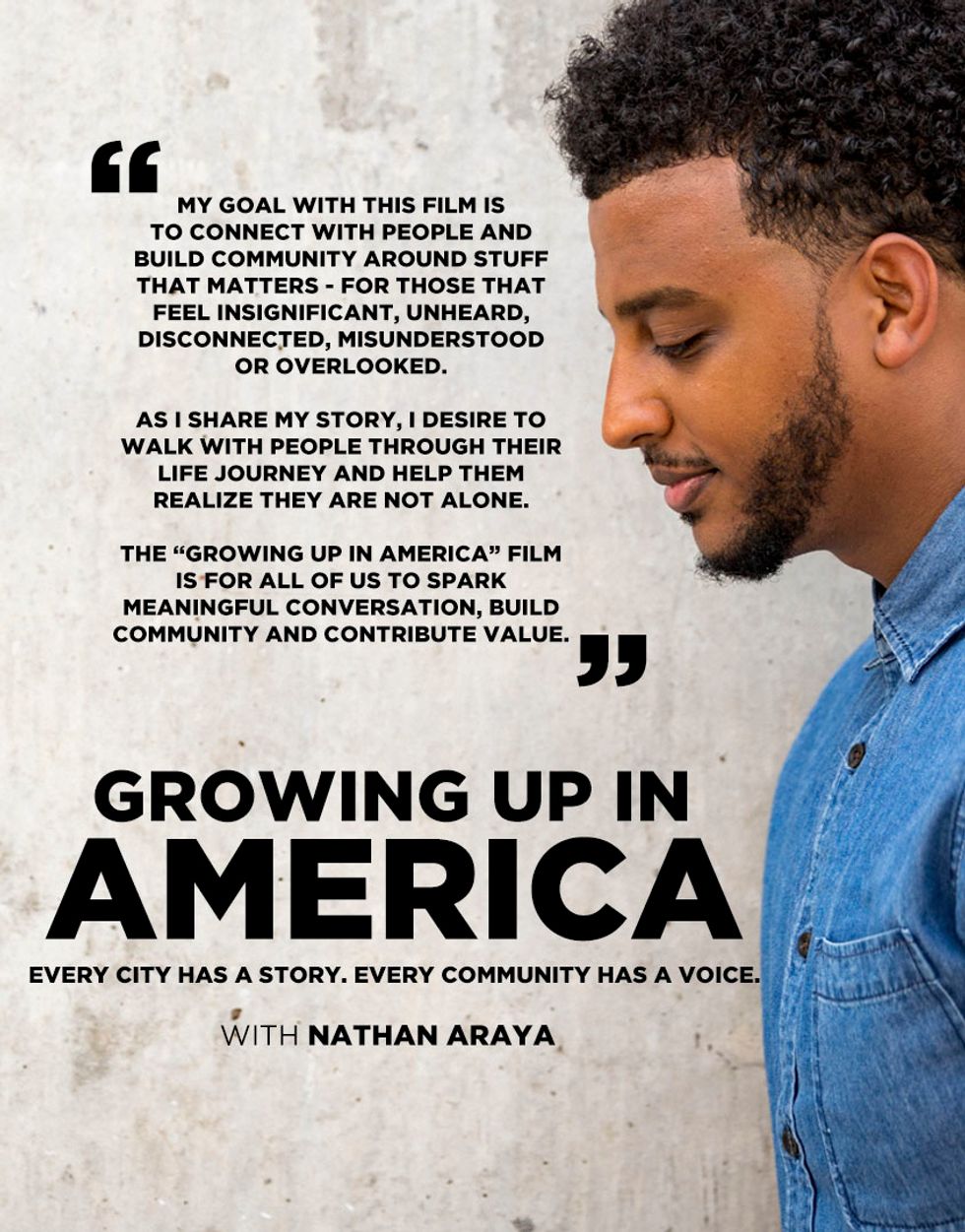 Image courtesy of Nate Araya.
What would you say directly to immigrant parents who don't know how to respond to their children's mental health struggles?

Immigrant parents are survivors. They have plowed through life, seeking education and opportunity to provide a better life for their children. Their value system and how they grew up is very different from the value system that exists around the first generation experience. Usually, within the household, there is a barrier because we're talking about about two different value systems, two different belief systems, and two different experiences, so often there is a disconnect in the house.
The way we can bridge the gap is, first, I want parents to seek to understand before they seek to be understood, and to really learn to be vulnerable with their kids and vise versa. It's okay to not have the answers for your children. Really, it takes a community to raise a child. It takes a teacher, it takes a boss, it takes a parent, it takes a friend. As a parent, if you can provide an environment that is welcoming for questions, concerns, doubts and fears, then you can cultivate an environment for your child to feel welcomed and to be able to come to you with all of their stresses and anxieties and I think that's over half the battle.
It's a great win if you can provide a cultivated, welcoming environment for your child. I would urge the parent to really just have an open door policy, where they can ask these questions, and they can feel like they're not alone. At the end of the day, we just need to know that we're not alone, and that it's okay to not be okay all the time.
I think within our generation, first-generation, especially on social media, there is this push for perfection that everyone is trying to make. If we take a picture on Instagram and we don't like it, we can put a filter on it, and then move on to the next. But life doesn't have filters. Our reality doesn't have filters. Our reality is messy and you can't fix everything, but you can face it. My hope is that we can face ourselves, we can face our parents and our parents can face their children in a way where, it may not be a perfect conversation and there may not be a perfect solution, but that's ok. As much as we admire parents and we think they're our heroes, the reality is that they're also just figuring life out—just like we are—and it's okay to not have all the answers.
Is there anything else you'd like to add?
I'm releasing the trailer this Thursday and then I'm launching a National Film + Community Discussion Tour on mental health, so be on the lookout on my website at natearaya.com for dates and cities. If anyone is interested in hosting an event within their city, full screening and community discussion event, they can reach me at natearaya@gmail.com. It's kind of an event by demand, so I'm looking to partner with different media brands and companies and also, I'm looking for executive producers from media brands and companies who would like to come alongside the "Growing Up in America" team to produce more topic based episodes within their cities. Our team produced the first episode here in Austin, Texas.
If there's another organization or company, or research based institution that wants to highlight certain topics we would be open in producing it. I'm open to collaboration—this is an open documentary series that is geared towards different cultures, communities, and cities within America. We're traveling wherever the work takes us, and where the needs are.
From Your Site Articles
Related Articles Around the Web